Picking up dog waste isn't anyone's favorite chore, but having a good pooper scooper can help make life easier when it comes to dog doody.
With so many options to choose from, it can be hard to know which one is best for you. We've rounded up the best pooper scoopers out there as well as some tips to help you efficiently scoop dog poop.
Buyer's guide to dog poop scoopers
Do you need a lightweight scooper to clean up on daily walks? Or a heavy-duty scooper to clean up the yard? Where and at what frequency you'll be scooping dog poop can help inform which poop scooper to buy.
Let's look at the most common scoopers and see what sets them apart from the classic bag method.
Rake and tray poop scoopers
This type of pooper scooper is very popular and works well if you have large dogs. The rake keeps you far away from the poop, and it's easy to scoop it through grass, gravel, or pavement right into the tray. Many scoops are designed to hold a regular grocery bag in the tray, making clean-up easy.
Rakes: Look for sturdy rakes or spades that are long enough so you don't have to bend or crouch to gather the poop into the bin. The rakes should have teeth that can get through grass or gravel easily.
Trays: Trays should be deep and wide. Bins that rotate upwards will keep waste inside between scoops so you don't have to scoop twice. Look for bins that can hold a regular grocery bag for quick cleanup when you're done.
Claw or one-handed pooper scoopers
When choosing one of these scoopers, consider your height and hand strength. You'll be using only one hand to pick up the poop, so it should be tall enough to eliminate bending, but have an easy grip, so grabbing the feces isn't strenuous.
Some claw scoopers are very lightweight, making them ideal for taking along during walks. However, they have more moving parts than the rake and bin, so they can break easier.
Handles should have ergonomic grips to protect hand muscles and be long enough for your comfort.
Claws should be serrated to pick up clean off of grass, gravel, or pavement. Some claws can accommodate a bag to make the clean up fast and convenient.
Best Dog Pooper Scoopers
Tray and Rake Pooper Scoopers
This heavy-duty aluminum and metal rake pooper scooper set has one of the largest bins on the market. It's sturdy for even the biggest of scooping jobs and works on all surfaces.
This set is rust-resistant with comfortable handles. The only drawback with this one is there is no attachment on the tray for grocery bags. The handles are not telescoping, and this one needs to be assembled. It's also very affordable!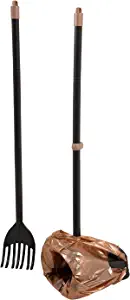 The Petmate Swivel Bin offers telescoping handles, allowing you to extend them to 32". The heavy-duty plastic scooper set clips together for easy storage or hanging. It also includes a baking soda infused bag to keep the odor down, but grocery bags can attach to the bin easily.
This quality pooper scooper comes with a 3-year warranty. The handles are telescoping to 37 inches with a clip to hold the bag. Scoop the poop into the bag with the sturdy aluminum rake. This design accommodates a regular grocery bag – the only drawback to this design is pulling a full bag around with you.

Pet Pro Tip: When shopping for products for your dog, make sure to also help protect your pooch with best-in-class dog insurance or puppy insurance plans for accidents & illnesses.
One-handed or claw scoopers
The PPOGOO is a foldable, one-handed claw scooper made of sturdy, durable plastic that is lightweight and easy to handle. The bin is non-stick for easy cleaning with no residue and large enough for large dog messes.
Two stainless steel springs make the claw easier on the hands for one handed use, and more durable than most claw designs with only one spring. The 24 inch length can be short for some users.
This jumbo scoop is non-stick plastic and has a long handle at 32 inches long for taller users. It's lightweight, with claws tight enough to hold the poop inside the scoop, without causing hand discomfort.
The claw is anti-microbial and can pick up poop from multiple surfaces easily. There is no attachment for bags, so you must clean it after use.
On-the-go scoopers
When you're on the go with your pooch, a portable scooper may make pet waste removal easier. This one is lightweight, and has an integrated waste compartment, so you don't have to carry the poop bag along for all to see. With a built-in bag dispenser and a carrying clip, this scooper has everything you need on walks with your dog. They also offer different sizes based on the size of your dog.
The Jondarla scooper is small but mighty! It can pick up doody from small dogs to large dogs with the expandable backside. The carabiner allows you to hang it from your pants, or attach it to the dog leash.
The integrated waste bag compartment holds 45-piece bags, and this company offers dog poop bags free for customers on their website.
And that's the scoop on pooper scoopers! We hope our picks help you find an option that makes cleaning up after your canine companion a bit easier.