Dog parents spend countless hours perusing the treat aisles in their local pet stores, eager to find the next tasty treat to motivate their dogs. However, cat parents don't always consider the benefits of providing treats to their feline companions. We somehow forget that our cats get just as excited to receive a delicious treat!
Finding the perfect treat isn't hard when you know your cat and your kitty will do just about anything to get it. We're here to help you find a healthy treat for your floof, and show you all the reasons those treats can benefit your relationship with your feline.
What makes a good cat treat?
Cats are carnivores, so they don't really need anything besides a balanced cat food. Whether it's kibble, wet food, or raw food, it provides all the nutrients they require. However, beyond the food bcat treats serve several purposes beyond the food bowl.
General use: When you want to bond with your cat, share snack time, or reward a positive behavior. A healthy treat can provide extra nutrients as well.
Dental care: Studies have shown signs of dental disease can begin in cats by age three. Treats made as a supplement to routine dental care will inhibit the growth of bacteria and bad kitty breath, preventing gingivitis and periodontal diseases.
Giving medication: Soft treats that hide pills can make medication time easier for some cat parents. Since many cats gobble up their treats without thinking, pill time is much easier if you find that perfect flavor your cat will readily eat.
Training: We don't always think to train our cats, but they are totally trainable. A treat your cat loves can help motivate them during the training process.
Stress relief: A new environment, an addition of a new pet into their territory, storms, fireworks, or even a neighborhood cat outside the window can stress out your cat. Treats with calming ingredients like CBD can help reduce that stress.
Choosing cat treats
Here are some things to think about when choosing the perfect treat for your feline friend.
Texture: Does your cat prefer kibble over soft foods? If so, crunchy or dry treats may entice them more than a softer one. On the other hand, a cat used to wet food or even one that has dental issues, may prefer a much softer treat.
Dietary restrictions: Cats with chronic health issues should have low-calorie treats. If treating your cat goes over 10% of their daily calories, you'll need to adjust their food levels to avoid obesity or diabetes.
Tip: Whenever you decide to introduce a new food to your cat, whether it's a regular cat food or a treat, speak to your veterinarian about what will be best for your cat's health. Then follow the 90/10 rule of daily caloric intake: 90% of daily calories come from their daily cat food diet, and 10% can come as treats.
Protein or flavor: Does your cat prefer chicken, fish, or a little bit of both? It may be a guessing game at first, but your cat will show a preference quickly.
Ingredients: Always look for healthy ingredients! Cat treats should have an animal or fish protein listed as the first ingredient. Try to avoid by-products, fillers, artificial colors, preservatives, numerous grains, or flavor enhancements.
Lifestages: Look for treats that are designed for your cat's lifestyle and age. For example, a kitten requires different nutrients than a senior cat and indoor cats won't need the high calories an active outdoor cat can handle.
Types of cat treats:
Freeze dried: Freeze drying takes the moisture out of meat but leaves the nutrients intact. Most treats that are freeze dried contain a single animal protein.
Dry kibble: This is the oldest of the cat treats. The cooking process can remove or change the nutrients, but cats who prefer dry food or crunchy treats may prefer them.
Moist: Young kittens with tiny little teeth, cats with dental disease, or senior cats may prefer the softer texture of moist, chewy treats.
Puree: These lickable cat treats come in squeeze pouches. Your cat laps up the gooey goodness as it comes out of the pouch, or you can add it to foods as a topper. Cats who need extra calories or hydration, or need to be encouraged to eat, do well with this kind of treat.
Our top picks for cat treats 2022
These are a feline favorite. The skin of the skipjack, a fish related to tuna, goes through a drying process and reduced to flakes of smelly goodness most cats go crazy over. They work well as a topper for finicky cats, needing extra motivation to finish their meal.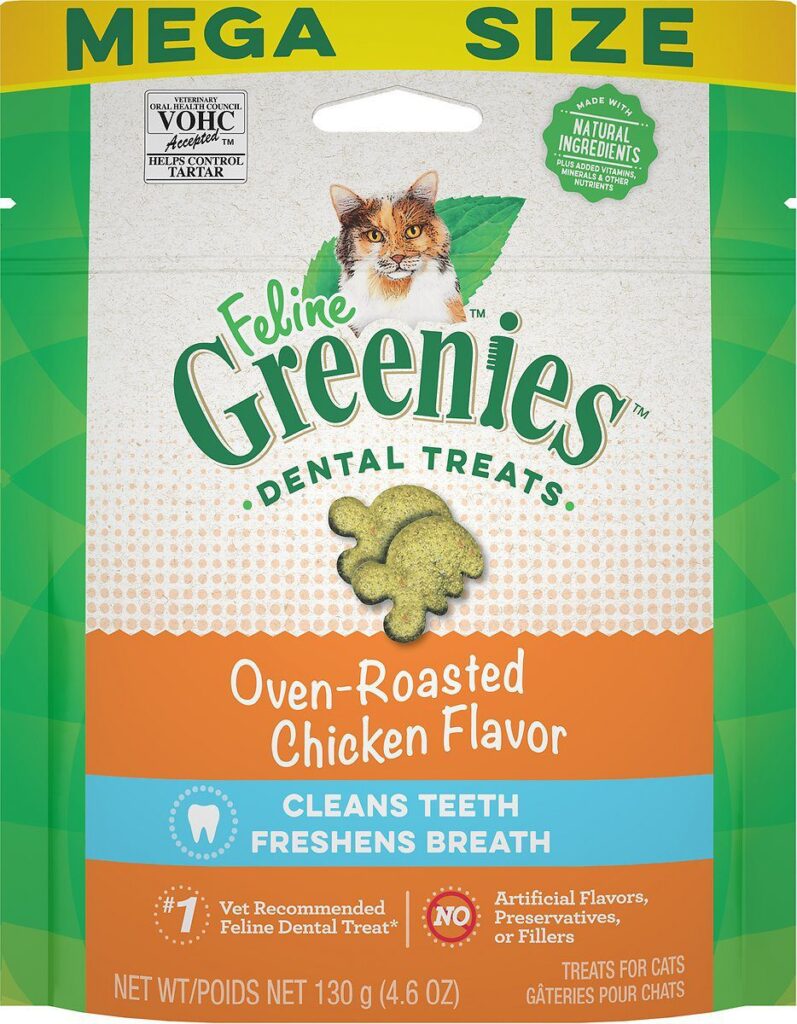 Greenies are made with no artificial flavors or preservatives and only two calories per treat. A variety of flavors other than the traditional chicken flavor, and bag sizes to please both you and your cat.
These treats supplement a home dental routine to reduce the buildup of plaque on your kitty's teeth. They're crunchy outside, and soft inside, sure to please while preventing dental disease.
Our fierce carnivores do well with one-ingredient treats. Purebites are freeze-dried raw meat in several cat-pleasing flavors. These treats come in salmon, chicken, duck, shrimp, and even minnow flavors – so all cats are bound to find something to love in these high-quality treats.
These soft cat treats are only two calories, which helps prevent overfeeding, and with only one ingredient, they are one of the cleaner treats you can feed your cat.
Another top contender in our freeze dried category are these treats from Feline Natural! Preserving important nutrients and made grain-free, these treats will give you peace of mind you're feeding them healthy snacks. Offered in chicken, lamb, beef or Hoki (a fish), there is bound to be a flavor your cat will love.
These crunchy protein-rich cat treats contain no artificial ingredients, by-products, or grains like corn, wheat, or soy. These treats offer high-protein goodness into a crunchy low-calorie treat that cats crave.
These treats contain chicken and sweet potato and are infused with catnip as well as added probiotics and pre-biotics. They have a crunchy texture and are low in calories treats in cute star shapes may be what your cat craves.
When your cat needs extra hydration (or extra calories) these puree cat treats are a hit. Designed to be fed by hand for extra interactive time with your kitty, each tube is only six calories, way less than traditional treats.
Made with responsibly sourced ingredients, you can feed these treats to your cat guilt-free! Use them as a food topper, or even to hide pills when extra temptations are needed. Eleven tasty flavors are available to please even the pickiest of floofs.
Composure uses Colostrum, L-Theatine, and Thiamine to calm your cat's nervousness without changing their personality. The soft chews come in a delectable chicken and liver formula and are veterinarian approved.
Each dose takes 30 minutes to take effect, but you can use Composure for long-term stress relief as well. Try a calming treat for vet visits, during storms, car rides, or even when you're introducing a new pet to your household. These treats have high reviews for success.
Whichever cat treat you choose for your feline friend, you can't go wrong! By taking their age, lifestyle, and preferences into consideration, you can find a treat that satisfies their dietary needs while keeping them begging for more.The truth is, there is no better treat than a happy, healthy life. Enrolling your cat in a pet insurance plan can help them get the best care when unexpected accidents or illnesses happen – and the best time to get a quote is right meow!