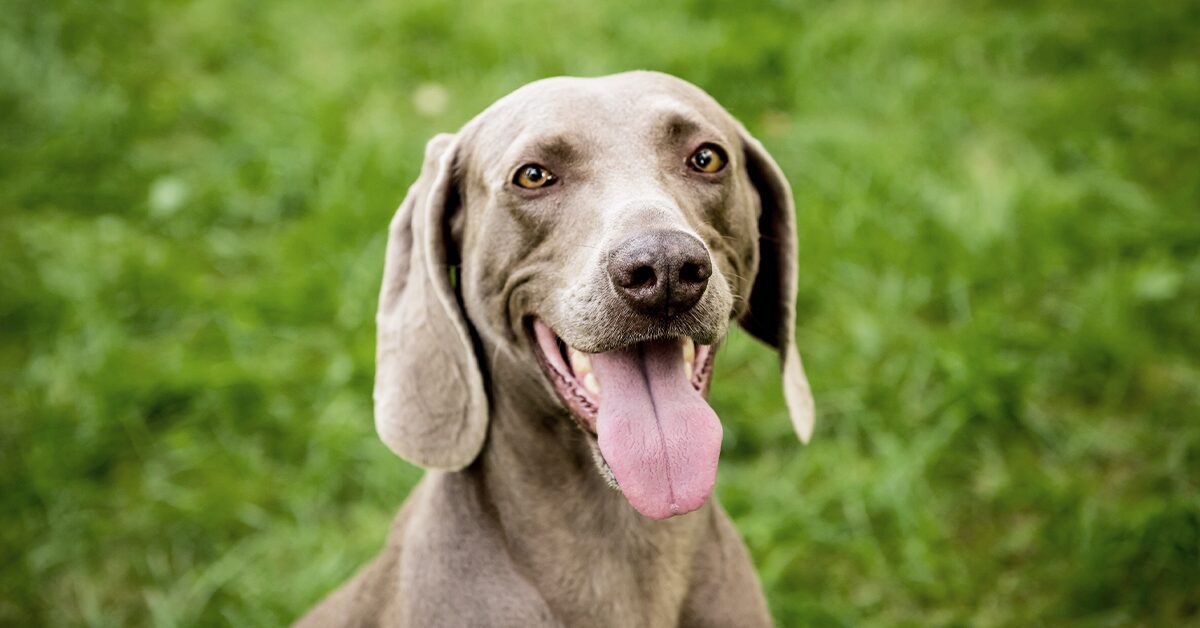 Meet the Weimaraner
High Doggy I.Q.
Star Athlete
Best Fur Friend
If you're an active human looking for a loyal workout buddy, I'm the breed for you! We Weimaraners are not a pup for couch potatoes or first-time dog parents – I need lots of daily exercise and humans who can keep up! I do best in a home with outdoor space so I can get my energy out. I love to run and go on long hikes, but I'll chase pretty much anything I see so I need to be leashed or in a fenced yard. As the humans say, a tired Weimaraner is a happy Weimaraner!
I love kiddos but I'm not great with small pets – I'm a hunting dog with a strong prey drive and I can't always tell the difference! I'm super smart and trainable but I can be stubborn so stick with it! Humans call me Grey Ghost because of my unique silvery look, and you're in luck – my short coat only needs occasional brushing to stay furbulous. I get separation anxiety (but only because I love you so much!) so I need a human with time for me. But if you're as devoted to me as I am to you, I will be your best friend furever!
Ready to learn more about me? Let's dig in.
Ready to learn more about me? Let's dig in.
About Me
pumpkin
Get the pet insurance all the Weims are wagging about.
Fetch My Free Quote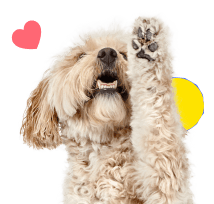 My Many Looks
Blue
Gray
Silver-Gray

My Breed Characteristics

Furbulous Fact
Anyone can see that we Weimaraners – with our furbulous silver-gray coats and soulful blue-gray or light amber eyes – are walking works of art. But one human, an American photographer named William Wegman, was so captivated by us that he spent most of his career capturing now-iconic photos of us! His first muse, a Weim named Man Ray, was the subject of his work starting in the 1970s, and ever since Wegman has been a devoted Weimaraner dad who shows his love and appreciation of our unique breed through his world-famous photography.

As I Grow Up
As you can see, we Weimaraners age pretty gracefully. Here are a few key milestones in my growth and development to be aware of as I grow up from a pupper to an adult and senior!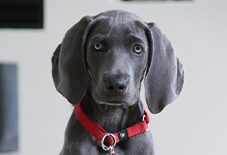 Puppy
3 Months
I need early socialization classes & obedience training to be the best pup I can be! (Just make sure I've had all my vaccines first, pawlease)!


Adult
2 Years
I'm all grown up, but I need continued socialization and lots of daily activity (I get anxious & engage in destructive behaviors when I'm bored).
Senior
7-8 Years
I may be slowing down a bit, but I still need daily low-intensity activity to keep me healthy & happy. Make sure I get vet check-ups every 6 months, too!

History of My Breed
We Weimaraners are a young breed and were first bred in Germany in the early 19th century. The German nobility, especially Duke Karl August of Weimar, wanted to create the ultimate hunting dog, and we Weims were it! We were originally called the Weimar Pointer, and the humans believe that my closest relatives are the German Shorthaired Pointer and the Bloodhound, which makes total sense – those breeds have major hunting skills, too!
My early German ancestors were a huge help to the humans as hunting companions – we even helped them hunt big game like bears and wolves! Through our breeding, we Weimaraners became a pawsitively perfect gun dog, which is what the humans call a dog bred to retrieve game for the human hunters. That's why we still have a strong prey drive today – it's in our DNA!
For a long time, the Germans wanted to keep us all to themselves and only members of the German Weimaraner Club were allowed to have us. Rumors of our hunting skills spread to people outside of Germany, and one persistent American sportsman, Howard Knight, was finally able to bring two Weims to America in 1929. Knight and other Weimaraner enthusiasts started a breeding program and the Weimaraner Club of America was formed in 1942. My breed was officially recognized by the American Kennel Club in 1943, and the popularity of us Grey Ghosts blew up in America starting in the 1950s. U.S. President Dwight Eisenhower made a Weimaraner named Heidi the First Dog, and famous actress Grace Kelly was a Weimaraner mom, too!
Today's Weimaraners may not be out hunting bears with nobility, but we still have the same instincts and skills as our ancestors. That is why we're a breed that needs lots of activity. You don't have to be a hunter for us to thrive with you – you just need to love the outdoors and have enough energy to keep up with us!

Pawesome Pups to Parent
In addition to purebred Weimaraners like me, there are tons of pawfectly sweet mixed-breed Weims that are looking to find their furever homes. You can learn where to find your next pet below!
Feed your Weimaraner carefully to avoid bloat.
Deep-chested breeds like the Weimaraner can develop a condition known as gastric dilatation and volvulus (GDV), also known as bloat. Signs of GDV can include a distended, painful abdomen, difficulty breathing, vomiting, and even collapse. This is an emergency situation and requires immediate surgery. Slow feeders and smaller/more frequent meals may be helpful in preventing GDV. Some owners of breeds prone to GDV may elect to have the stomach sutured to the internal body wall (a procedure known as a gastropexy) during a dog's spay or neuter surgery, in order to prevent stomach torsion.
Monitor weight & promote joint health with supplements.
Weimaraners are susceptible to both hip and elbow dysplasia. These disorders are caused by abnormal development of the hip and elbow joints, and result in the development of arthritis. As affected dogs get older, their owners may notice decreased activity levels, limb stiffness, or lameness. Anti-inflammatories, joint diets, and joint supplementation can be used to delay the onset of arthritis. Keeping your dog at a healthy weight can help to reduce the stress on the joints. In severe cases, surgery may be indicated.
Keep your Weimaraner's ears clean.
The long, floppy ears of the Weimaraner can retain moisture, creating an environment favorable to the growth of yeast and bacteria. Weimaraner owners should make sure to clean their dog's ears with an ear wash solution after bathing or swimming. It's also important to check your dog's ears regularly and watch out for redness, odor, and brown or yellowish discharge, which can be signs of infection.
Early socialization is a must for small-pet owners.
Weimaraners have a high prey drive due to the fact that they were bred to hunt. If you live with small animals such as cats or lap dogs, you need to spend a lot of time teaching your Weimaraner to be calm in their presence. Feed your dog treats for sitting nicely and keep them on a leash until you can trust them 100%.
Minimize distractions during early training sessions.
As hunting dogs, Weimaraners also can be very motion-sensitive. This means that any kind of movement might make them highly distracted and interrupt your training. Some Weimaraner owners cannot start out in a group training class but instead need to work in private lessons first until their dog can focus around more distractions.
Agility classes are great for Weimaraners.
Because they love to run and jump, Weimaraners are great agility dogs. If you have a dog agility club nearby, you should check out their class schedule and see if you can try it out. Dog agility will provide great mental and physical exercise for your Weimaraner as well as help you bond and become a team.

Why Get Dog Insurance?
from Pumpkin®
While Weimaraners are a generally healthy breed, unexpected ruh-rohs can happen to any dog at any age. If your pup gets hurt or sick, pet insurance can help you say 'yes' to the best care, even when it's costly. When it comes to shopping for this breed, you'll want to choose an insurance plan like Pumpkin plan that covers hereditary conditions Weims are prone to developing, and that can be costly to treat. While a reputable breeder will conduct genetic testing on your pup's parents to help minimize the chances of passing down hereditary conditions, they can't always be avoided. Let's look at some common ones, and how Pumpkin Dog Insurance plans can help cover the cost of care!
*Sample shows 90% reimbursement of covered vet bill assuming $250 annual deductible has been met.