Meet the Vizsla
Best Fur Friend
Top Working Dog
Best Workout Buddy
If you're an active human looking for a workout buddy, then I'm the breed for you! We Vizslas are not for apartment dwellers or couch potatoes. I need space to run and a human who wants to run with me! That's because I'm super high energy, which means I need at least 1 hour of exercise a day. I also need lots of attention – I get separation anxiety if I'm alone for too long. In fact, some humans call me the Velcro Vizsla, 'cause I just want to be with my humans all the time! (I can't help it – I have a lot of love to give!)
I love kids but I'm not great with tiny ones – I just want to play, but I don't know my own strength. I get along with other dogs and cats but not so much with birds or small pets because my hunting dog instincts kick in. But I love having a job to do, and my smarts, trainability, and gentle nature make me a pawfect working dog. Whether I'm by your side on the hunt, protecting you as a watchdog, working on a search-and-rescue team, or giving humans love when they need it most as a therapy dog, I love to use my skills to help people in need.
Ready to learn more about me? Let's dig in.
Ready to learn more about me? Let's dig in.
About Me
pumpkin
Get the pet insurance all the Vizslas are wagging about.
Fetch My Free Quote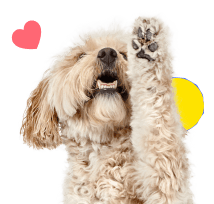 My Many Looks
Golden Rust

My Breed Characteristics

Furbulous Fact
We Vizslas love to work – and we're great at pretty much anything we do – so it's no surprise that a Vizsla was the first dog to be an AKC quintuple champion, an honor no breed had ever won before! A Vizsla named Chantay took championship titles in a bunch of different disciplines. Since we're so smart and athletic, it's no surprise that Chantay was able to master conformation, field, obedience, and agility, taking home an amazing five championship titles. If you put a Vizsla's brain and athleticism to the test, we'll always end up winners!

As I Grow Up
As you can see, we Vizslas age pretty gracefully. Here are a few key milestones in my growth and development to be aware of as I grow up from a pupper to an adult and senior!
Puppy
2-9 Months
I need socialization and obedience training so I can grow up to be a good doggo! (Just make sure I've had all my vaccines first, pawlease)!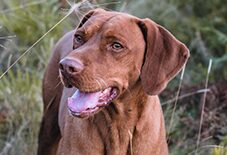 Adult
1-2 Years
I have a high energy level – I need at least 1 hour of vigorous exercise a day in order to stay happy and healthy.


Senior
10-11 Years
I'm prone to joint problems – switch to a senior-friendly dog food so I can maintain a healthy weight.



History of My Breed
We Vizslas are an old breed with a fascinating history. My earliest ancestors were the hunting dogs of the Magyar warlords, who traveled across Europe on horseback and needed fast, agile dogs who could keep up. The Magyars settled in modern-day Hungary in the 9th century, and they trained my ancestors to be versatile bird dogs, teaching us to be pointers, flushers, and retrievers (both in water and on land). There's even some evidence in a 10th-century piece of art that my ancestors worked paw-in-claw with falcons on the hunt, flushing out our prey so the falcon could swoop down and snatch it!
By the 18th century, my breed was well established in Hungary, and we're known today by a few names – Magyar Vizsla, Hungarian Vizsla, and Hungarian Pointer. In addition to our hunting skills, our regal bearing and loyal disposition made us the breed of choice for many Hungarian nobles. Whether we're out on a hunt or resting at home, we always want to be close to our humans, which is why we're great sporting dogs and family dogs. Humans even used us to help create other pawesome breeds, like the Weimaraner and the German Shorthaired Pointer!
Sadly, we almost went extinct after World War II, but luckily there were humans who loved us so much they wanted to preserve our breed. We weren't well known outside of Hungary until 1950, when a U.S. State Department employee smuggled a Vizsla named Sari and two of her puppies out of Communist Hungary. We were a hit overseas, and a group of Vizsla-loving humans formed the Vizsla Club of America in the early 1950s. The Vizsla Club of America was dedicated to maintaining our breed standard and keeping us as strong, loyal, and hardworking as our ancestors. It wasn't long before the American Kennel Club recognized our greatness and officially accepted us in 1960, and we've been beloved by American sportsmen and active dog parents ever since!

Pawesome Pups to Parent
In addition to purebred Vizslas like me, there are tons of pawfectly sweet mixed-breed Vizslas that are looking to find their furever homes. You can learn where to find your next pet below!
Exercise your Vizsla for at least 1 hour a day.
Vizslas are high-energy hunting dogs that need both daily physical and mental exercise. I recommend Vizslas have an exercise session twice a day for a minimum of 30 minutes each. Exercise will help to prevent your Vizsla from developing behavioral problems due to anxiety and pent-up energy. Additional exercise will maintain healthy body weight for a Vizsla, decreasing disease risk and extending lifespan.
Positive reinforcement and early socialization are key.
I recommend Vizslas starting training as a puppy with consistent, positive reinforcement. Since Vizslas are an intelligent breed, they can sometimes be manipulative to their owners, creating a challenging living environment. With the training, I also recommend socialization with other animals and people to ensure your dog has confidence in unfamiliar situations.
Be proactive about your Vizsla's health with supplements.
I recommend Vizslas being started on glucosamine, chondroitin, and fish oil supplementation at one year of age. Vizslas can be prone to hip dysplasia, resulting in inflammation, bone changes, and pain later in their life. These supplements will help encourage joint health and decrease inflammation associated with arthritis in the future.
Work your Vizsla's hunting instincts into exercise & play.
Vizslas are hunting dogs, therefore there are certain behaviors that owners should expect them to exhibit that are instinctual patterns of behavior. These behaviors include patterns such as chasing. It is important for owners to understand that these behaviors are not learned, therefore they can not be suppressed in a humane way. The key is letting your Vizsla display the behavior in a more acceptable manner, such as by playing fetch or involving the dog in sports, such as flyball, that fulfill their need to "hunt."
Young Vizslas need more mental stimulation than exercise.
Vizslas are smart working dogs and they benefit from substantial physical activity. It is important to refrain from excessive activity while they are still young and growing though, as this can complicate bone growth. Therefore, mental stimulation is even more important for these dogs. Using interactive feeders and toys, teaching foundational training, and playing cognition games with your Vizsla are all great ways to satisfy their social needs.
Early recall training is a must for your Vizsla.
Teaching a Vizsla recall early in life may be helpful since they do have a tendency to stray due to their hunting nature. A long leash and remote collar (for conditioning sound as the cue) may be helpful in teaching recall. Further, since these dogs are used for hunting, owners should be conscientious about letting them off leash in wilderness areas as it can result in animal bite wound injuries to the dog.

Why Get Dog Insurance?
from Pumpkin®
While Vizslas are a generally healthy breed, unexpected ruh-rohs can happen to any dog at any age. If your pup gets hurt or sick, pet insurance can help you say 'yes' to the best care, even when it's costly. When it comes to shopping for this breed, you'll want to choose an insurance plan like Pumpkin plan that covers hereditary conditions Vizslas are prone to developing, and that can be costly to treat. While a reputable breeder will conduct genetic testing on your pup's parents to help minimize the chances of passing down hereditary conditions, they can't always be avoided. Let's look at some common ones, and how Pumpkin Dog Insurance plans could help cover the cost of care!
*Sample shows 90% reimbursement of covered vet bill assuming $250 annual deductible has been met.