Meet the Shih Tzu
Couch Cuddler
Canine Chic
Best Fur Friend
If you're looking for an affectionate fun-loving lap dog who loves to snuggle, I might be the breed for you! I get along with everyone – including kids and other pets – and I'm pawfectly happy just chilling on the couch. I don't need tons of exercise, but don't let my size fool you – I've got a flamboyant flair and love to make my humans laugh with my sassy strut and quirkiness.
I was bred to be a companion dog, so I'm happy to live in an apartment. Short daily walks and some indoor playtime will help keep me happy and healthy. Because I'm furbulously fashionable, my flowing locks will need daily brushing. Many humans prefer to use a groomer, especially to keep my signature topknot hairstyle looking fresh! If you would rather trim my coat, that's cool too – short-haired Shih Tzus look like teddy bears, I'm told. Whatever style I'm rocking, my snazzy looks and charisma make me irresistible, which is why I'm one of the most popular small dog breeds.
Ready to learn more about me? Let's dig in.
Ready to learn more about me? Let's dig in.
About Me
pumpkin
Get the pet insurance all the Shih Tzus are wagging about.
Fetch My Free Quote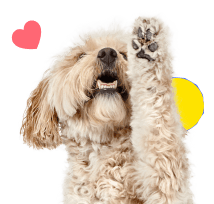 My Many Looks
Black

Red & White

Gold
White

My Breed Characteristics

Furbulous Fact
When you think of dog breeds that look like our wolf ancestors, a Shih Tzu certainly isn't the first dog that comes to mind. Shih Tzu actually means "little lion" in Mandarin. But a recent study looked at which breeds are genetically closest to wolves, and while it's not surprising to find Huskies, Malamutes, and Samoyeds high on that list, it turns out us Shih Tzus (along with our fellow Asian breeds Pekingese, Lhasa Apso, and Shar-Pei) are too!! Looks can be deceiving, as the humans say.

As I Grow Up
As you can see, we Shih Tzus age pretty gracefully. Here are a few key milestones in my growth & development to be aware of as I grow up from a pupper to an adult and senior!
Puppy
2-4 Months
I am notoriously tricky to potty train because I have a very tiny bladder, so pawlease be patient with me, human!
Adult
10-12 Months
I'm about done growing, but I still need regular grooming, exercise, and playtime to help me look and feel my best.
Senior
10 Years
I'm older and wiser, but if I'm not responding to your calls, I may be losing my hearing and should get my ears checked.

History of My Breed
If we Shih Tzus look fancy, it's because we are literally Chinese royalty. Shih Tzus are one of the most ancient dog breeds. Because my breed is so old, humans aren't exactly sure how we came about. Some believe that my ancestors were bred by Tibetan monks and given as gifts to Chinese emperors. Others believe that my breed was created in China as a mix of two other ancient breeds: the Lhasa Apso and the Pekingese. Wherever exactly we came from, my ancestors served as companion dogs to centuries of Chinese emperors from the Tang Dynasty to the Ming Dynasty. While our name means "little lion" in Mandarin, we were also called "chrysanthemum dog" because the way the hair grows outward on our faces looks like this furbulous flower in bloom!
We were so prized that, for a long time, only Chinese royals were allowed to have us. It wasn't until 1928 that the first Shih Tzus left China – a male and female pair were given as a gift to a noblewoman in England. In the 1930s, the first Shih Tzus made their way to the United States, and by the 1960s we were extremely popular in America. As a result, we were officially welcomed into the toy group by the American Kennel Club in 1969!. While centuries have gone by, one thing hasn't changed: we are just as loyal and loving of a companion to our modern-day humans in their apartments as were to the ancient Chinese emperors in their palaces!

Pawesome Pups to Parent
In addition to purebred Shih Tzus like me, there are tons of pawfectly sweet mixed-breed Shih Tzus that are looking to find their furever homes. You can learn where to find your next pet below!

Care Tips
from Veterinarians
Seek veterinary care if urinary problems arise.
Shih Tzus are prone to kidney diseases, bladder diseases, and bladder stones. Any signs of urinary disease in these dogs should be paid attention to quickly, and some of them do need to be on special diets to help with this problem. - Michele King, DVM
Be on the lookout for clinical signs of allergies.
Shih Tzus can develop allergy issues from an early age. This can be from environmental allergens or even food allergens, causing clinical signs such as ear infections and skin infections. Be sure to monitor your Shih Tzu for redness, itching, and licking paws. - Erica M. Irish, DVM
Keep an eye on your Shih Tzu's eyes.
Be on the lookout for discharge in the eyes since Shih Tzus have an increased risk of keratoconjunctivitis sicca, aka dry eye. - Erica M. Irish, DVM

Training Tips
from Trainers & Behavior Specialists
Daily grooming is essential for Shih Tzus.
Shih Tzus need to be groomed every day. If your Shih Tzu doesn't tolerate grooming well, you can train them to like it by using small but delicious treats (like little pieces of chicken or roast beef) every time you brush them. It's great to get them used to this as puppies during the sensitive period for socialization (from 3 until about 12-14 weeks of age). - Zazie Todd, PhD
Train your Shih Tzu early to prevent separation anxiety.
Shih Tzus are very affectionate companion dogs who do best in homes with owners who can be with them often. Their training should include positive reinforcement and praise, and one thing you'll want to work on early on with a Shih Tzu is separation anxiety. Teach your Shih Tzu how to be alone by sticking to a routine and following it closely. These dogs can have a tendency to become anxious and exhibit destructive behavior if they are left alone too long, especially if owners haven't taught them that being alone now and then is okay. - Jen Jones, Certified Dog Trainer

Why Get Dog Insurance?
from Pumpkin®
Shih Tzus are a generally healthy breed, but ruh-rohs can happen to any dog at any age. If your pup gets hurt or sick, pet insurance can help you say 'yes' to the best care, even when it's costly. When it comes to shopping for this breed, you'll want to choose an insurance plan like Pumpkin plan that covers hereditary conditions Shih Tzus are prone to developing, and that can be costly to treat. While a reputable breeder will conduct genetic testing on your pup's parents to help minimize the chances of passing down hereditary conditions – they can't always be avoided. Let's look at some common ones, and how Pumpkin PDog Insurance plans could help cover the cost of care!
*Sample shows 90% reimbursement of covered vet bill assuming $250 annual deductible has been met.