Meet the Shetland Sheepdog
Best Fur Friend
High Doggy I.Q.
Protective Pooch
​​Looking for a hardworking companion dog with brains and beauty? I'm the breed for you! We Shetland Sheepdogs are herding dogs but we also make wonderful family pets. I'm loyal and gentle to my humans, so I'm great with kiddos as long as I'm socialized early. Because I'm a herder and a big-time barker, I need early obedience training so I don't run wild and drive your neighbors crazy, but I'm one of the smartest dog breeds in the world and eager to please so training me is easy. I'm also protective of my family, which makes me a wonderful watchdog.
​​As a working dog, I thrive when I have a job to do, so I need my humans to keep me busy. For me, mental stimulation is just as important as physical activity. Dog sports like rally and agility are made for me, but I also love a good game of fetch! My furbulous looks don't come easy and I shed a lot, so I need regular brushing and grooming, but if you put in the effort, I'll be your best friend furever and give you a lifetime of love!
Ready to learn more about me? Let's dig in.
Ready to learn more about me? Let's dig in.
About Me
pumpkin
Get the pet insurance all the Shelties are wagging about.
Fetch My Free Quote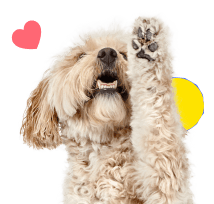 My Many Looks
Blue Merle & White
Sable Merle & White

Black & White
Black, White & Tan

My Breed Characteristics

Furbulous Fact
​​​We Shelties are off-the-charts smart! According to Dr. Stanley Coren, a canine psychologist who performed a study of dog breed intelligence in the 1990s, we are the 6th most intelligent breed! Dr. Coren studied us and figured out that we are able to learn a command after hearing it less than five times, and we follow those commands at least 95% of the time! We can also learn up to 250 different words and even understand simple math! So if you're looking for a dog you can train with ease, I'm the pup for you!

As I Grow Up
We Shelties age pretty gracefully. Here are a few key milestones in my growth and development to be aware of as I grow up from a pupper, to an adult, to a senior!
Puppy
4-12 Months
I need early socialization & obedience training so I can learn how to channel my herding skills properly! (Just make sure I've had all my vaccines first, pawlease)!
Adult
1-1.5 Years
I'm at my best when I have a job to do so I need lots of mental stimulation and exercise in order to stay happy & healthy.
Senior
10-11 Years
I'm prone to joint problems so switch to a senior-friendly dog food so I can maintain a healthy weight.

History of My Breed
​​​​​​​​We Shetland Sheepdogs get our name from our homeland – the Shetland Islands, which are in between Scotland and Norway. The humans believe that my earliest ancestors were a Spitz breed related to the Icelandic Sheepdog. We were later bred with other breeds from the mainland (the Border Collie and Rough Collie) as well as smaller companion dogs like the Pomeranian and King Charles Spaniel. We used to be called Toonie dogs (toon is the old Shetland word for farm) because we helped our humans herd and protect native Shetland sheep on their farms. But my ancestors weren't just protective of sheep – we also protected our families, which is why we're such great family dogs!
​​​​​​​​​​Our ancestors came to England and Scotland in the early 1800s when visitors to the islands discovered us "miniature Collies" and fell in love with our small size, furbulous looks, and gentle personalities. It took a while for our breed to be officially recognized in England because our breed varied a lot due to crossbreeding. In 1909, England's Kennel Club finally recognized us, giving us the name Shetland Collies, but the Collie breeders didn't like that at all. They got our name changed to the Shetland Sheepdog and it stuck!
​​​​​​​​The first Sheltie to be recognized by the American Kennel Club was a dog named Lord Scott in 1911, and we've been super popular in the US ever since. Most of today's purebred Shelties descend from dogs that came to America between World War I and World War II, and by the 1970s we were one of the AKC's top ten most popular dog breeds! While we are slightly less common today (ranking #27), we are still a beloved family pet in homes across America, but we're actually very rare in our homeland. In the Shetland Islands, we've mostly been replaced by our Border Collie cousins.

Pawesome Pups to Parent
In addition to purebred Shetland Sheepdogs like me, there are tons of perfectly sweet mixed-breed Shelties that are looking for their furever homes. Find your next pet below!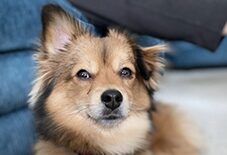 Purchase from a responsible breeder.
While well bred and cared for Shetland Sheepdogs can be very healthy, this breed is susceptible to certain heritable joint disorders, including hip dysplasia, patellar luxation, and Legg-Perthes, which can cause pain and loss of mobility. In addition to heritable joint conditions, some Shetland Sheepdogs are also predisposed to a variety of genetic eye conditions that can cause blindness, including trichiasis, progressive retinal atrophy (PRA), cataracts, and Collie eye anomaly. Avoid heartbreak and veterinary expenses by purchasing puppies from responsible breeders who only breed dogs that are free of heritable disorders and provide health guarantees.
Keep an eye out for skin problems.
Dermatomyositis is a skin condition seen in Shetland Sheepdogs that causes hair loss and skin crusting on the face, ear tips, legs, tip of tail, and feet. The condition can be seen in puppies as young as 12 weeks of age. Dermatomyositis is believed to be caused by a combination of genetic and environmental factors, including stress. Consult your vet if you notice any of these symptoms.
Steer clear of ivermectin.
Some Shetland Sheepdogs may have a hypersensitivity to ivermectin due to a MDR1 genetic mutation, leading to the phrase 'white feet, don't treat'. To be safe, do not give Shetland's ivermectin. This includes heartworm prevention that uses ivermectin as an active ingredient.
Teach them to be calm around loud noises.
Shetland Sheepdogs are highly responsive and startle easily. A loud truck or unexpected doorbell can cause them to jump. Your impulse will be to comfort them – don't do that. Just model calmness. If you don't react to the noise, you demonstrate that it is nothing to worry about. This will help your sheepdog relax themselves. If you become responsive to the noise yourself, that will exacerbate their anxiety.
Mental stimulation is key.
As sheepdogs, Shelties are happiest when herding. You may think all they need is physical exercise, but the truth is they crave mental stimulation as well. These are dogs that can learn advanced tricks, agility training, and other special skills. They'll thrive when they do so and become anxious wrecks if their brains are ignored.
Discourage their barking.
Shetland Sheepdogs are notorious for their constant barking. This is part of who they are, but that behavior is encouraged if you leave them alone for long periods of time, respond to their barking, or don't stimulate them enough. Make sure to ignore the bark and avoid situations of anxiety that could provoke a bark.

Why Get Dog Insurance?
from Pumpkin®
While Shetland Sheepdogs are a generally healthy breed, unexpected ruh-rohs can happen to any dog at any age. If your pup gets hurt or sick, pet insurance can help you say 'yes' to the best care, even when it's costly. When it comes to shopping for this breed, you'll want to choose an insurance plan like a Pumpkin plan that covers hereditary conditions Shelties are prone to developing, and can be costly to treat. While a reputable breeder will conduct genetic testing on your pup's parents to help minimize the chances of passing down hereditary conditions, they can't always be avoided. Let's look at some common conditions, and how Pumpkin Dog Insurance plans can help cover the cost of care!
*Sample shows 90% reimbursement of covered vet bill assuming the annual deductible has already been met.