Meet the Shar-Pei
Greatest Guardian
Calm Companion
Smarty Paws
Looking for a dog who's loyal and protective, but also calm enough to be a paw-fect companion for the family? Look for me! I am a devoted watchdog, a loyal best friend, and I can make myself at home in any sized house or apartment. On most days you'll find me sitting near a window, ready to let you know who is coming to the door. I'm regal, alert, and loving. My family is more important than anything in the world.
I am a top dog guardian, and that means I tend to bark a lot if strangers come near my humans. You'll want to train me as much as you can, because I am as stubborn as I am intelligent (and I'm very intelligent)! Once you show me who's boss, I will respect your leadership and listen to you furever. The earlier I'm socialized with others, the better.
Ready to learn more about me? Let's dig in.
Ready to learn more about me? Let's dig in.
About Me

My Many Looks
Black

Cream
Red

My Breed Characteristics

Furbulous Fact
We Shar-Peis are known for our wrinkled skin, which was actually designed to protect us in fights. We once needed a suit of skin armour because we were originally bred to protect our owners. Due to the way our skin folds over, if a dog or human grabs on to us, we can easily get away without any of our internal organs being damaged. This is just one of the features that makes us a tough watchdog! However, our wrinkly folds of skin can lead to skin problems, so our skin care needs to be considered when it comes to grooming.

As I Grow Up
As you can see, we Shar-Peis age pretty gracefully. Here are a few key milestones in my growth and development to be aware of as I grow up from a puppy to adult to senior!
Puppy
3-18 Months
I need to be trained early on, and often. Make sure that I have early socialization as a pup so that I grow up to be sweet and friendly!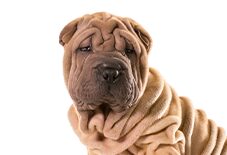 Teen
2-4 Years
I'm strong-willed in my teenage years – please don't give up on training me! I love treats and lots of pets from my favorite humans.
Senior
4-10 Years
I am prone to a lot of hereditary health problems. You should take me in for regular vet appointments to keep me happy and healthy.

History of My Breed
We Shar-Pei dogs are an ancient breed from China, and have been around since 200 B.C. That's, like, furever! We were originally bred for hunting, guarding, and fighting, and we still act as family guard dogs to this day. 2,000 years ago, we were kept primarily as herding dogs by peasant farmers living in the southern provinces of China, until our popularity grew throughout the country and world. We were good boar hunters, and because of the skin over our eyes, it looked like we had a "warrior scowl" to better intimidate potential intruders. A long time ago, we were also kept by gamblers who used us as fighting dogs. This involved feeding us alcohol, training us to be aggressive, and encouraging us to fight with other dogs for sport. Over the years, other large dog breeds were introduced to China, and we slowly, thankfully stopped being used for dog fights. Now we're family dogs!
During the Han Dynasty, we were so popular that many clay statues were made of our likeness. That just goes to show how long we've been around! Today some of the statues can be seen in places like the Louvre and the British Museum. As royal dogs, we were protectors of the rich and famous for many centuries. But after Mao Zedong came to power, we became less common. This is because we were heavily taxed as a noble luxury purchase. A few of us were transported to Taiwan and Hong Kong, so we survived, but we became so uncommon, in fact, that we almost became extinct - even holding a spot in the Guiness Book of World Records as the "World's Rarest Dog Breed." Lucky for you, that hasn't been the case since 1978, and you can find plenty of Shar-Pei pups to parent today. We're the 134th breed recognized by the American Kennel Club, but you know we've been around a lot longer than that.

Pawesome Pups to Parent
In addition to purebred Shar-Peis like me, there are tons of pawfectly sweet mixed-breed Shar-Peis that are looking to find their furever homes. Learn where to find yours below!
Purchase a Shar-Pei puppy from a breeder that tests breeding animals for heritable diseases, is transparent about test results, and gives you a health guarantee.
While well bred and cared for Shar-Pei dogs can be very healthy, this breed is susceptible to certain heritable disorders, including joint disorders like luxating patellas, hip and elbow dysplasia, all of which can cause pain and loss of mobility. In addition to heritable joint conditions, Shar-Peis are also predisposed to heritable thyroid issues, eye problems like entropion, and skin fold infections. Avoid heartbreak and veterinary expenses by purchasing puppies from responsible breeders who only breed dogs that are free of heritable disorders and provide health guarantees. Never ever buy a puppy from a pet store.
Adopt an older Shar-Pei.
Oftentimes, Shar-Pei health problems aren't apparent in puppies. By adopting an adult dog, many of these heritable conditions can be ruled out. You can further protect your Shar-Pei from health issues by taking them to the veterinarian as soon as possible after adoption for an examination. Your vet will conduct a physical exam, be able to spot any problems, and set you up with a health plan that will help ensure your dog's health for years to come.
Give your Shar-Pei daily wrinkle care.
Shar-Peis are famous for their wrinkles! Shar-Peis typically have wrinkles on their face and around their tail fold. Inspect these wrinkles daily, and wipe them clean with an unscented baby wipe if there is any debris. If you notice any signs of skin fold infection (redness, discharge, swelling, sensitivity, odor), call your veterinarian for advice as soon as possible.
Potty train early and often.
One habit you definitely want to avoid is letting your Shar-Pei get comfortable peeing and defecating indoors. Find a spot outside your home that can be their designated bathroom spot and take them there every two hours. If they go to the spot on their own, show them praise and give them a treat. Continue this positive reinforcement and they'll soon realize that if they keep going to the bathroom outside, things go very well for them!
Control the bark.
The key to controlling a Shar-Pei's bark is to ignore it. You want to teach them that barking is useless. When they are quiet, pay attention to them. When they're barking, just leave the room without paying them any heed. They'll soon understand that being quiet gets them the attention they seek – not barking.
Don't let them jump on people.
Shar-pei's are adorable, so when they jump on people as puppies, they often get positive reinforcement through petting and attention. This is a mistake – paws will get muddy and the jumping on people routine is less cute once they grow up. When your Shar-Pei puppy jumps on you, turn your back on them. Wait for them to sit calmly in front of you before greeting them. This will reinforce good behavior and nip future jumping issues in the bud.

Why Get Dog Insurance?
from Pumpkin®
While Shar-Peis are a generally healthy breed, unexpected ruh-rohs can happen to any dog at any age. If your pup gets hurt or sick, pet insurance can help you say 'yes' to the best care, even when it's costly. When it comes to shopping for this breed, you'll want to choose an insurance plan like Pumpkin that covers hereditary conditions Shar-Peis are prone to developing and costly to treat. While a reputable breeder will conduct genetic testing on your pup's parents to help minimize the chances of passing down hereditary conditions, they can't always be avoided. Let's look at some common ones, and how Pumpkin Dog Insurance plans can help cover the cost of care!
*Sample shows 90% reimbursement of covered vet bill assuming the annual deductible has already been met.