Meet the Schnauzer
High Doggy I.Q.
Best Fur Friend
Pawfect Playmate
Looking for a smart pooch who'll stick by your side through thick and thin? Then look no further! I'm a people pup, which means I'm always down to play with my humans, or maybe just lie down next to them for maximum bonding. I'm also a top working dog – I'm super smart and easy to train – but I have a stubborn streak. Patience is key!
I also don't mind living in an apartment – I'm only medium-sized! Just make sure to give me plenty of daily exercise outdoors to support my high energy levels. When it comes to other pets, I don't really mind them as long as they don't get under my fur. I'm a good family pet who's generally good with kids, and I'm a perfect choice for first-time pet owners. I also look very sophisticated, thanks to my little beard and show-dog good looks, but at heart, I'm goofy and fun-loving. (I do require some brushing and regular trips to the groomer to keep my wiry coat looking fresh, though.) I promise you won't regret inviting me into your home!
Ready to learn more about me? Let's dig in.
Ready to learn more about me? Let's dig in.
About Me
pumpkin
Get the pet insurance all the Schnauzers are wagging about.
Fetch My Free Quote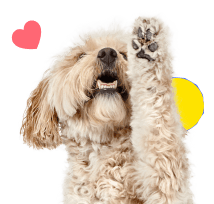 My Many Looks

Black
Salt & Pepper

My Breed Characteristics

Furbulous Fact
Funnily enough, my long, wiry beard isn't just there to make me look smart and wise – it actually once served a very specific purpose! When I was a ratter on farms in Germany (catching rats, no surprise there!), my hairy beard served as protection. Rats and other vermin would bite my beard instead of my face, so I couldn't feel a thing!

As I Grow Up
As you can see, we Schnauzers age pretty gracefully. Here are a few key milestones in my growth and development to be aware of as I grow up from a pupper to an adult and senior!
Puppy
1-3 Months
I'm one smart cookie – I learn tricks in no time! Be sure to keep teaching me new things, or I'll get bored – and devious – quickly!
Adult
10-16 Months
I'm the perfect pooch for an active family. Once I'm grown, I love hiking and playing outside with my humans!


Senior
12-16 Years
Good news – I'm a pretty healthy breed and tend to live a long, happy life! Just remember to keep scheduling those vet visits as I age.

History of My Breed
Long before farmers had machines to help them harvest crops, they had dogs like the Schnauzer work on their land. The Schnauzer breed originated in 15th-century Germany, specifically Bavaria, where farms were plentiful – and farmers needed pups to help them herd their livestock. They also used us as ratters to help them catch rats and other vermin. (Yuck!)
Schnauzers come in a variety of sizes. I'm a Standard Schnauzer, referred to as a Mittelschnauzer in German, but there are also Mini Schnauzers and Giant Schnauzers. Miniature Schnauzers are hybrids of Standard Schnauzers and Affenpinschers, and Giant Schnauzers are a mix of Standard Schnauzers and Great Danes! In the 1870s, when dog shows were becoming popular in Europe, we were referred to as Wire-Haired Pinschers, but our name changed within a few decades to Schnauzer, meaning "whiskered snout."
While my breed rose to fame in the 19th-century as a pretty pawesome farm dog, we were helpful in other ways, too! When our owners went into town to buy goods, we guard dogs happily protected the wagon to keep intruders away. During the World Wars, we carried letters and served as Red Cross aides, working with the wounded. Oh, and we were also used as butchers' and brewers' watch dogs,, protecting meat and beer from thieves!
Schnauzers arrived in the United States no later than the early 1900s, most likely with German immigrants. It wasn't until the 1920s that other Americans realized what furbulous family and farm pets we were.
In 1926, the American Kennel Club (AKC) officially recognized the Miniature Schnauzer and, in 1933, the American Miniature Schnauzer Club was formed. During that same year, the official parent club of the Standard Schnauzer dog was formed!

Pawesome Pups to Parent
In addition to purebred Schnauzers like me, there are tons of pawfectly sweet mixed-breed Schnauzers that are looking to find their furever homes. You can learn where to find your next pet below!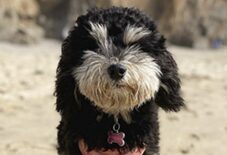 Keep an eye out for bladder stones.
Schnauzers are prone to bladder stones, which are rock-like formations of minerals that develop in the urinary tract and cause great discomfort. Be watchful of changes in house breaking or other urinary issues.
Talk to your vet about possible eye issues.
Schnauzers are prone to a few eye disorders, like cataracts and keratoconjunctivitis (dry eye), so speak to your breeder about any genetic eye problems your Schnauzer could be prone to. Genetic screenings are also available for some heritable eye issues, so speak to your vet regarding those.
Look out for itchy skin.
Schnauzers are prone to atopic dermatitis, so be on the lookout for itchy skin, constant skin infections or ear infections, and speak to your vet about the best method of treatment for your dog.
Don't teach your Schnauzer to jump on people.
Schnauzers are excitable dogs that tend to jump on people. Teach your Schnauzer puppy to sit when they greet people. If they do jump, don't pet or talk to them. Simply turn your back to them and wait until they sit down again to acknowledge them. You can always train your dog to jump on command by doing a chest tapping motion. That way, you're in control and it teaches your pup good social etiquette.
Discourage your Schnauzer from jumping on other dogs.
When Schnauzers meet new dogs, they want to jump on them. Other dogs, especially bigger ones, will see this as a challenge. Teach your Schnauzer to sit when greeting a new dog, just like you would teach it to greet humans. This also makes your Schnauzer trust you more because you're controlling the flow of the interaction, which leads to better encounters with new dog friends. Early socialization is important for this breed.
If your Schnauzer is a barker, ignore them.
Don't respond to your Schnauzer when they're barking, no matter how hard it may be. When your dog starts barking, you need to be emotionally blank about it. Go to a zen place, ignore the bark, and calmly leave the room. Schnauzers tend to bark when people enter their home, so consider putting them on a leash and giving them a spot to go to when people arrive. Let your dog know that they can get what they want when they're quiet, and they get nothing when they're barking.

Why Get Dog Insurance?
from Pumpkin®
While Schnauzers are a generally healthy breed, unexpected ruh-rohs can happen to any dog at any age. If your pup gets hurt or sick, pet insurance can help you say 'yes' to the best care, even when it's costly. When it comes to shopping for this breed, you'll want to choose an insurance plan like Pumpkin plan that covers hereditary conditions Schnauzers are prone to developing, and that can be costly to treat. While a reputable breeder will conduct genetic testing on your pup's parents to help minimize the chances of passing down hereditary conditions, they can't always be avoided. Let's look at some common ones, and how Pumpkin Dog Insurance plans could help cover the cost of care!
*Sample shows 90% reimbursement of covered vet bill assuming $250 annual deductible has been met.