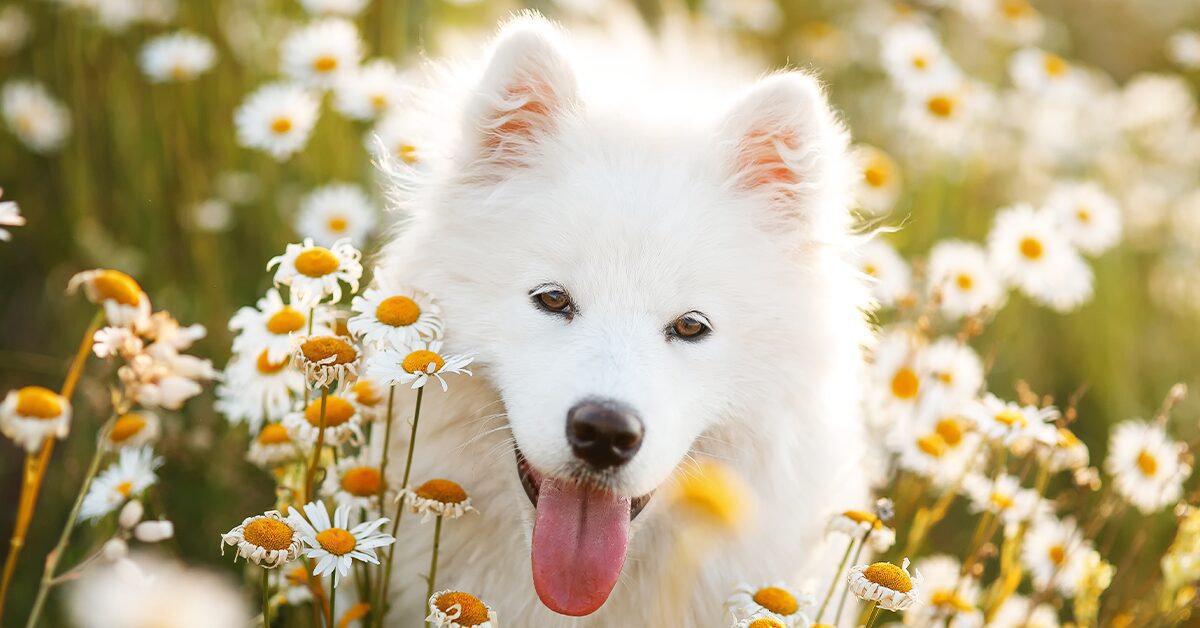 Meet the Samoyed
Star Athlete
Winning Smile
Best Fur Friend
Looking for a fun-loving fluffball with a big smile and a bigger heart? I may be the breed for you! I'm one of the friendliest breeds around – there's a reason humans call me Smiling Sammie. I'm a gentle doggo with a soft spot for kids, so small children are safe with me (and so are other furbabies).
I'm a ball of energy! I thrive with humans who have the space (sorry apartment dwellers!) and time to give me the exercise and attention I need. I get destructive when I'm bored so pawlease don't leave me alone for too long! I just want to be with my humans, love them, and be loved.
My fluffy coat is furbulous but beauty like mine takes work. I'm a big shedder (so invest in a good vacuum!) and I need frequent brushing. My coat was built for the cold (and I overheat easily) so it's impawtant for my humans to get rid of excess fur, both to keep me cool and to keep it off the floor! If you've got space in your home and your heart for a sweet pupper like me, I'll be your loyal friend furever.
Ready to learn more about me? Let's dig in.
Ready to learn more about me? Let's dig in.
About Me
pumpkin
Get the pet insurance all the Sammies are wagging about.
Fetch My Free Quote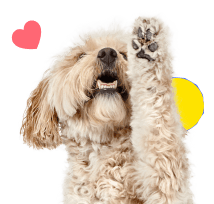 My Many Looks
White
Cream
Biscuit

White & Biscuit

My Breed Characteristics

Furbulous Fact
The Sammie Smile I'm always wearing isn't just because I'm happy to see you (even though I am). I was bred as a working dog in the arctic temperatures of Siberia, and my mouth is built to withstand the cold just as much as my thick coat. My mouth curves upward at the corners, giving me a lovable smile that is both adorable and practical – it keeps me from dripping drool, which could form icicles if I'm hard at work in the freezing cold.

As I Grow Up
As you can see, we Samoyeds age pretty gracefully. Here are a few key milestones in my growth & development to be aware of as I grow up from a pupper to an adult to a senior!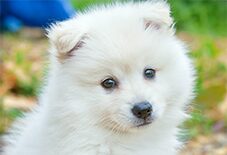 Puppy
3-4 Months
Because I'm a pack dog, start obedience training early so I know you're the alpha. I'm not the easiest to train so pawlease be patient!
Adult
1.5 Years
I need a lot of exercise to stay healthy and happy. I'm very athletic, so I love long walks and hikes, fetch, and even agility games.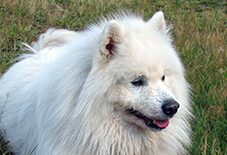 Senior
8-9 Years
I may be slowing down but I still need daily (lower intensity) exercise. Switch up my dog food to a senior formula to prevent obesity.

History of My Breed
We Samoyeds are one of the oldest dog breeds in the world! My ancestors are from Siberia and we get our name from the Samoyede people who bred us as working dogs. The Samoyede lived in Northwestern Siberia in a freezing cold region of tundra that stretched to the Arctic Ocean, so we Sammies – like other spitz breeds – are built hearty enough to withstand the cold.
My ancestors helped their humans with hunting, fishing, herding reindeer, towing boats, and pulling sledges (aka sleds). The reason I make such an excellent watchdog today is because my ancestors were trained to guard the reindeer herds as well as to protect their human families from predators. Because it was so cold, my ancestors used to snuggle up with their humans (especially the children) to keep them warm. It's no wonder we are such a loyal, affectionate, and kid-friendly breed – the Samoyede people formed incredibly close and loving bonds with my ancestors. They relied on one another to survive in such a harsh climate.
My breed first arrived in England in the late 1800s when explorers brought us back home from Arctic expeditions. We became popular when dog-lover Queen Alexandra was given a Sammie as a gift. She fell in love with us and started to breed us, and we became popular with the British elite. Many of today's Samoyeds are related to Queen Alexandra's dogs.
Samoyeds (then called Samoyede) were first recognized by the AKC in 1906. Modern Samoyeds were bred more as companion dogs, but intrepid humans still knew how to put us to work. We were used as sled dogs in polar expeditions. One famous Sammie named Etah was the lead dog in explorer Roald Amundsen's 1911 Antarctica expedition and is believed to be the first dog to set paw on the South Pole!

Pawesome Pups to Parent
In addition to purebred Samoyeds like me, there are tons of pawfectly sweet mixed-breed Sammies that are looking to find their furever homes. You can learn where to find your next pet below!
Groom your Samoyed thoroughly and often.
Frequent and thorough brushing, at least weekly, is a necessity. Mature dogs shed profusely, usually once a year, and bitches twice yearly. Particular care is needed in keeping the dog well brushed at this time, for shedding frequently produces matting, especially in the heavily coated areas over the back, under the tail, and around the neck. Frequent bathing is unnecessary if sufficient care is taken in maintaining a regular brushing routine, and the coat can be cleaned quite well by the use of grooming powder or chalk, worked into a dry, or barely damp coat and carefully removed by brushing.
Annual vet check-ups will help with early detection.
Samoyeds need annual veterinary exams to catch any problems early on. Potential health issues Samoyeds are prone to include hypothyroidism, eye problems such as cataracts, diabetes, and bone & joint problems.
Pay special attention to your senior Samoyed's diet.
Senior Samoyeds tend toward obesity and should be diet controlled to produce less strain on their older hearts and other organs

Training Tips
from Trainers & Behavioral Specialists
Socialize with other dogs in controlled environments.
Samoyeds tend to have a high prey drive so proper socialization as puppies (around a variety of different dogs) is very important. Controlled socialization consists of short positive interactions with other dogs (not at dog parks or other overstimulating areas). Make sure to always reward your puppy when they are around and meeting other dogs for the first time. - Lena Abuarafeh
Socialize with people to curb overprotective behavior.
Since Samoyeds were bred to guard and protect livestock, it is beneficial to make sure they are exposed to many types of people as a puppy. Exposing them to all kinds of people during this critical socialization period will ensure that they do not turn too protective over their owners. - Diana Ludwiczak
Use crate training techniques to alleviate separation anxiety.
Samoyeds love to be with their people and they can be prone to separation anxiety. It's incredibly important to practice giving them alone time each day to prevent this. One way to help them get used to alone time is to start with crate training your puppy. - Lena Abuarafeh

Why Get Dog Insurance?
from Pumpkin®
While Samoyeds are a generally healthy breed, unexpected ruh-rohs can happen to any dog at any age. If your pup gets hurt or sick, pet insurance can help you say 'yes' to the best care, even when it's costly. When it comes to shopping for your breed, you'll want to choose an insurance plan like Pumpkin plan that covers hereditary conditions Sammies are prone to developing, and that can be costly to treat. While a reputable breeder will conduct genetic testing on your pup's parents to help minimize the chances of passing down hereditary conditions, they can't always be avoided. Let's look at some common ones, and how Pumpkin Dog Insurance plans could help cover the cost of care!
*Sample shows 90% reimbursement of covered vet bill assuming $250 annual deductible has been met.