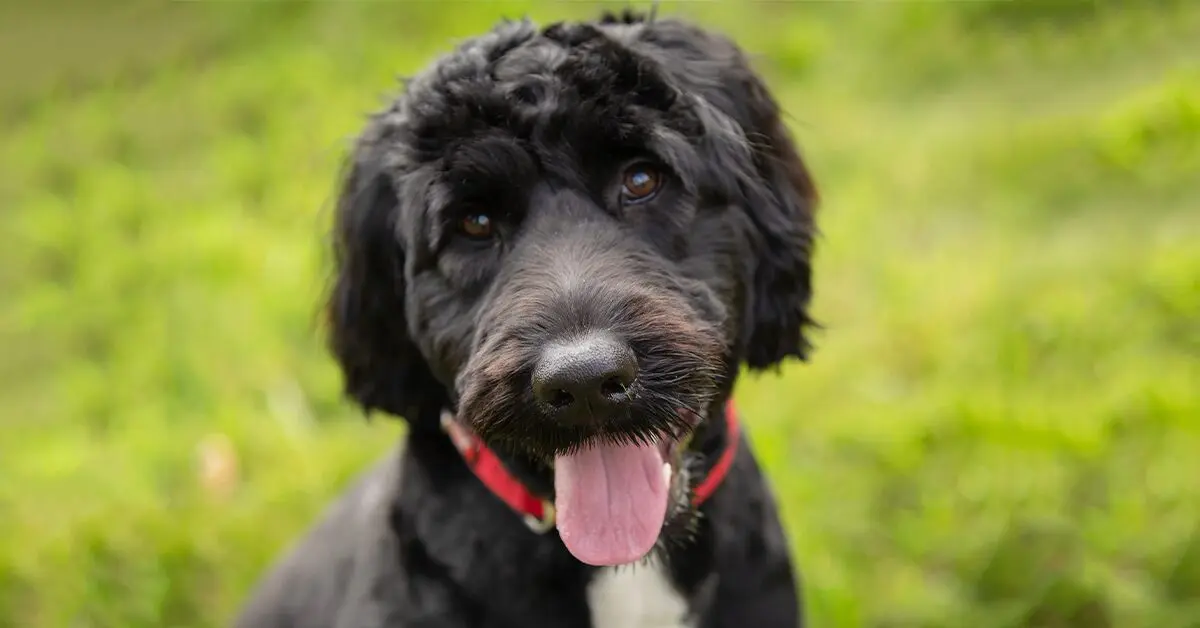 Meet the Portuguese Water Dog
Pawfect Playmate
Best Fur Friend
Daring Doggo
Are you in need of a pup that loves to play, work, and cuddle? Well you're lookin' at 'em! I'm a Portuguese Water Dog, and like my name suggests, I love the water! I was bred to swim in the ruff waters of the deep blue sea, and I never lost my affection for the ocean. I have high energy levels so I need a lot of exercise. I'd love a big yard to run around in, and maybe some water to swim in, but I can live in an apartment, too. I'm also a family dog, so I love other pets and all sorts of humans, including the kiddos.
I have a high I.Q. and there's nothing I love more than pleasing my owners, so training me is a breeze. I'm also quite healthy, as long as you give me the exercise I need so I can work off all the treats I get when I obey you oh-so-well. My curly coat needs regular grooming and brushing, so make sure to find me a good groomer. I'm a fun-loving, family-oriented pooch, so dive in and explore all the love and joy I have to offer!
Ready to learn more about me? Let's dig in.
Ready to learn more about me? Let's dig in.
About Me
pumpkin
Get the pet insurance all the Porties are wagging about.
Fetch My Free Quote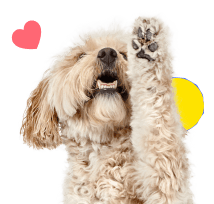 My Many Looks
Black
Brown
White

My Breed Characteristics

Furbulous Fact
We were part of an elite group of skilled rescuers called B.A.R.K B.A.R.K (Baseball Aquatic Retrieval Korps). That's right, we were tasked with rescuing one of the most important items in baseball – the ball. For a few seasons starting in 2000, when home run balls were hit from Pacific Bell Park into the San Francisco Bay, six Porties would gear up, dive in, fetch the ball, and bring it to land. The balls, called "Splash Hits," were auctioned off to benefit Pets In Need, a nonprofit no-kill shelter. No biggie, just saving lives one ball at a time!

As I Grow Up
As you can see, we Porties age pretty gracefully. Here are a few key milestones in my growth and development to be aware of as I grow up from a pupper to an adult and senior!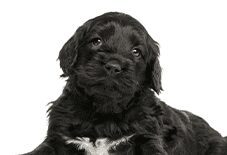 Puppy
3-6 Months
We Porties mature more slowly than other breeds, but stay patient, because our super smarts and will to please make up for it!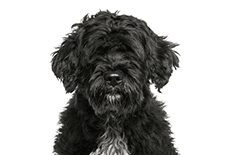 Adult
2-5 Years
I need a lot of exercise to be happy. At minimum, make sure I get 30 minutes of vigorous exercise each day to keep me my healthiest.
Senior
10-13 Years
I've been energetic all my life, but I'll slow down as I age. Make sure I'm eating good senior dog food and getting light exercise.

History of My Breed
The Portuguese Water Dog breed has ancestors dating back centuries, including the Poodle. We were bred to help Portuguese fishermen catch fish, fetch gear from the water, and deliver messages to other boats. We would swim all the way from the warm Portuguese coast to the freezing cold waters of Newfoundland and Iceland! Those were some tuff working dogs. Back home in Portugal, we're known as Cao de Agua, which means "dog of the water." We even have webbed feet – we might as well be amphibious!
By the 20th century, technology was used to do the jobs we'd been doing for so many years, and we were no longer doing the whole fishing dog thing. Since humans didn't need us anymore, our breed declined and we almost went extinct. If it wasn't for a wealthy, PWD lover named Dr. Vasco Bensaude, you may not even know we ever existed! He sent ships to the Southern coast of Portugal to find some of us, and a ship captain told him of one marvelous PWD in particular. As the story goes , the owner didn't want to part with his Porty, so he told Bensaude "I'd have to win the lottery before I part with my dog." One month later, the man came to Bensaude with his dog and said "my father won the lottery." That marked the start of Bensuade's PWD kennel, and the start of the rest of our lives!
Porty fans created a breed club and breed standard and we water dogs started taking part in dog shows. Our rare breed then made our way to England, and came to the United States in 1958. With only 12 known Porties in the U.S The Portuguese Water Dog Club of Americawas formed in 1972, and by 1982, our numbers rose to 650! Today, you might recognize us as former members of the White House. President Barack Obama had two PWDs, Bo and Sunny. Bo sadly passed away in 2021, but both of these dogs were key figures during his time in office!
We were accepted into the American Kennel Club's miscellaneous class around this time, and were recognized by the AKC as a distinct breed in 1983.

Pawesome Pups to Parent
In addition to purebred Portuguese Water Dogs like me, there are tons of pawfectly sweet mixed-breed Porties that are looking to find their furever homes. You can learn where to find your next pet below!
Check with your breeder about the possibility of joint dysplasias in their litters.
Hip dysplasia is a genetic disorder that causes abnormal development of the hip joint, leading to osteoarthritis, pain, and loss of mobility. This condition can be treated with surgery, however, the best plan is to purchase a puppy from a breeder that has certified their breeding stock to be free of joint dysplasias via the Orthopedic Foundation of America (OFA).
Be aware of the likelihood of chondrodystrophy and chondrodysplasia in your Portie.
Otherwise known as canine dwarfism, chondrodystrophy in dogs is characterized by shortened legs which is the result of abnormal growth plates. Dogs with this condition may be predisposed to back problems related to intervertebral disc disease.
Ask your breeder about GM1 Gangliosidosis status in your pup.
While this condition is rare, it is known to occur in Porties. GM1 gangliosidosis causes a buildup of toxins in nerve cells and is fatal. Fortunately, Portie breeders have virtually eliminated this condition by responsible breeding, however, you should still ask for written documentation of GM1 gangliosidosis status of any puppy you intend to purchase.
Introduce them to swimming at a young age.
Portuguese Water Dogs thrive in the water. They were bred to ferry messages in the ocean from ship to ship, so this is truly where they're in their element. They should be introduced to water while they're young so that they can have fun in the water their whole lives. It's a great outlet for exercise and it's fun!
Make sure the whole house is consistent with the training.
These dogs thrive with consistency in the family. They're affable and behave well – until they don't. Without consistent messaging among their owners, Portuguese Water Dogs can have a sour disposition. Get everyone in the house on the same page when it comes to training methods, commands, rewards, rules, etc. and the dog should learn the ropes.
Do things on your terms.
It's important not to teach these dogs to jump on couches or beds and avoid feeding them food from the table. Playing and rewards should always be on your terms, and they should come to an understanding that when they behave well, they get to do fun things – like go swimming! Human food makes other rewards meaningless, and inviting them onto the bed gives them control of the space. You want to be in control at all times, so if they follow your instructions, they'll get the reward.

Why Get Dog Insurance?
from Pumpkin®
While Portuguese Water Dogs are a generally healthy breed, unexpected ruh-rohs can happen to any dog at any age. If your pup gets hurt or sick, pet insurance can help you say 'yes' to the best care, even when it's costly. When it comes to shopping for this breed, you'll want to choose an insurance plan like Pumpkin plan that covers hereditary conditions Porties are prone to developing, and that can be costly to treat. While a reputable breeder will conduct genetic testing on your pup's parents to help minimize the chances of passing down hereditary conditions, they can't always be avoided. Let's look at some common ones, and how Pumpkin Dog Insurance plans could help cover the cost of care!
*Sample shows 90% reimbursement of covered vet bill assuming $250 annual deductible has been met.