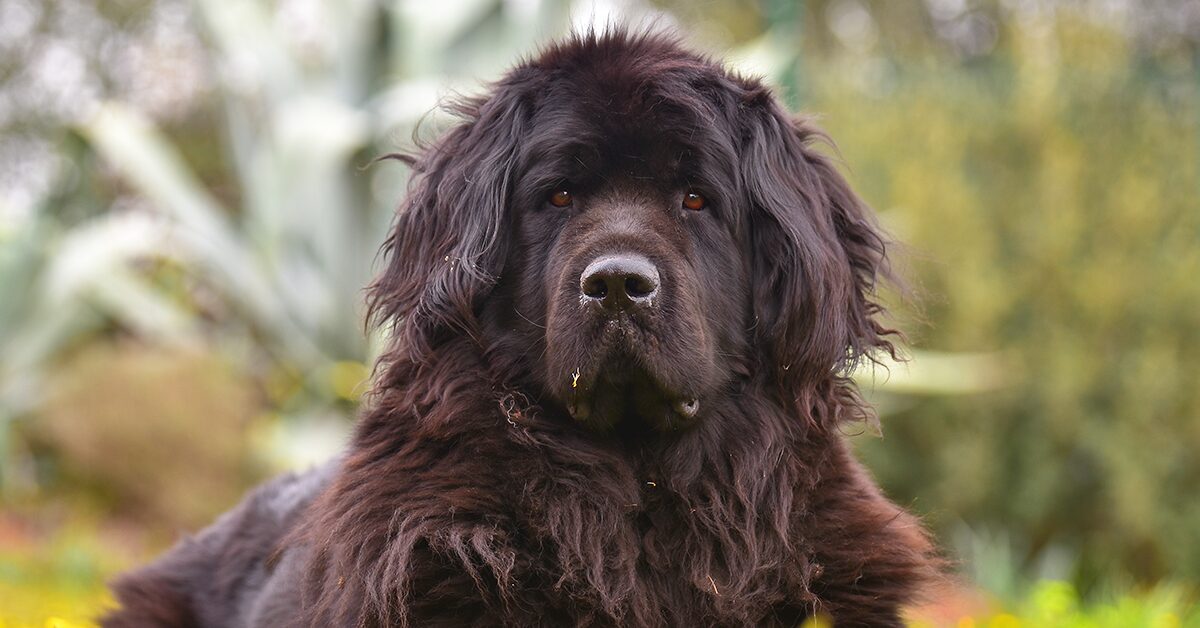 Meet the Newfoundland Dog
Gentle Giant
Pawfect Playmate
Top Working Dog
If you're looking for a big, snuggly pup who will quickly become part of the family, I'm the dog breed fur you! I'm so burly that it's easy to mistake me for a bear, but I promise I'm much, much friendlier. No roars here – just slobbery kisses, lots of drool, and some shedding – sorry! Hailing from the island of Newfoundland, I'm a bone-afide water dog. My Newf ancestors used to help fishermen on their voyages, but these days, we mostly stick to water rescues. You could say I've pawfected the doggie paddle!
If you don't live near the ocean, no worries. We'll still get along furbulously! I just can't live in an apartment. I learn new things quickly so training me is super easy, and I love spending time with people, especially kids. Your little ones will be safe with me, since I'm known for being friendly, pawtective, and patient. I'm sure they'll love cuddling with me as much as I love playing with them. They don't call me the "nanny dog" for nothing!
Ready to learn more about me? Let's dig in.
Ready to learn more about me? Let's dig in.
About Me
pumpkin
Get the pet insurance all the Newfies are wagging about.
Fetch My Free Quote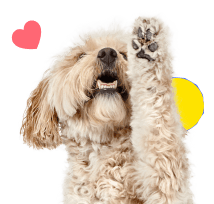 My Many Looks
Black
Brown
Gray
White & Black

My Breed Characteristics

Furbulous Fact
Did you know that the most famous nanny dog ever was a Newfoundland? Nana, the nursemaid in Peter Pan, was originally modeled after author J.M. Barrie's Newfie, Luath. Arthur Lupino played Nana in early stage performances and he spent hours with Luath studying his every move! Lupino's costume was also inspired by Luath's black and white fur. In later adaptations of the book, Nana was modeled after Barrie's other dog, a Saint Bernard, but we don't mind sharing the spotlight with a fellow giant breed! In addition to being gorgeous and charming, we're also humble.

As I Grow Up
As you can see, we Newfoundlands age pretty gracefully. Here are a few key milestones in my growth and development to be aware of as I grow up from a pupper to an adult and senior!
Puppy
3-8 Months
I may be small now, but soon I'll be huge! Set boundaries early and train me well so I'm not out of control when I'm fully grown.
Adult
1-3 Years
I'm huge and you DON'T want me to get bored. Give me lots of physical and mental activities to keep me entertained and well behaved!
Senior
6-10 Years
My joints are tired from supporting my big body for so long! It's time to limit my exercise, but still give me plenty of fresh air to enjoy.

History of My Breed
We Newfoundlands come from, you guessed it – Newfoundland! That part is pretty clear, but we're not exactly sure of our breed's origin story. One theory suggests we're a cross between Tibetan Mastiffs and the American Black Wolf. Another theory says the Vikings brought us over to the New World in 1000 A.D. and left us there to interbreed and breed with wolves!
In our early years, we helped fishermen, which was awesome because we love to swim! We have webbed feet which makes us super strong swimmers. When the day was done, we were sometimes responsible for carting the day's catch into town. We also made perfect seaside companions because we're strong (and heroic) enough to save humans from drowning. Newfie to the rescue!
Though we served a vital purpose, we almost went extinct in the 1780s. The Canadian government restricted families to only owning one dog, and they made humans pay taxes on those dogs.
It probably wouldn't be possible for humans to own us giant teddy bears today if it weren't for people like Sir Edwin Landseer. We became popular again after he made us his muse, frequently painting majestic portraits of us! Today, the black and white Newfies are called Landseers after him.
In 1802, a Newfoundland named Seaman accompanied Lewis and Clark during their expedition across America! He helped them hunt, guarded their stuff, and even scared a wild buffalo away from charging at their camp! Today, he's honored in tons of Lewis and Clark monuments.
Lord Byron, a famous English politician and poet, owned a Newfie named Boatswain. Lord Byron loved him so much that he made Boatswain his own monument at Newstead Abbey. He even made a tomb for Boatswain that's larger than his own. What a tribute!
Newfoundlands were registered by the American Kennel Club in 1879 and the Newfoundland Club of America was founded in 1930.

Pawesome Pups to Parent
In addition to purebred Newfoundlands like me, there are tons of pawfectly sweet mixed-breed Newfies that are looking to find their furever homes. You can learn where to find your next pet below!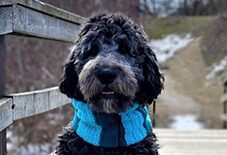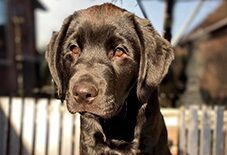 Watch for signs of bloat.
As a large, deep chested dog, Newfoundlands are at a greater risk of suffering from bloat (GDV). This happens when the stomach fills with air causing pressure to build, which stops blood from returning to the heart. If the stomach flips, it deprives the pancreas of oxygen which then produces harmful toxins. Talk to your vet about gastropexy, which can largely prevent this from happening.
Look out for your Newfies eyes.
Newfoundland dogs have a face shape that makes them more prone to eye issues, like ectropion and "cherry eye." Watch out for anything that could potentially damage the eyes and talk to your vet about treating any eye irritations.
Be aware of signs of urinary problems.
Newfoundlands are prone to cystinuria, which is genetic, so speak to your dog's breeder for any history of this condition in your dog's genetic line. It can be managed by diet if it does develop. You should also be aware of the signs of other urinary distress that can occur in your dog, such as frequent voiding, blood in urine, or the inability to urinate.

Training Tips
from Trainers & Behavioral Specialists
Don't train your puppy to jump on people.
Sometimes, owners inadvertently train their dogs to jump on people. When they're puppies, it's cute, but it's different when they're suddenly big dogs with muddy paws! When your Newfie puppy jumps on you, ignore them entirely and turn your back to them. After they calm down, you can continue what you were doing before. - Richard Lovejoy, Professional Remote Dog Trainer
Train them out of excessive barking.
Newfoundlands tend to bark. Ignore your dog when they're barking at you. If they bark while you're in the middle of playtime, calmly end playtime and reinforce the idea that barking never gets them anything they want. If you pet them when they bark, that's positive feedback and they will continue to do it. You have to just ignore them. - Richard Lovejoy, Professional Remote Dog Trainer
Provide lots of socialization.
Give your Newfoundland plenty of opportunities to socialize with people they don't know and other dogs. It's also important to introduce them to different environments that are unfamiliar to them to further help with socialization. - Laurie Williams, Certified Professional Dog Trainer

Why Get Dog Insurance?
from Pumpkin®
While Newfoundlands are a generally healthy breed, unexpected ruh-rohs can happen to any dog at any age. If your pup gets hurt or sick, pet insurance can help you say 'yes' to the best care, even when it's costly. When it comes to shopping for this breed, you'll want to choose an insurance plan like Pumpkin plan that covers hereditary conditions Newfies are prone to developing, and that can be costly to treat. While a reputable breeder will conduct genetic testing on your pup's parents to help minimize the chances of passing down hereditary conditions – they can't always be avoided. Let's look at some common ones, and how Pumpkin Dog Insurance plans can help cover the cost of care!
*Sample shows 90% reimbursement of covered vet bill assuming $250 annual deductible has been met.