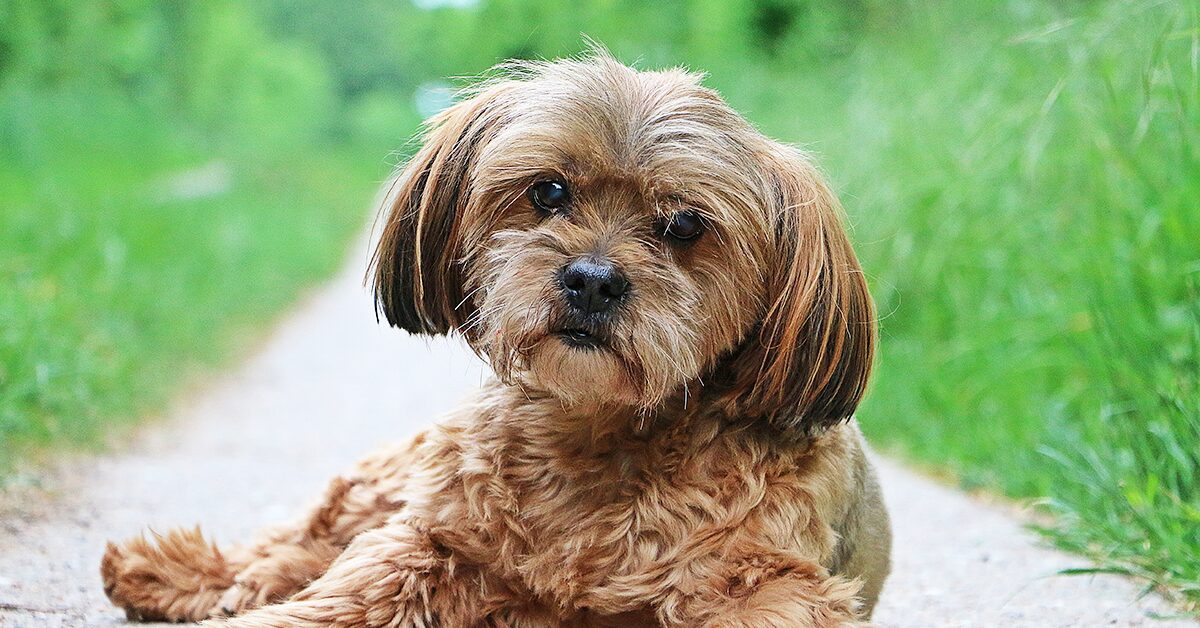 Meet the Lhasa Apso
Couch Cuddler
Doggy Diva
High Doggy I.Q.
Looking for a pup with a shiny coat and a glowing personality to match? Then look no further — you've come to the right place! We Lhasa Apsos come from Tibet, where we served as loyal guard dogs in palaces and monasteries for Buddhist nobility centuries ago. I'm an independent thinker, so I'm not the easiest pup to train — but I am smart, so I'll come around with time and patience. And because I'm such a free thinker, I don't love having other animals around, but I do well with humans, even tiny ones.
I love to play, but my energy level is pretty standard — I don't need a crazy amount of exercise. I also do well in apartments because I don't take up much space! And though I'm prone to some health problems, like kidney dysfunction, regular vet check-ups keep me in good shape. Grooming me to prevent my long coat from matting is probably the biggest task you'll have to take on, since my coat needs regular trimming, brushing, and washing. It's not easy looking this good!
Ready to learn more about me? Let's dig in.
Ready to learn more about me? Let's dig in.
About Me
pumpkin
Get the pet insurance all the Lhasas are wagging about.
Fetch My Free Quote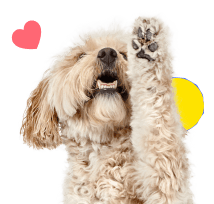 My Many Looks
Black
Black & Tan

Cream

Golden

My Breed Characteristics

Furbulous Fact
We're an ancient breed with roots in the Himalayas, where we protected members of the spiritual nobility, including Buddhist monks. We were so important and highly regarded that our humans believed our breed was part of the reincarnation process. . They believed that when Lamas or Priests passed away, their souls left their bodies and entered ours until they were reincarnated in new bodies. Today, Lhasa Apso owners talk about how our big, dark eyes peeking out of our long hair seem to look into their souls!

As I Grow Up
As you can see, we Lhasa Apsos age pretty gracefully. Here are a few key milestones in my growth and development to be aware of as I grow up from a pupper to an adult and senior!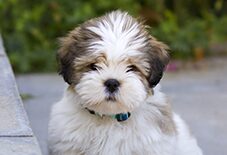 Puppy
3-6 Months
At this stage I'll start to push boundaries. Train me right away so I understand who's in charge and learn the rules of the home.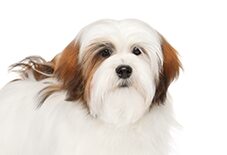 Adult
2-5 Years
I take longer to mature mentally than other breeds. Be consistent with my training and socialize me well, and I'll behave properly.
Senior
10-15 Years
I'll start to sleep more and exercise less at this age. Talk to my vet about switching me to senior dog food to keep me healthy.

History of My Breed
My breed hails from deep in the Himalayan Mountains in Tibet and dates as far back as 800 B.C.E. More specifically, we come from the holy city of Lhasa. Apso translates to "long-haired dog," which means the humans named us after the city we come from and our most prominent physical trait! We're also called Abso Seng Kye – which translates to "Bark Lion Sentinel Dog" – and we're sometimes referred to as Bearded Lion Dogs, because we're believed to be the earthly representatives of the mythical Snow Lions who protect Tibetan land.
During the first few thousand years of our existence, we were bred solely by nobility and monks, who kept us around to protect monasteries, palaces, and the humans we served. It was hard for people to get their hands on one of us because we were so special – we're believed to play a big role in the reincarnation process. When our owners die, their souls enter our bodies while they await reincarnation, which is a major undertaking for such a small dog!
We weren't even allowed to leave the country unless we were being gifted to someone by the Dalai Lama. At the beginning of the Manchu Dynasty in 1583, the Dalai Lama started sending us to the Emperor of China and the Imperial family as gifts. We were always gifted in pairs and brought good luck and fortune to our new owners. This practice continued until about 1908.
In 1933, the 13th Dalai Lama gifted two Lhasa Apsos to C. Suydam Cutting, a famous world traveler and naturalist who owned Hamilton Farm in Gladstone, New Jersey. These first Lhasas in the U.S. became the foundation of Cutting's breeding efforts. That's how we got started here! Since then, we lap dogs have had some famous owners, including Liberace, Kurt Vonnegut, Gwen Stefani, and Ellen DeGeneres!
The American Kennel Club accepted Lhasa Apsos as a breed in 1935, and the American Lhasa Apso Club was founded in 1959.

Pawesome Pups to Parent
In addition to purebred Lhasa Apsos like me, there are tons of pawfectly sweet mixed-breed Lhasas that are looking to find their furever homes. You can learn where to find your next pet below!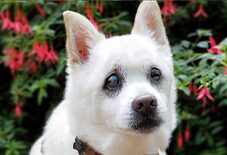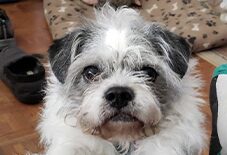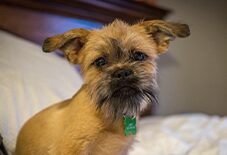 Pay close attention to your Lhasa Apso's joints.
Lhasa Apso can be prone to several orthopedic conditions including luxating patellas, Legg–Calvé–Perthes disease, and hip dysplasia. If you ever notice any kind of gait abnormality, it's best to schedule an exam with your veterinarian for an orthopedic workup.
Look out for any changes in your Lhasa Apso's eyes.
Lhasa Apso can be prone to a condition called dry eye, or keratoconjunctivitis sicca, which causes a significant reduction in natural tear production. Symptoms include irritation around the eye and greenish discharge in some cases. This condition requires lifelong management but dogs can live a happy life with daily drops.
Keep your Lhasa Apso away from rough play and big jumps.
Lhasa Apsos can be prone to a condition called intervertebral disc disease or IVDD. This condition is caused by a bulging or slipped disk and you can help reduce the risk by limiting rough play with children and other dogs. You can also provide your Lhasa Apso ramps to access furniture and teach them to avoid jumping.
Start potty training early.
Start potty training your Lhasa Apso as soon as possible because it's a good way to assert your dominance over the space. Find a spot outside your house or in the backyard that's quick and easy to get to and train your pup to go there. After you get a handle on what times throughout the day they typically have to go to the bathroom, walk them to that spot every day at those times. They will probably walk around and sniff for a long time, so it's important to be patient. Reward them with food, but only when they go in the spot you've specified for them.
Allow your pup to bond with a lot of people.
Lhasa Apsos have a tendency to hyperbond with one individual, but it's important to not let them do that. If you have a family, make sure everybody is participating in both training the dog and playing with the dog. Your pup should view all humans as good leaders, and a source of fun. When your pup is able to bond with a lot of people, they'll develop a sense of respect for all humans. So when you're not around, they'll still be on their best behavior.
Be a consistent leader.
Lhasa Apsos are stubborn dogs, which can make them difficult to train. You need to be a strong, confident, consistent trainer. Once you start teaching your pup a command, don't stray away from what the command truly means. If you teach them how to sit, don't reward them if they're only half-sitting. Only give rewards and praise when the command is done perfectly. If you give them an inch, they'll take a mile.

Why Get Dog Insurance?
from Pumpkin®
While Lhasa Apsos are a generally healthy breed, unexpected ruh-rohs can happen to any dog at any age. If your pup gets hurt or sick, pet insurance can help you say 'yes' to the best care, even when it's costly. When it comes to shopping for this breed, you'll want to choose an insurance plan like Pumpkin plan that covers hereditary conditions Lhasas are prone to developing, and that can be costly to treat. While a reputable breeder will conduct genetic testing on your pup's parents to help minimize the chances of passing down hereditary conditions, they can't always be avoided. Let's look at some common ones, and how Pumpkin Dog Insurance plans could help cover the cost of care!
*Sample shows 90% reimbursement of covered vet bill assuming $250 annual deductible has been met.