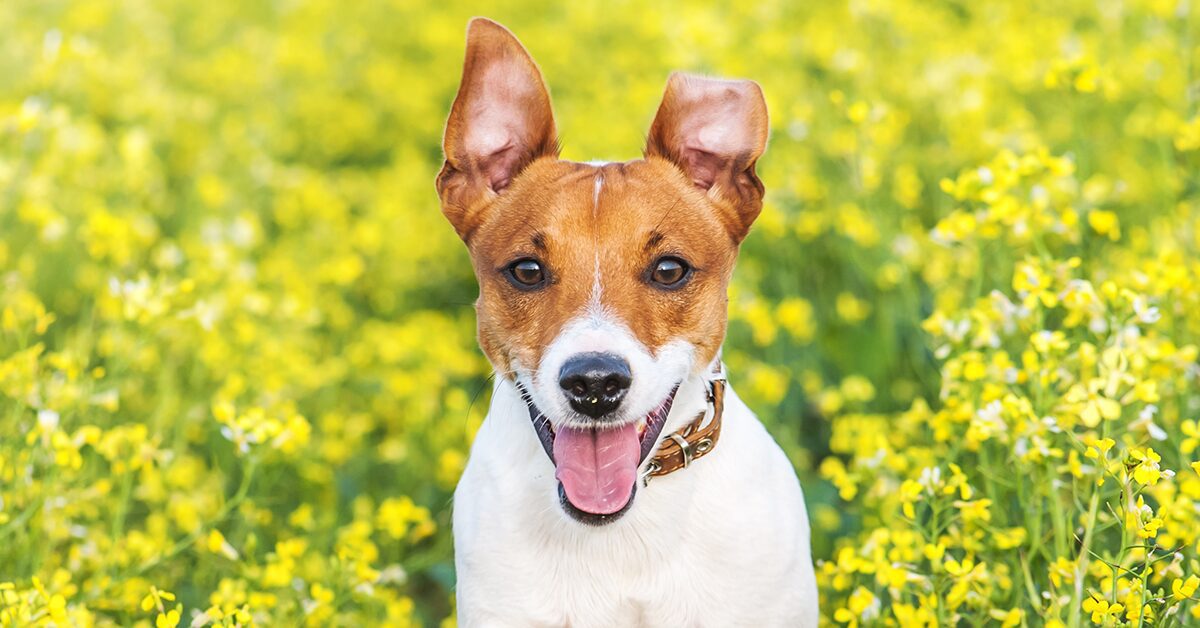 Meet the Jack Russell Terrier
High Doggy I.Q.
Star Athlete
Top Working Dog
If you're an experienced dog parent with an active lifestyle, then I'm the breed for you! We Jack Russell Terriers are not for apartment-dwelling couch potatoes – we're super high-energy and need lots of exercise, attention, and mental stimulation from our humans to be happy. And while we're friendly and affectionate with grownups, when it comes to little kids or other pets? Not so much. (Sorry!) I need to be the center of your universe. I also won't do very well if my humans are away from home a lot – I can be naughty when I'm bored.
All this means I need a human with training experience and a lot of patience. I'm super smart with an independent spirit. I've also got hunting dog DNA, so I'm happiest when I have a job to do. Don't be surprised if you find me digging up the yard – I'm just looking for vermin! Beyond that, I'm very alert – my loud bark makes me an excellent choice for a watchdog. I'm also pawesome at sports like agility and flyball, which are a great way to give me the workouts I need. I can be a bit of a handful, but I promise that if you show me love, I'll give it right back in spades!
Ready to learn more about me? Let's dig in.
Ready to learn more about me? Let's dig in.
About Me
pumpkin
Get the pet insurance all the Jack Russells are wagging about.
Fetch My Free Quote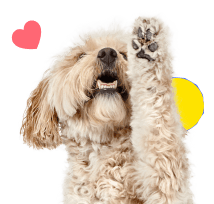 My Many Looks
White
White & Black

White & Tan

Tricolor

My Breed Characteristics

Furbulous Fact
Jack Russell Terriers are pretty low maintenance – we just need a weekly brushing – but did you know we have three different coat types? Some of us have a smooth coat, which is short and flat, while others have a rough coat with a short, dense undercoat and a wiry outer coat. Rough-coated Terriers also tend to have hair over their eyes and muzzle, which makes us look like we have a beard! A broken coat lies closer to our body than a rough coat and has a longer outer coat than a smooth coat (and may or may not have the "beard"). Whatever coat we're rocking, though, we always look good!

As I Grow Up
As you can see, we Jack Russell Terriers age pretty gracefully. Here are a few key milestones in my growth and development to be aware of as I grow up from a pupper to an adult and senior!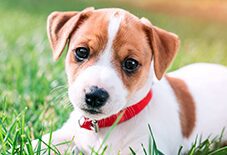 Puppy
2-8 Months
It's impawtant to start my socialization & obedience training early and keep at it – I'm smart but stubborn! Make sure I've had all my vaccines first, pawlease!
Adult
16 Months
I need my human to exercise me for 1-2 hours per day. Dog sports like agility training and flyball are great ways to keep my mind and body active.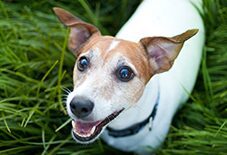 Senior
8-9 Years
I'm slowing down a bit but I still need daily exercise. Make sure to switch to activities that are easier on my joints.




History of My Breed
We Jack Russell Terriers are famous for our high energy, smarts, and tenacious attitude – we can't help it, it's in our DNA! Even though we're small dogs, we were bred to be working dogs (fox hunting dogs, to be exact). In early 19th century England, a pastor and fox-hunting enthusiast named Reverend John Russell wanted to breed a little dog that could help him on the hunt. My earliest ancestor was Trump, an English White Terrier who was so good at helping Reverend Russell hunt foxes that the Reverend started a breeding program to create the pawfect fox terrier. By the mid-1800s, my early ancestors were pawesome at flushing foxes out of their hiding spaces – that's why we're such good diggers (even though you may not like that)!
Another English hunter, Arthur Blake Heinemann, wanted to breed a badger-hunting terrier. He used some of Russell's terriers and formed the Parson Jack Russell Terrier Club. That's how two similar strains of fox terrier – the Jack Russell Terrier and the Parson Russell Terrier – came about. For a long time, my cousins and I weren't considered separate breeds, but things began to get complicated after World War II. Humans didn't really need hunting dogs anymore, so my ancestors were bred more as companion dogs, and were often crossed with other small dog breeds like Corgis and Chihuahuas. These companion terriers were called "Shorty Jacks" or Russell Terriers.
In 1976, a JRT lover named Alisa Crawford formed the Jack Russell Terrier Club of America. When the American Kennel Club was considering recognizing the Jack Russell Terrier in the late 1990s, Crawford and the other members of the JRTCA said, no way! They wanted to keep our working dog characteristics, not turn us into show dogs. That's why we aren't an AKC recognized-breed while our cousins, the Parson Russell Terrier and the Russell Terrier, are.

Pawesome Pups to Parent
In addition to purebred Jack Russell Terriers like me, there are tons of pawfectly sweet mixed-breed JRTs that are looking to find their furever homes. You can learn where to find your next pet below!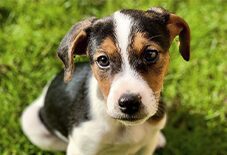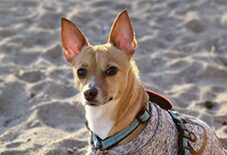 Check your JRT's ears daily and clean them weekly.
Jack Russell Terriers are prone to ear infections so you should clean your dog's ears weekly. Early warning signs are head shaking, scratching at the ear, red and inflamed ears, the presence of thick black wax, odor, and/or ears that are hot to the touch. See your veterinarian right away if you detect any signs of infection.
Keep an eye on your Jack Russell's gait.
Jack Russells are prone to luxating patellas, where the kneecap pops out of the joint. It is usually seen as skipping on one or both of the back legs and is often ignored by owners because it doesn't seem to cause any pain. However, left untreated it will damage the knee cartilage and cause painful arthritis. If you see your JRT skipping on their back legs, get them checked by your veterinarian.
Maintain a healthy weight for your JRT.
Weigh your Jack Russell Terrier's food out daily to ensure they are getting the correct amount. Make sure to also account for any treats they are given. Although Jack Russells are a high-energy breed, they can also be quite greedy and obesity is a common problem. Obesity puts a strain on all the body's vital organs and can shorten your JRT's lifespan.
Socialize your JRT early and in a controlled environment.
When a Jack Russell Terrier socializes, they often come out of the gates super happy, jumpy, and with crazy energy. Because of this, you'll need to manage that energy to make sure it isn't too high for the other dogs. To do this, find another dog with similar energy for playdates. Monitor play and pause it if your JRT's energy is escalating, to give both dogs a break.
Train your JRT to walk on leash.
JRTs will pull forward to get to the next exciting thing they see outside. This could include them crisscrossing over your feet and darting ahead. To help control this, at first you should teach them to walk on a shorter leash in a more controlled environment with fewer distractions. This could be your living room or yard. As they get better with walking with fewer distractions, then you can progress to walking them down the street then around your block. Bring some high-value treats with you on walks (i.e. something that's extra tasty and smelly that they love), which you can use to reward them when they successfully pass by a distraction (or to help guide them away from one).
Watch out for your JRT's prey drive.
Jack Russell Terriers have a high prey drive, so these are not dogs to be let off leash unless you are in a fully secured area or are certain they will not go after a creature that catches their eye. Squirrels and birds can get them chasing after them for miles, which can be dangerous if they lead your JRT to cross busy streets or go out of sight.

Why Get Dog Insurance?
from Pumpkin®
While Jack Russell Terriers are a generally healthy breed, unexpected ruh-rohs can happen to any dog at any age. If your pup gets hurt or sick, pet insurance can help you say 'yes' to the best care, even when it's costly. When it comes to shopping for this breed, you'll want to choose an insurance plan like Pumpkin plan that covers hereditary conditions JRTs are prone to developing, and that can be costly to treat. While a reputable breeder will conduct genetic testing on your pup's parents to help minimize the chances of passing down hereditary conditions, they can't always be avoided.Let's look at some common ones, and how Pumpkin Dog Insurance plans could help cover the cost of care!
*Sample shows 90% reimbursement of covered vet bill assuming $250 annual deductible has been met.