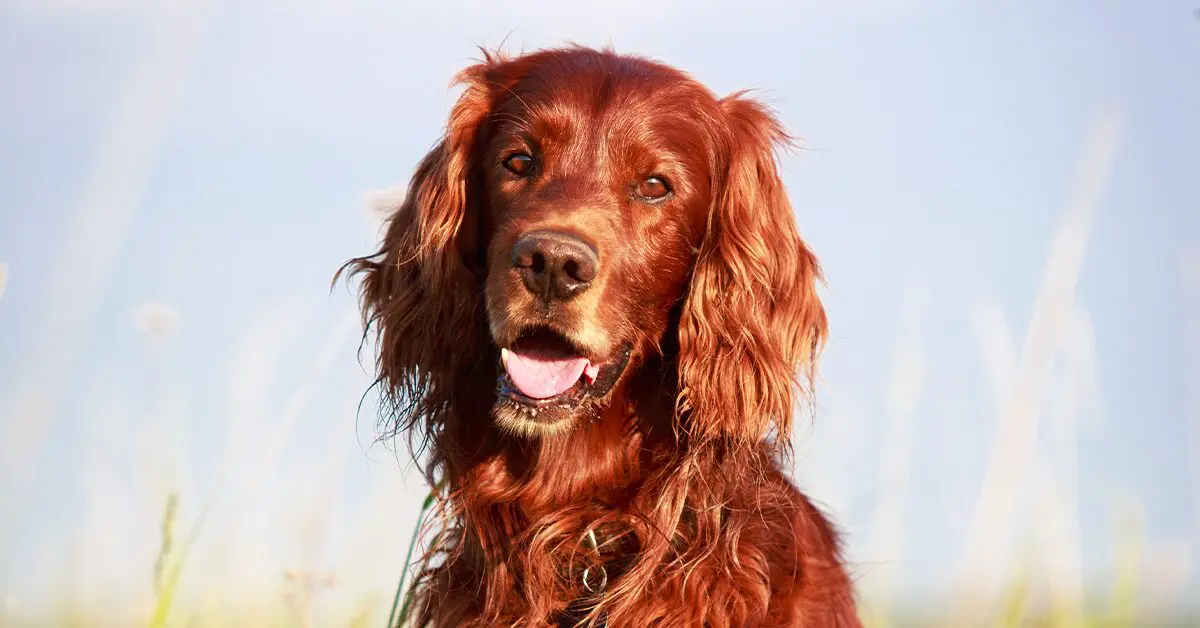 Meet the Irish Setter
Pawfect Playmate
Rambunctious Pooch
Best Fur Friend
Are you in search of a new four-legged best friend? Look no further! I'm always ready to play - fetch, frisbee, you name it! I have tons of energy (maybe a little too much!) so I need a family who's active, fun-loving, and lets me blow off steam. An hour of playtime a day should do the trick. I'm also puptastic at dog sports and furbulous at hunting, if you need a hand in the field!
While I might be bursting with energy way past my puppy years, I'm also a devoted family pet who will give you lots of love and affection. Have cats or other pooches? Fine by me! You'll find that once I get my daily workout in, I'm calm and sweet. Just know I can be a little stubborn (and mischievous!), so you'll need plenty of pawtience when training me. Once we get that out of the way, we'll become thick as thieves!
Ready to learn more about me? Let's dig in.
Ready to learn more about me? Let's dig in.
About Me
pumpkin
Get the pet insurance all the Irish Setters are wagging about.
Fetch My Free Quote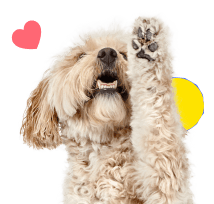 My Many Looks
Chestnut
Mahogany
Red

My Breed Characteristics

Furbulous Fact
Did you know the Irish Setter was once a presidential pup? It's true! When former President Richard Nixon was elected into the Oval Office, he was given an Irish Setter as a gift. Nixon named the pooch King Timahoe - King Tim for short - after a town in Ireland where his ancestors were from. King Tim was super pawpular with the American people !

As I Grow Up
As you can see, we Irish Setters age pretty gracefully. Here are a few key milestones in my growth and development to be aware of as I grow up from a pupper to an adult and senior!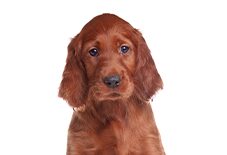 Puppy
2-3 Months
Training me early is super-duper important! With a little patience and some doggy schooling, you can help me overcome my stubbornness!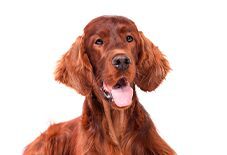 Adult
16-21 Months
I need lots and lots of exercise! Once I'm fully grown, you can take me along on runs and bike rides. Just check with the vet first!
Senior
10-12 Years
My bright red locks might be turning gray, but I'm still young at heart! Watch out for hip and eye problems that can develop as I age.

History of My Breed
You probably guessed from my name, but my ancestors hail from the Emerald Isle - Ireland! We were first bred by Irish hunters in the 19th century, probably from a mix of English Setters, Gordon Setters, pointers, and spaniels. We were even called Red Spaniels for a while - back when our fur was red and white instead of all red. The Earl of Enniskillen is to thank for our entirely red coat because he only kept red dogs in his kennel. Who can blame him? We're furbulous!
Back in the day, we would help hunters catch birds using nets - but eventually they switched to guns and we became gun dogs. Because we're quick and light, we were perfect for covering the country's flat ground super quickly! Compared to Scotland's Gordon Setters, who had to cover rocky and hilly terrain, we're slightly less muscular and heavy. Oh, and our pawesome sense of smell certainly helped us become great hunters, too!
The beautiful red fur we're so famous for earned us a lot of attention in the show ring. In fact, we earned so many show dog titles (760 between 1874 and 1948 !) that hunters got worried we'd lose our hunting instincts and ability. This resulted in two varieties of the Irish Setter: smaller, lightweight hunting dogs, and bigger show dogs.
In 1875, an Irish Setter dog named Echo was the first to arrive in the United States. Just three years later, in 1878, the American Kennel Club (AKC) recognized the breed - and the Irish Setter Club of American was formed in 1891. Since then, we've become a favorite family dog, first made pawpular by the 1945 novel Big Red by Jim Kjelgaard - and still treasured today for our fun, playful pawsonalities!

Pawesome Pups to Parent
In addition to purebred Irish Setters like me, there are tons of pawfectly sweet mixed-breed Irish Setters that are looking to find their furever homes. You can learn where to find your next pet below!
Test your Setter for blood disorders.
Canine leukocyte adhesion deficiency (CLAD) and Von Willebrand disease are both reported bleeding disorders in Irish Setters. Genetic testing is available.
Adjust to dietary issues as needed.
This condition is an inherited gluten sensitivity that results in diarrhea, gas, loss of appetite and weight loss.
Be aware of possible eye issues in your pup.
Progressive Retinal Atrophy (PRA) is a genetic condition that causes slow onset of blindness. There is no cure for PRA, affected dogs are usually blind by two years of age. Genetic testing is available.
Let your Irish Setter get tons of exercise.
Irish Setters need a lot of exercise, more exercise than most people probably realize. The bare minimum is an hour of exercise a day, but in actuality they need more like 3-4 hours of exercise. They're good family dogs, so it's important to pass the exercise burden around because their exercise needs can be a lot for just one person. Their high energy levels aren't suitable for people who work long hours and don't have the time and attention to put into them.
Teach your Irish Setter puppy the "come" command early.
Teach your dog to come to you early on, and make sure the command is crystal clear. It's going to take a lot of time and patience, but they should get to the point where when you say "come here" they drop whatever they're doing and immediately run to you. Use human food as the reward for this command. If you're using baseline kibble as a general treat, give them cheese or bacon as a higher level reward when they obey this command. Start training this command in the house where there are little distractions, then move to the yard, and then move somewhere where they're surrounded by other dogs, nature, birds, squirrels, etc.
Interrupt your Setter when they're in "predatory mode."
Irish Setters have a background as birding dogs and they're likely to exhibit a prey drive when they see birds or squirrels. Watch for the "predatory look" when you're out with your dog, which is when a dog pauses, focuses on an animal, and hunches over. Interrupt your dog when they're doing that and remove them from the situation, because they are capable of catching a small animal and they'll develop a taste for it.

Why Get Dog Insurance?
from Pumpkin®
While Irish Setters are a generally healthy breed, unexpected ruh-rohs can happen to any dog at any age. If your pup gets hurt or sick, pet insurance can help you say 'yes' to the best care, even when it's costly. When it comes to shopping for this breed, you'll want to choose an insurance plan like Pumpkin plan that covers health conditions Irish Setters are prone to developing, and that can be costly to treat. While a reputable breeder will conduct genetic testing on your pup's parents to help minimize the chances of passing down hereditary conditions, they can't always be avoided. Let's look at some common ones, and how Pumpkin Dog Insurance plans could help cover the cost of care!
*Sample shows 90% reimbursement of covered vet bill assuming $250 annual deductible has been met.