Meet the Hokkaido
Protective Pooch
High Doggy I.Q.
Best Fur Friend
​​​​​​Looking for a loyal and devoted family pet? I'm the breed for you! We Hokkaido make a great addition to families with kids. I'm very affectionate and gentle when properly socialized with your little ones! I have a strong prey drive so I don't do well with small pets, but I can learn to get along with other dogs if I grow up with them. I do best in a home with outdoor space so I can get regular exercise, but I'm a cold weather pup so I don't do well in the heat. That also means I shed a lot, so brush me a few times a week to keep me looking furbulous.
​​​​​​​​​​Once I bond with my family, I'm very protective, which makes me a great watchdog. It's in my nature to be alert and brave, but because I'm wary of strangers, I need proper socialization as a puppy. But don't worry – I'm a smarty paws and highly trainable. I'll learn quickly how to be a good doggo with both family members and new people I meet, and you'll know I'm happy and excited when you hear me howling!
Ready to learn more about me? Let's dig in.
Ready to learn more about me? Let's dig in.
About Me
pumpkin
Get the pet insurance all the Hokkaido are wagging about.
Fetch My Free Quote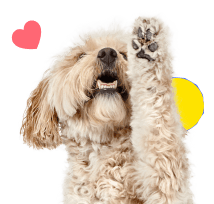 My Many Looks
White
Brindle
Sesame

My Breed Characteristics

Furbulous Fact
​​​​We Hokkaido are a rare breed outside our native country of Japan, but plenty of Japanese people know Otōsan – the most famous of all Hokkaido dogs. In 2007, a white Hokkaido named Kai-kun became famous as the star of many commercials for the Japanese phone company SoftBank. Kai-kun played Otōsan, who is the father of a family of humans. The many adventures of Otōsan over the years made Kai-kun a national treasure. Sadly, he passed away in 2018, but Kai-kun's sons, Kaito-kun and Kaiki-kun, have continued their father's legacy as SoftBank spokespups.

As I Grow Up
We Hokkaido age pretty gracefully. Here are a few key milestones in my growth and development as I grow up from a pupper, to an adult, to a senior!
Puppy
2-9 Months
I need early socialization & obedience training so I can learn how to be around people and other dogs. Just make sure I've had all my vaccines first, pawlease.
Adult
1-1.5 Years
I can get anxious and destructive if I'm bored and alone so make sure to tire me out and give me toys to keep me occupied.
Senior
9-10 Years
I'm prone to joint problems so switch to a senior-friendly dog food so I can maintain a healthy weight.

History of My Breed
​​​​​​​​​​We Hokkaido are a rare and very old breed. Some humans think that we are the oldest and most primitive of the six native Japanese spitz breeds (which also include Akita, Shiba Inu, Kai Ken, Shikoku, and Kishu Ken). We go by a lot of different names. In Japan, we are mostly called Hokkaido Ken, but we are also called Ainu dog, Ainu-ken, Dō-ken, Seta, and Hokkaido Inu. In the first millennium CE, my earliest ancestors traveled to the northern island of Hokkaido with their humans, the indigenous Ainu people. The Ainu people had been pushed out of Honshu, the main island of Japan, and of course they took their dogs with them!
​​​​​​​​​​The Ainu people were hunters and gatherers, so of course they needed trusty hard-working dogs at their side! My hunting dog ancestors bred with the native dogs of Hokkaido island, which made us even stronger, tougher, and better suited to hunting big game in cold weather. My ancestors were so brave that they helped their humans hunt deer and even bears! Because we are so good in the snow, we were also great at search and rescue missions over Hokkaido's rugged terrain and snowy mountains.
​​​​​​​​​​We were given the name Ainu-ken in 1869 when a British zoologist named Thomas Blankiston visited Japan, and this was our name until 1937 when our breed was named Hokkaido Inu and designated a living monument by the Japanese government (which means we are protected by law). Since we are so rare outside of Japan, we are not officially recognized by the American Kennel Club, but we are recognized by the Fédération Cynologique Internationale (FCI). Even in Japan, our numbers are very small – there are only 10,000-12,000 of us in our native country – so if you're lucky enough to find one of us, treat us like the rare national treasure that we are!
Purchase from a responsible breeder.
While well bred and cared for Hokkaidos can be very healthy, this breed is susceptible to certain heritable disorders, including hip dysplasia, which can cause pain and loss of mobility. In addition to heritable joint conditions, Hokkaido are also predisposed to heritable thyroid issues and Collie Eye Anomaly, which can result in blindness. Avoid heartbreak and veterinary expenses by purchasing puppies from responsible breeders who only breed dogs that are free of heritable disorders and provide a 2-year health guarantee against heritable conditions.
Provide ample mental stimulation and exercise to prevent behavioral disorders.
Hokkaido are working dogs and crave daily mental and physical stimulation. Without it, they become bored and prone to multiple behavioral disorders, including pica, excessive drinking, and anxiety. Provide one hour of high-impact physical activity every day for healthy, adult dogs, and engage in daily training of new behaviors. It's also recommended to provide long-lasting chews and food puzzles, and to engage in other activities, such as agility.
Have your Hokkaido checked yearly for heart murmurs.
While generally healthy, some Hokkaido have been diagnosed with seizure disorders and heart murmurs. Have your Hokkaido checked yearly by a vet, and contact your vet if you ever notice your dog behaving abnormally, acting weak, depressed, or having a seizure.
Combat separation anxiety.
Hokkaido are prone to hyper-bonding to one individual and as such they are susceptible to anxiety when that individual isn't around. To prevent this, make sure everyone in your family is equally as involved in your Hokkaido's daily routines. If they appear to bond to one person, have that person take a reduced role in feeding and exercise for a bit. Also, introduce them to friendly people on their walks.
Stimulate their minds.
Hokkaido are a very sharp breed. Without proper stimulation they will become bored and anxious, so make sure you spend time exercising them both physically and mentally. They'll thrive when doing agility training or other advanced training.
Be mindful of their predatory drive.
Bred to be hunters, Hokkaido are generally without fear, meaning they might take on animals that are much bigger than they are. Be careful letting them roam free if you live in an area that has bears, coyotes, or other wildlife.

Why Get Dog Insurance?
from Pumpkin®
While Hokkaido are a generally healthy breed, unexpected ruh-rohs can happen to any dog at any age. If your pup gets hurt or sick, pet insurance can help you say 'yes' to the best care, even when it's costly. When it comes to shopping for this breed, you'll want to choose an insurance plan like a Pumpkin plan that covers hereditary conditions Hokkaido are prone to developing, and can be costly to treat. While a reputable breeder will conduct genetic testing on your pup's parents to help minimize the chances of passing down hereditary conditions, they can't always be avoided. Let's look at some common conditions, and how Pumpkin Insurance Plans can help cover the cost of care!
*Sample shows 90% reimbursement of covered vet bill assuming the annual deductible has already been met.