Meet the Havanese
Canine Comedian
High Doggy I.Q.
Best Fur Friend
Looking for a friendly, outgoing little dog who loves to clown around? I'm the breed for you! We Havanese are born comedians and love to make our humans laugh. I'm a great companion dog and I love kiddos and other furbabies. Live in an apartment? No worries, I can have fun anywhere! I'm a smarty paws so I'm a breeze to train. I can even learn tricks to keep you entertained. I love to be center stage with all the attention on me, and I'll follow you around with a spring in my step to make sure I get it!
I don't need tons of exercise, just humans who love to play as much as I do (my mischievous side comes out when I'm bored). I love my humans so much that I get separation anxiety when you're away, so pawlease don't leave me alone too long! Don't let my long silky coat fool you – I don't shed a lot so I'm good for humans with allergies. You can even keep my coat short if you want. No matter what style I'm rocking, my furbulously funny personality makes me one of the AKC's most popular breeds!
Ready to learn more about me? Let's dig in.
Ready to learn more about me? Let's dig in.
About Me

My Many Looks
Black
White

Gold Sable

Chocolate

My Breed Characteristics

Furbulous Fact
Throughout history, we Havanese have been the beloved companions of many famous people, but one of the most famous of all of us was author Charles Dickens's Havanese, Tim. Given my breed's small stature, many humans have wondered whether Tim the Havanese was the inspiration for the character Tiny Tim in Dickens's famous A Christmas Carol. While no one knows for sure, one thing is certain: my breed brings cheer (Christmas or otherwise) wherever we go!

As I Grow Up
As you can see, we Havanese age pretty gracefully. Here are a few key milestones in my growth and development to be aware of as I grow up from a pupper to an adult and senior!
Puppy
4-6 Months
I was born friendly and smart, so I'm ready for socialization classes & obedience training – just make sure I've had all my vaccines first, pawlease!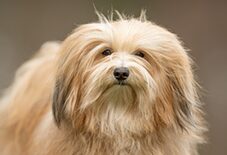 Adult
1-1.5 Years
Make sure I don't get lonely – I get bad separation anxiety and can be very destructive when I'm bored or upset.


Senior
9-10 Years
Help me stay at the top of my game by adjusting my dog food and scheduling vet check-ups every 6 months.



History of My Breed
We Havanese are an old breed, but we've always been popular with humans (especially the rich and famous). We're named after Havana (the capital city of Cuba) and I'm part of the Bichon family of breeds, so the Bichon Frise, Maltese, Coton de Tulear, and Bolognese breeds are all my close cousins! Spanish sailors brought my earliest ancestors to Cuba from Tenerife, which is one of the Canary Islands off the coast of North Africa. Some humans think that the Havanese breed is a mix of two breeds that are now extinct: the Bichon Tenerife and the Blanquito de la Habana.
We were a smash hit with the Cuban elite and quickly became their favorite lap dog (and a symbol of wealth and status). We are the only native Cuban breed, so obviously we were named the national dog of Cuba! We've had a few names over the years, including "Havana Silk Dog" and "Spanish Silk Poodle" (because of our silky coats) and "Habanero" (after the city of Havana, not the chili pepper – although we do have spicy personalities)!
Our double coats evolved to be long and light, helping to protect us from the tropical Cuban sunshine – the same sun that would bring European aristocrats to Cuba for vacations. When they showed up and met us, they fell hard for our charms. The Havanese became a popular breed among European royalty in Spain, France, and England. By the 18th century, we were a hot-ticket dog breed in England, due partly to dog-lover Queen Victoria (who had two of us).
By the 1950s, purebred Havanese were almost all gone! Luckily, three Cuban families who left for America during the Cuban Revolution brought their beloved companions, and almost all of today's Havanese are related to those 11 dogs! American dog fanciers helped to bring us back to life, and we were recognized by the American Kennel Club in 1996.

Pawesome Pups to Parent
In addition to purebred Havanese like me, there are tons of pawfectly sweet mixed-breed Havanese that are looking to find their furever homes. You can learn where to find your next pet below!
Keep an eye out for ear infections.
The hairy, floppy ears of the Havanese can easily develop infection. Owners should have the hair plucked from inside the dog's ears regularly in order to reduce moisture inside the ear and prevent the occurrence of fungal or bacterial infections. Signs of infection can include scratching the ears, shaking or tilting the head, and redness or discharge inside the ear. If you note these signs, take your dog to the veterinarian for an examination and evaluation of the cells inside the ears. This will allow the veterinarian to make treatment recommendations tailored to your dog's specific needs.
Be proactive when it comes to dental health.
Dogs with small mouths and shorter muzzles such as the Havanese are particularly susceptible to dental disease, making routine dental care important. Havanese owners should brush their dog's teeth daily and have them professionally cleaned by a veterinarian at least once a year. If your dog shows signs such as refusing to eat hard foods, pawing repeatedly at one side of the face, or developing bad breath that is worse than normal "dog breath," they should be examined by a veterinarian.
Regular grooming is a must for your Havanese.
The beautiful, soft coat of the Havanese requires special care. Owners should be sure to brush the dog regularly (ideally every day) with a pin brush to prevent matting. Havanese are also prone to developing tear stains under their eyes. These can be minimized by wiping the undereye area with a cloth or cotton swab dampened with water or eyewash.
Use rewards and praise to train "Do" commands.
Rewards training uses treats to entice your Havanese to do your desired command. Make sure you shower the dog with tons of praise and only give the treat once the command is performed. If you give the treat beforehand, you are only bribing your dog. With Praise training, put your dog physically in a position to succeed and then praise them when they have completed the desired behavior. Praise training is typically done using training equipment like collars and halters. You can also mix this training with rewards and provide a treat when the command has been completed.
Using a clicker can help in training your Havanese.
Marker training is done using a marker or clicker every time your Havanese has done a command that you desire. When the marker has been clicked for good behavior, you will then give your dog praise and treats. This training is effective because the behavior is always done first, which prevents your pup from learning that treats come before they perform the behavior.
Replace unwanted behavior when training "Don't" commands.
When training "Don't" commands, replace the behavior when your Havanese is doing something you don't like. The easiest training method is to give them an item that replaces or negates that behavior. If your Havanese is play-biting, give them a toy to chew on instead. That way you are making the behavior possible with a replacement that is safe to chew on.

Why Get Dog Insurance?
from Pumpkin®
While Havanese are a generally healthy breed, unexpected ruh-rohs can happen to any dog at any age. If your pup gets hurt or sick, pet insurance can help you say 'yes' to the best care, even when it's costly. When it comes to shopping for this breed, you'll want to choose an insurance plan like Pumpkin plan that covers hereditary conditions Havanese are prone to developing, and that can be costly to treat. While a reputable breeder will conduct genetic testing on your pup's parents to help minimize the chances of passing down hereditary conditions, they can't always be avoided. Let's look at some common ones, and how Pumpkin Dog Insurance plans can help cover the cost of care!
*Sample shows 90% reimbursement of covered vet bill assuming $250 annual deductible has been met.