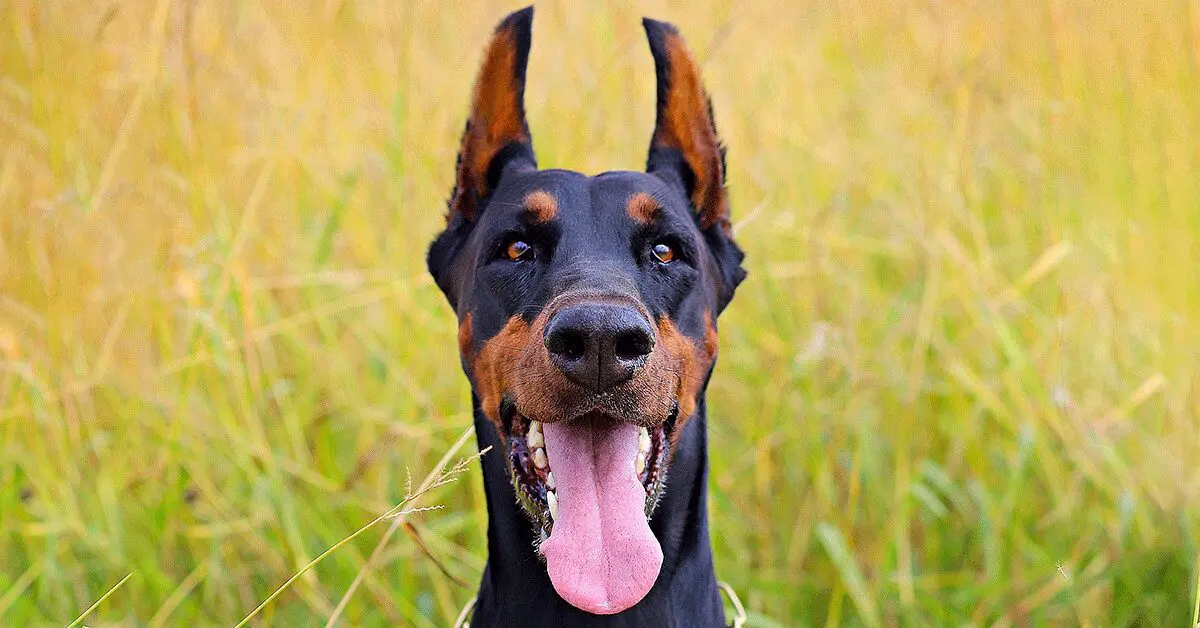 Meet the Doberman
Top Watchdog
High Doggy I.Q.
Fearless Fur Friend
Looking for a fearless and loyal four-legged sidekick? Look no further! My high intelligence and strong protective instincts make me the pawfect guard dog. I may look intimidating thanks to my pointy ears and muscular build, but I can be a big ol' sweetie pie. Although I pack a mean bite, I only use it against the bad guys. I'm actually really affectionate towards my humans! I do OK with kids, but I prefer my people full-grown. I get along with other dogs, for the most part, but I'm pretty territorial so just be careful when it comes to socializing me, especially on my own turf.
I have a lot of energy which means I need to get a ton of exercise every day. I love going on long walks, but I'd also be happy in a big, fenced in backyard where I can run around until I tire myself out. I could run for hours, but I'll always come back inside so I can hang out with my humans. After all, my favorite place is by my human's side. I'll always have your back – snout's honor.
Ready to learn more about me? Let's dig in.
Ready to learn more about me? Let's dig in.
About Me
pumpkin
Get the pet insurance all the Dobes are wagging about.
Fetch My Free Quote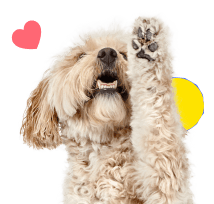 My Many Looks
Black
Red
Fawn
Blue

My Breed Characteristics

Furbulous Fact
Dobermans are the breed that can do it all! In 2020, a Doberman named Dance became the breed's first ever quintuple champion. For those of you not in the know, a quintuple champion is a pooch who's earned five titles from the American Kennel Club (AKC). Dance is a tracker, conformation, master agility, obedience, and rally champion. That's one pawesome pup!

As I Grow Up
As you can see, we Dobermans age pretty gracefully. Here are a few key milestones in my growth and development to be aware of as I grow up from a pupper to an adult and senior!
Puppy
3-6 Months
During my puppy teething stage, I like to have bones and toys to gnaw on. These keep me occupied – and out of trouble around the house!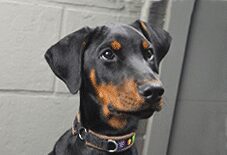 Adult
1 Year
I reach adulthood around 1 year old and will need lots of exercise to stay happy! Time to hit the park for games, sports, and puzzles.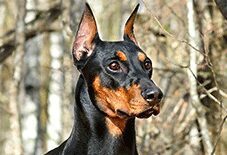 Senior
7-11 Years
I'm prone to a few health conditions, including an especially deadly one called bloat. Be sure to learn the signs before adopting me!

History of My Breed
Ever wonder where we Dobermans got our name? Well, in Apolda, Germany, during the 1800s, there lived a man named Louis Dobermann. Funny enough, Dobermann was a tax collector! He knew from firsthand experience that no one wanted to pay their taxes. (Some things never change!) In fact, he had such a ruff time getting people to pay that he decided to breed a dog specifically to protect him as he went around town and collected dues.
Although no one's completely pawsitive, it's believed that Dobermans were the result of many dog breeds being bred together – Rottweilers, Black and Tan Terriers, and German Pinschers, to name a few. The result was a small, scrappy dog – a far cry from the elegant, furbulous pooches we are today!
As time went on, we became a little easier on the eyes, developing the athletic and muscular look for which we're famous. We can pawssibly thank the Greyhound for this, who likely became an ancestor of ours during the 1900s.
My breed's history might be a bit furry – oops I mean, blurry! But one thing is for sure – we're a working dog through and through. Our energy and athleticism has led us everywhere, including the battlefield. During World War II, 25 Dobermans in the U.S. Marine Corps gave their lives during the Battle of Guam. Later, these "Devil Dogs," as they came to be known, were immortalized in a memorial statue at the Guam Naval Base for their bravery.
My breed was recognized by the AKC in 1908 and, in 1921, we got our own official U.S. fan club – the Doberman Pinscher Club of America!

Pawesome Pups to Parent
In addition to purebred Dobermans like me, there are tons of pawfectly sweet mixed-breed Dobes that are looking to find their furever homes. You can learn where to find your next pet below!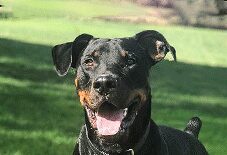 Care Tips
from Veterinarians
Talk to your vet about blood tests before surgery.
Dobermans can have inherited issues related to blood clotting. It's important to talk to your dog's vet about screening your Doberman for any bleeding issues before surgery to avoid any complications. - Dr Jessica Greenberg, Associate Veterinarian
Monitor your Doberman for DCM.
Dilated Cardiomyopathy is a common cardiac disorder in Dobermans and other large dog breeds. Close monitoring by a veterinary cardiologist and proper nutrition are key measures in maintaining cardiac health. - Dr. Marc Elie, Veterinarian
Work with your vet to monitor liver function.
Dobermans have a breed associated disorder of the liver that is believed to be immune mediated. This autoimmune inflammation targets liver tissue, causing a slow destruction of this vital organ. Early diagnosis and treatment will help slow the progression of your Dobe's hepatitis (liver inflammation). Work closely with your vet to monitor liver function by periodically screening blood work. - Dr. Marc Elie, Veterinarian

Training Tips
from Trainers & Behavior Specialists
Consistently train your Doberman.
Dobermans are gregarious dogs who thrive off training and learning new things. They're quick learners and love pleasing their owners, so keep their mental muscles moving by introducing new ideas or commands to them frequently. - Georgie Young, Certified Professional Dog Trainer
Allow your Doberman to burn off energy.
Dobermans are strong and athletic, with boundless energy and keen intelligence that makes them highly trainable – provided their owners can cope with their energy level. Be sure to provide adequate space and daily physical and mental exercise for this breed! - Tommy Meyerhoffer, Certified Dog Trainer and Behavioral Therapist
Establish patterns of good behavior with your Doberman.
Dobermans are renowned for their natural leadership qualities and protective natures – noble traits that may also create dangerous situations if they misinterpret human behavior, make errors in judgment, or start to determine who is and isn't welcome at home. Their intelligence makes them easily trainable, especially when signs of bad behavior are dealt with sooner rather than later. If you notice issues, don't wait for things to escalate – deal with them immediately. - Tommy Meyerhoffer, Certified Dog Trainer and Behavioral Therapist

Why Get Dog Insurance?
from Pumpkin®
While Dobermans are a generally healthy breed, unexpected ruh-rohs can happen to any dog at any age. If your pup gets hurt or sick, pet insurance can help you say 'yes' to the best care, even when it's costly. When it comes to shopping for this breed, you'll want to choose an insurance plan like Pumpkin plan that covers hereditary conditions Dobermans are prone to developing, and that can be costly to treat. While a reputable breeder will conduct genetic testing on your pup's parents to help minimize the chances of passing down hereditary conditions, they can't always be avoided. Let's look at some common ones, and how Pumpkin Dog Insurance plans could help cover the cost of care!
*Sample shows 90% reimbursement of covered vet bill assuming $250 annual deductible has been met.