Meet the Dalmatian
Daring Doggo
High Doggy I.Q.
Pawfect Playmate
Are you looking for a dog that's goofy yet smart? Mellow yet energetic? Beautiful yet humble? Well, maybe not humble...but it's hard to be when you're this awesome! My cute spots and elegant stature are my claim to fame, but there's more to me than that. I have tons of energy, so a house with a yard is ideal for me to get enough exercise. I love other dogs, and I'm good with kids, making me a great family dog! But cats I'm not so sure about.
I'm intelligent, so I'm easy to train, but watch out for my stubborn streak. Always use paw-sitive reinforcement. My coat is silky smooth and easy to clean. In fact, it's never stinky, and if I get dirty, the mess just wipes right off! Don't let my short coat fool you, Dalmatians shed a LOT. Brush me regularly and it shouldn't be too bad. I have some special Dalmatian needs, like choosing the right dog food and keeping up with my high energy levels, so do some research before taking me home. I'll show you just how special I am!
Ready to learn more about me? Let's dig in.
Ready to learn more about me? Let's dig in.
About Me
pumpkin
Get the pet insurance all the Dals are wagging about.
Fetch My Free Quote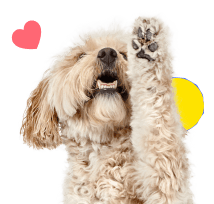 My Many Looks
White with Black Spots
White with Liver Spots

My Breed Characteristics

Furbulous Fact
Dalmatian dogs are known for our super cool spots, but did you know we're not actually born with them? We have to earn them! Not really, but Dalmatian puppies are born with purely white coats, and the spots start to develop as we get older, usually around 2-3 weeks of age. By the time we're one month old, most of our spots will have appeared, but throughout our entire lives new ones can show up! The more the merrier!

As I Grow Up
As you can see, we Dalmatians age pretty gracefully. Here are a few key milestones in my growth and development to be aware of as I grow up from a pupper to an adult and senior!
Puppy
3-6 Months
I need lots of training early on so I can get right on track. I respond best to positive reinforcement, so bring on the treats!
Adult
2-4 Years
I'm stubborn in my teenage years and might seem hard to train. Keep working with me or get a good trainer and I'll come around.
Senior
8-13 Years
You'll need to put me on a good senior diet in my older years. Talk to my vet to find out what tasty treats are best for me as I age.

History of My Breed
It's not clear where we first came from because ancient artifacts and records place us in a few different locations. We do know that by the early 1800s, we were living along the Adriatic Sea in the region of Dalmatia in Croatia. Say that five times fast!
We Croatian canines have had tons of jobs since we were first discovered by humans. We've worked as guard dogs, shepherd dogs, ratters, retrievers, circus dogs, and carriage dogs. In England, we were developed to complete our most common job: coaching. Not, like, basketball teams or anything...I'll explain. Way back when, the Romani used us to run alongside horses and their carriages. Years later, British nobles used us for the same purpose, clearing paths for horses to run through and helping guide them on their travels.
The British call us different names, like English Coach Dogs, Spotted Dick, Plum Pudding Dog...you get the gist. In more recent years, we've been called firehouse dogs because of our association with firefighting. In the 1800s, horses pulled fire engines, and we ran along with them as draft dogs. We watched over the carriage while the humans fought the fires, and sometimes we even saved lives ourselves!
Of course we have to address the elephant in the room...our claim to fame...Disney's One Hundred and One Dalmatians. The original cartoon came out in 1961 and was an instant family classic. Then came the 1996 live action version, and 102 Dalmations in 2000. In 2021, Cruellawas released, giving an inside look into the movie villain that started it all!
I'm not certain when we made our way to the U.S., but we were entered into the AKC stud book in 1888 and the Dalmatian Club of America was founded in 1905.

Pawesome Pups to Parent
In addition to purebred Dalmatians like me, there are tons of pawfectly sweet mixed-breed Dalmatians that are looking to find their furever homes. You can learn where to find your next pet below!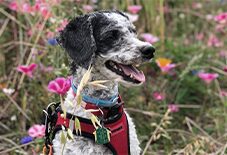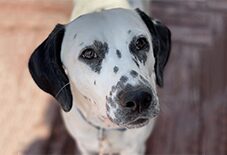 Deafness is common in Dalmatians so make sure you use a reputable breeder.
Complete and unilateral deafness are both significantly more common in Dalmatians compared to other breeds. This is related to genetic predisposition so make sure you understand the history of your dog if you're going through a breeder.
Dalmatians may need a special diet to manage uric acid.
Dalmatians are prone to elevated uric acid in the blood which can lead to kidney stones or gout. Work with your veterinarian to monitor uric acid levels and come up with a plan to keep your Dalmatian healthy.
Look out for irritation in your Dalmatian's eyes as this could be a sign of entropion.
Entropion occurs when part of the eyelid is turned inward, which causes the eyelashes to rub and irritate the eye. Dalmatians can be more prone to this condition and it can typically be diagnosed in puppies under 1 year. Entropion requires surgery to repair.
Give your Dalmatian a job to do.
Dalmatians love to work and respond well to tasks, so give them plenty of stuff to do. This can be as simple as giving them a toy and instructing them to hold it while you eat dinner, or as extensive as putting them in agility training. Giving them a job reinforces their role in the house and will keep them on their best behavior.
Be a consistent leader.
Dalmatians can be stubborn dogs, which can make them difficult to train. You need to be a strong, confident, consistent trainer. Once you start teaching your pup a command, don't stray away from what the command truly means. If you teach them how to sit, don't reward them if they're only half-sitting. Only give rewards and praise when the command is done perfectly, or else they'll continue to push boundaries.
Don't train your puppy to jump on people.
Sometimes, owners inadvertently train their dogs to jump on people. It's cute when a tiny, polka dotted puppy jumps while they're young, but soon they'll be much bigger and jumping will become a problem. When your Dalmatian puppy jumps on you, ignore them entirely and turn your back to them. After they calm down, you can continue what you were doing before.

Why Get Dog Insurance?
from Pumpkin®
While Dalmatians are a generally healthy breed, unexpected ruh-rohs can happen to any dog at any age. If your pup gets hurt or sick, pet insurance can help you say 'yes' to the best care, even when it's costly. When it comes to shopping for this breed, you'll want to choose an insurance plan like Pumpkin plan that covers hereditary conditions Dalmatians are prone to developing, and that can be costly to treat. While a reputable breeder will conduct genetic testing on your pup's parents to help minimize the chances of passing down hereditary conditions, they can't always be avoided. Let's look at some common ones, and how Pumpkin Dog Insurance plans could help cover the cost of care!
*Sample shows 90% reimbursement of covered vet bill assuming $250 annual deductible has been met.