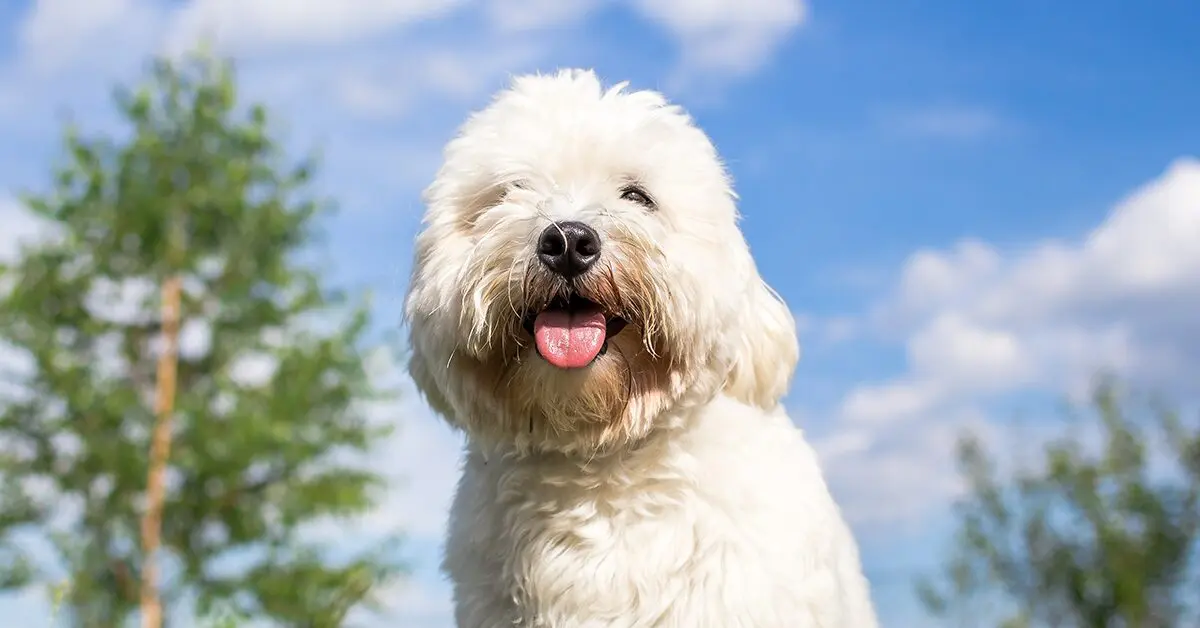 Meet the Coton de Tulear
Best Fur Friend
High Doggy I.Q.
Class Clown
​​If you're looking for a sweet and funny companion dog who will be besties with the whole family, I'm the breed for you! We Coton de Tulears make pawfect family dogs. I'm super friendly and affectionate, and I love kids and other fur babies. I have a clownish personality and I love to entertain, so it's impawtant that I not be left alone for too long. I get separation anxiety, but that's just cause I love spending time with you!
​​I'm prized for my furbulous looks (especially my white cottony coat) but my humans need to groom me often. Coton's coats need daily brushings with a pin brush to keep our tangles at bay. Even though my coat is high-maintenance, I don't really shed, so humans with allergies are safe with me! I'm a real smarty-paws, too, so I'm a breeze to train if my humans use positive reinforcement. Even though I'm playful, I don't need a ton of exercise (but I love swimming and agility). A daily walk and lots of cuddles from my family will keep me pawfectly healthy and happy!
Ready to learn more about me? Let's dig in.
Ready to learn more about me? Let's dig in.
About Me
pumpkin
Get the pet insurance all the Cotons are wagging about.
Fetch My Free Quote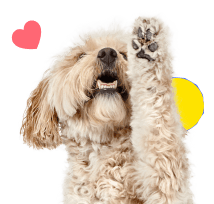 My Many Looks
White

White with Gray Markings
White with Yellow Markings

White with Tricolor Markings

My Breed Characteristics

Furbulous Fact
We Coton de Tulears are known for our charm and sense of humor, and one of our favorite things to do to make our humans laugh is to walk or dance around on our hind legs! The hind leg walk may be our most famous gag, but we Cotons are great at learning all sorts of fun tricks if our human has time to train us. This also makes us great at agility. We may be a small breed, but don't let our small size fool you – we are strong. Even though we technically don't need a ton of exercise, we love being active if it means spending more time with you!

As I Grow Up
As you can see, we Cotons age pretty gracefully. Here are a few key milestones in my growth and development to be aware of as I grow up from a pupper, to an adult, to a senior!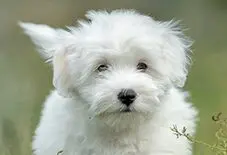 Puppy
2-6 Months
I'm a social butterfly by nature so early socialization & obedience training are great for me. I can be a bit tricky to potty train, but stick with me!
Adult
1 Year
Make sure I get enough attention and mental stimulation – I can suffer from separation anxiety so I need some extra TLC!
Senior
11-12 Years
I'm prone to joint problems so switch to senior-friendly dog food so I can maintain strong bones and a healthy weight.

History of My Breed
​​We Coton de Tulears are known as entertaining dogs, and the humans certainly came up with some entertaining stories about our origins! Our name comes from our cotton-like coat (coton is the French word for cotton) and the port city of Tulear on the island of Madagascar, which is where our breed comes from. While everybody knows our breed comes from Madagascar, there are some truly spectacular tales about how our ancestors got there. One of the most popular stories is that our earliest ancestors were companion dogs at sea and were the only survivors of a shipwreck! As the story goes, they swam to shore in Madagascar and lived on their own in the wild, breeding with native dogs to create the Cotons that exist today. While we are very hearty little dogs and great swimmers, this story is just that – a story. What is much more likely is that my ancestors were Bichon-type white dogs brought to Madagascar on trading and pirate ships in the 16th century.
​​What we know for sure is that the people of Madagascar fell head over heels in love with us – so much so that the humans who ruled the island (called the Merina tribe) adopted us as the royal dog of Madagascar! When France colonized Madagascar in the late 17th century, they couldn't get enough of us either, but the French rulers were selfish and made it so that the common people of the island were not allowed to have us. Luckily, that didn't last, but for many years we were Madagascar's best-kept secret. No one outside the island had Coton de Tulear dogs until the 1960s when some French tourists discovered our breed and took some of us home with them. We were first officially recognized as a breed by the French National Kennel Club in 1970. It took a bit longer for us to get the recognition we deserve in North America, but the American Kennel Club finally recognized us in 2014.

Pawesome Pups to Parent
In addition to purebred Coton de Tulears like me, there are tons of pawfectly sweet mixed-breed Cotons that are looking to find their furever homes. You can learn where to find your next pet below!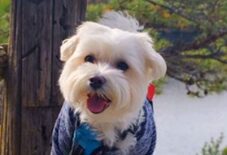 Pay attention to your pup's knees.
Like many small dogs, the Coton de Tulear is prone to luxating patellas – a condition where the kneecap shifts out of place. Keep an eye out for a "skipping" motion or abnormal gait when walking your dog. Talk to your veterinarian if you see any of these signs.
Protect your pup's back.
Coton de Tulears can be prone to a condition called Intervertebral Disc Disease (IVDD) where discs in the spine rupture, slip, bulge, or herniate. You can help reduce the risk of IVDD by limiting rough play. Add ramps to household furniture to reduce jumping and protect your pup's back.
Look out for eye problems!
Coton de Tulears can be prone to a rare genetic eye condition called Canine Multifocal Retinopathy 2 which occurs when circular areas of retinal detachment lead to fluid accumulation under the retina, causing blisters on the eye. It's usually seen around 15 weeks of age or older, so pay close attention to your pup's eyes around this time. Ask your breeder about the history of this condition in their line and responsible breeders will do their best to eliminate this condition.
Mitigate their separation anxiety.
Like many breeds, Coton de Tulears struggle with separation anxiety. To help them adapt to your absence, practice coming and going with your dog. Try to leave the house at random, gradually increasing the time you are away. Eventually, your puppy will start to get bored and realize that coming and going is normal.
Stop the leash pull and chew.
Coton de Tulears will pull and chew on their leashes when being walked. Stopping this can be an exercise in patience. Make sure you have a proper lead – a gentle leader is helpful for pulling. If your dog pulls, you need to stop moving and reset the puppy to your side. At first, it will feel like you're crawling inches at a time, but if you're consistent, your puppy will start to get the hang of it. Supplement this training with plenty of chew toys and teach the command "leave it" or "drop it" to get your puppy to stop gnawing on their leash.
Manage their fear and anxiety.
Coton de Tulears are easily startled by loud noises like thunder, trucks passing by, or lawn mowers. The best thing you can do to help them process these sounds is to demonstrate complete calm yourself. Don't react to their being startled. Simply remain focused on what you were doing and demonstrate how relaxed and unaffected you are. This will help them realize there's nothing to worry about.

Why Get Dog Insurance?
from Pumpkin®
While Coton de Tulears are a generally healthy breed, unexpected ruh-rohs can happen to any dog at any age. If your pup gets hurt or sick, pet insurance can help you say 'yes' to the best care, even when it's costly. When it comes to shopping for this breed, you'll want to choose an insurance plan like a Pumpkin plan that covers hereditary conditions Cotons are prone to developing, and that can be costly to treat. While a reputable breeder will conduct genetic testing on your pup's parents to help minimize the chances of passing down hereditary conditions, they can't always be avoided. Let's look at some common ones, and how Pumpkin Dog Insurance plans can help cover the cost of care!
*Sample shows 90% reimbursement of covered vet bill assuming the annual deductible has already been met.