Meet the Cavapoo
Best Fur Friend
High Doggy I.Q.
Apartment Friendly
Want a small dog with a big heart? Then I'm the breed for you! We Cavapoos (aka Cavoodles or Cavadoodles) are hybrid dogs – our parent breeds are Cavalier King Charles Spaniels and Miniature Poodles, and we get our best traits from both! I make a pawfect companion dog for grown-up humans,especially older folks, since I don't need a ton of exercise. I'm sweet and friendly and get along great with kids and fellow fur babies, which makes me a great choice for a packed and bustling home!. But I'm pretty small, and that means young children need to be gentle with me – I may look like a lovable teddy bear, but no one should treat me like a toy!
In addition, I'm smart and eager to please, so I'm easy to train with positive reinforcement – gimme all the treats and I'll do whatever you say! I'm also pawfect for apartment life because I don't need a ton of space. (Don't leave me alone for too long because I get separation anxiety.) I also need lots of grooming to stay this cute, which is why some humans like to use a groomer. All that said, if you take good care of me, I'll be your best friend furever!
Ready to learn more about me? Let's dig in.
Ready to learn more about me? Let's dig in.
About Me
pumpkin
Get the pet insurance all the Cavapoos are wagging about.
Fetch My Free Quote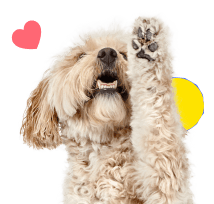 My Many Looks
Apricot
Black & White
White
Tricolor

My Breed Characteristics

Furbulous Fact
Most of us Cavapoos spend our lives as loving companion dogs to our humans, but some of us go to work too! Our gentle nature and sweet temperaments make us pawesome therapy dogs, just like our Cavalier King Charles Spaniel parents. Plus, we hate for our humans to be sad or upset, so we'll always do our absolute best to cheer them up! If you're looking for a watchdog, though, a Cavapoo might not be the right pooch for you – you can chalk that up to our natural friendliness with strangers, which makes us poor watchdogs but incredible therapy dogs!

As I Grow Up
As you can see, we Cavapoos age pretty gracefully. Here are a few key milestones in my growth and development to be aware of as I grow up from a pupper to an adult and senior!
Puppy
2-6 Months
I'm super friendly – start my socialization & obedience training early so I can make friends! But make sure I've had all my vaccines first!


Adult
8-12 Months
I need at least 30 minutes of daily exercise – along with mental stimulation from playtime with my humans – to keep me healthy and happy!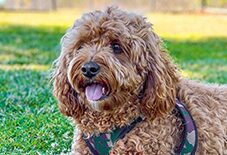 Senior
9-10 Years
I'm prone to joint and dental problems, so pawlease watch my weight and make sure I have good dental hygiene.



History of My Breed
Like all mixed breed designer dogs, we Cavapoos are pretty new on the scene. Though the humans aren't exactly sure how we first came about, we first became popular in Australia in the 1990s. Our sweet and charming personalities soon won over humans across the world, especially in the United Kingdom and the United States. In fact, we're one of the most popular hybrid dog breeds in the world!
Our pawesome personalities are a result of breeders wanting to create the pawfect companion dog – we're great with families, comfortable in apartments, and well-suited to humans with allergies. Of course, no dog is 100% hypoallergenic, but our Poodle parents come close. That's why Cavapoos with more Poodle genetics tend to be low-shedding, low-dander pups that don't cause too much allergy trouble for their humans, while Cavapoos with more Cav than Poo aren't as good for allergy sufferers. Cavapoo breeders look more for certain temperaments than breed-standard looks in my parent breeds – but don't worry, they make sure we're all cute little teddy bear pups, even if we have different coat types and sizes!
Beyond my allergy-friendly coat, I get my smarts and playful nature from the Poodle side of my family tree. My Cavalier King Charles Spaniel side is where I get my friendliness, sweet temperament, and affection for humans big and small. Cavalier King Charles Spaniels were bred to be companion dogs and family pets, which is why I'm so loyal and loving to my humans (and why I get separation anxiety without my humans around)! Poodles were bred to be retrievers – they're bird hunting dogs, to be exact – so while I'm not a great hunting buddy, I love a good game of fetch!

Pawesome Pups to Parent
Cavalier King Charles Spaniels and Poodles have to be mixed together to create Cockapoos like me, but there are also plenty of pawfectly sweet purebreds that are looking to find their furever homes, too. You can learn where to find your next pet below!
Practice good dental hygiene.
Cavapoos are at increased risk for developing periodontal disease. Brush your dog's teeth daily with a soft bristle toothbrush and a toothpaste designed for dogs. Schedule dental cleanings per your veterinarian's recommendations.
Keep your Cavapoo's eyes clean.
Cavapoos tend to develop reddish-brown tear stains under their eyes. Normal tear staining isn't associated with health problems, so don't use the antibiotic-containing supplements that are advertised as treatment. Simply wipe the affected area with a damp cloth once a day and keep the fur there trimmed short.
Cavapoo characteristics may vary.
Crossbred dogs like Cavapoos can have the traits of either of their parent breeds. Sometimes they're a fairly equal blend, but at other times they trend strongly in one direction or another. Before bringing home a Cavapoo, make sure that you'd be happy with a dog that is very similar to a Cavalier King Charles Spaniel or a Poodle, or falls somewhere in the middle.
Keep training sessions short & use positive reinforcement.
Cavapoos are intelligent and pick up commands surprisingly quickly. They're partial to a snack or two so be sure to incorporate treats into training sessions, as well as continuously verbally praising them when behaving well. Most Cavapoos are naturally inquisitive and are known to become bored during training sessions. The best way to tackle their short attention span is to keep training sessions short and fun.
Provide mental stimulation as well as physical activity.
The majority of Cavapoos are medium energy dogs who will need around 30 to 60 minutes of exercise a day. They also need mental stimulation throughout the day. Rope toys for tug-of-war or frisbees for fetch will do well. Toys that you can stuff with treats also do well.
Don't leave your Cavapoo alone for too long.
The Cavapoo's extreme sociability means that they do not do well being left alone for hours and hours. While Cavapoos may appear cute and not capable of much destruction, they can chew their way through sofas and cushions if they experience separation anxiety.

Why Get Dog Insurance?
from Pumpkin®
While Cavapoos are a generally healthy breed, unexpected ruh-rohs can happen to any dog at any age. If your pup gets hurt or sick, pet insurance can help you say 'yes' to the best care, even when it's costly. When it comes to shopping for this breed, you'll want to choose an insurance plan like Pumpkin plan that covers hereditary conditions Cavapoos are prone to developing, and that can be costly to treat. While a reputable breeder will conduct genetic testing on your pup's parents to help minimize the chances of passing down hereditary conditions, they can't always be avoided. Let's look at some common ones, and how Pumpkin Dog Insurance plans could help cover the cost of care!
*Sample shows 90% reimbursement of covered vet bill assuming $250 annual deductible has been met.