Meet the Cavalier King Charles Spaniel
Best Fur Friend
Apartment Friendly
Social Butterfly
Looking for a loving companion dog with a regal pedigree? Then I'm the breed for you! We Cavalier King Charles Spaniels are one of the friendliest breeds around, which makes us a pawfect family dog, both with kiddos and other fur babies. I love everybody – even strangers – so if you're looking for a watchdog, keep looking! I'm great in apartments as long as I get daily walks and indoor playtime. But I don't do well without my humans around – I'm too loving to be alone!
My furbulous looks require maintenance, but what do you expect? I have "King" in my name, and that means I'm royalty! My silky coat (especially the feathering around my ears) can get tangled or matted without regular brushing, and I need a bath every 2-4 weeks, but I'm worth the work. I'm also easygoing and eager to please, which makes me very trainable. I'm athletic for a toy breed and pawesome at agility and flyball. I'm the total package, in other words, which is why I'm one of the AKC's most popular breeds!
Ready to learn more about me? Let's dig in.
Ready to learn more about me? Let's dig in.
About Me
pumpkin
Get the pet insurance all the Cavs are wagging about.
Fetch My Free Quote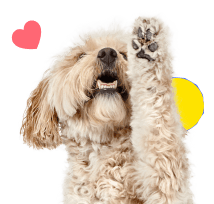 My Many Looks
Black & Tan
Tricolor
Blenheim
Ruby

My Breed Characteristics

Furbulous Fact
There's a reason our Ruby & White color (Blenheim) has a special name. This color Cav was bred by John Churchill, the 1st Duke of Marlborough, and is named after Blenheim Palace, where he lived. Some Cavs also have a "Blenheim spot" on their head, which has a fun story of its own! As legend has it, Sarah Churchill, Duchess of Marlborough, stroked the head of a pregnant Cav while she waited for her husband to return from war. When she heard the news that he'd won the battle, the Mama Cav gave birth to a litter of puppies who all had red spots on their heads!

As I Grow Up
As you can see, we Cavalier King Charles Spaniels age pretty gracefully. Here are a few key milestones in my growth and development to be aware of as I grow up from a pupper to an adult and senior!
Puppy
3-6 Months
I need socialization and obedience training so I can grow up to be a good doggo! (Just make sure I've had all my vaccines first, pawlease)!


Adult
14-16 Months
I may be a toy breed, but I have sporting dog energy! I need at least 1 hour of daily exercise (I love walkies!) and some playtime with my humans.
Senior
9-10 Years
I'm slowing down a bit and prone to joint problems, so switch to a senior-friendly dog food to help me maintain a healthy weight.



History of My Breed
We Cavalier King Charles Spaniels are a young breed with a long history. Cavs as you know them today took a long time to develop. My earliest ancestors were the toy spaniels, favored by the royal courts of Europe as far back as the Renaissance. They served as companion dogs for European royalty, literal lap dogs who sat on their humans to provide warmth and comfort. They even slept with their humans in order to attract fleas so their humans wouldn't get bitten! If you need any evidence of how beloved my ancestors were, these little dogs are immortalized in many famous portraits of their royal parents.
In the 17th century, England's King Charles I and his son, Charles II, became especially fond of my ancestors and bred a black-and-tan version. This became the English Toy Spaniel, known as the King Charles Spaniel in England. Charles II was so obsessed with us that he made it illegal to ban my ancestors from any public place, including the House of Parliament! Over the next few centuries, the English began to breed my ancestors with flat-faced toy breeds like the Japanese Chin and Pug, which completely changed their look. It wasn't until the 20th century that an American dog-lover named Roswell Eldridge decided to bring back my ancestors' old-school look.
Eldridge offered a prize to British breeders who could recreate the old look, which he called "Blenheim Spaniels of the Old World Type," in 1926. By then, not many of the old type were left, but there were still a few breeders who could breed them, and so their comeback began. In 1945, the UK Kennel Club first recognized the Cavalier King Charles Spaniel. It took a lot longer for us to catch on in the USA, but thanks to the efforts of the American Cavalier King Charles Spaniel Club, the AKC finally recognized us in 1995.

Pawesome Pups to Parent
In addition to purebred Cavalier King Charles Spaniels like me, there are tons of pawfectly sweet mixed-breed CKCs that are looking to find their furever homes. You can learn where to find your next pet below!
Be on the lookout for early signs of heart disease.
Every 3 to 6 months, record how many breaths your Cav takes in 60 seconds while sleeping. Each rise and fall of the chest is one breath, and your dog should take less than 30 in 60 seconds. Cavs are prone to heart disease and a resting respiratory rate of over 30 is often the first detectable sign at home.
Be proactive about your Cav's dental health.
Brush your dog's teeth often, ideally twice daily. Cavalier King Charles Spaniels have short noses and small mouths, which makes them very prone to dental disease. Brushing twice daily may avoid periodontal disease and the need for dental extractions as your Cav gets older.
Daily brushings keep your Cav's coat tangle-free.
Cavalier King Charles Spaniels need a daily brushing session to avoid hair matting. Cavs have thick medium-length coats and require frequent brushing in between grooming sessions. The ears, chest, back of the legs, tail, and underbelly are the most prone to tangles so pay special attention to those areas (being especially careful around the sensitive ears). A quick daily brushing will prevent matting and help keep your Cav's coat in perfect condition.
Use positive reinforcement training with your Cav.
Connecting an action that you want your dog to perform with a reward is the easiest and fastest way a Spaniel dog can learn. Because of their affectionate personality, they will be eager to please you, so the training process is way easier using positive reinforcement techniques.
Early socialization is key for your Cav.
The Cavalier King Charles Spaniel is a perfect dog for almost everyone, from kids to older people. These dogs are very adaptable to most people and most environments; so making them socialize at an early stage ensures you will raise a dog that can get along with almost everyone in your life.
Schedule exercise time for your Cav.
Cavaliers have the tendency of curling up and appearing chill but they actually hide a lot of energy. Scheduling their exercise time (walking, running, playing, etc.) will help them burn that energy and behave well at home. 30 minutes a day is more than enough.

Why Get Dog Insurance?
from Pumpkin®
While Cavalier King Charles Spaniels are a generally healthy breed, unexpected ruh-rohs can happen to any dog at any age. If your pup gets hurt or sick, pet insurance can help you say 'yes' to the best care, even when it's costly. When it comes to shopping for this breed, you'll want to choose an insurance plan like Pumpkin plan that covers hereditary conditions Cavs are prone to developing, and that can be costly to treat. While a reputable breeder will conduct genetic testing on your pup's parents to help minimize the chances of passing down hereditary conditions, they can't always be avoided. Let's look at some common ones, and how Pumpkin Dog Insurance plans could help cover the cost of care!
*Sample shows 90% reimbursement of covered vet bill assuming $250 annual deductible has been met.