Meet the Bullmastiff
Courageous Canine
Gentle Giant
Best Fur Friend
Looking for a fearless companion who always has your back? Then I'm the pawfect pup fur you! I'm loyal as can be, and though I have natural guard dog instincts, my humans learn quickly that I'm a sweetie pie at heart. I love to pretend I'm the perfect lap dog despite my 100+ pound frame – so pawlease save me a spot on the couch! I also love to cuddle and play and do whatever my humans do. Oh, and I'm a slobber machine. I love dog food and treats so much that I drool – a lot. I can't help it!
Even though I'm a big dog, I have no problem adjusting to apartment living. I'm not too hyper or too calm – I'm just right! Daily exercise and some good ol' fashioned playtime are all my energy level requires. Speaking of playing, I love to play with other pets and kids – I'm truly a family dog! But I'm prone to health problems like bloat, and I have a shorter life span than most breeds, so make sure you have a good vet. But me being such a big dog means there's just more of me to love!
Ready to learn more about me? Let's dig in.
Ready to learn more about me? Let's dig in.
About Me
pumpkin
Get the pet insurance all the Bullmastiffs are wagging about.
Fetch My Free Quote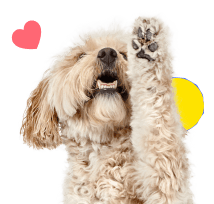 My Many Looks
Fawn
Fawn Brindle
Red
Red Fawn Brindle

My Breed Characteristics

Furbulous Fact
Football fans: ever noticed a dog that looks just like me on the sidelines of Cleveland Browns games? That's my friend Swagger Junior, (or SJ for short)! SJ is the Ohio team's live mascot – and he just happens to be a Bullmastiff. He gets the crowd pumped up and keeps players in a good mood, even when the scoreboard is looking a little ruff. Sometimes you can even catch SJ giving an interview after the game!

As I Grow Up
As you can see, we Bullmastiffs age pretty gracefully. Here are a few key milestones in my growth and development to be aware of as I grow up from a pupper to an adult and senior!
Puppy
3-6 Months
I'm an active pup, but pawlease go easy on the exercise while I'm growing! Short walks in the park help me blow off steam and give me a chance to meet other dogs.
Adult
18-20 Months
Compared to other pups, it takes me a long time to reach adulthood. Some males keep growing for 3 to 4 years, reaching 130 pounds.



Senior
7-9 Years
By this point, you're used to cleaning up my drool – but I might need a little more help getting around the house in my old age.





History of My Breed
In late 19th-century England, aristocrats loved to hunt. Many English elites owned big plots of land with game preserves, places full of wild animals they could hunt for sport. But things took a turn for the worse when poachers started trespassing on these preserves. If caught, these poachers faced horrible punishment, so they went to great lengths not to get caught – even going so far as to murder the gamekeepers in charge of protecting the animals. But then we Bullmastiffs came along and put a stop to it!!
Faced with new threats from poachers, gamekeepers across the country started breeding larger, more powerful, dogs. They created us by combining Bulldogs and Mastiffs! We were smart enough to follow commands, but not so bloodthirsty that we would kill the poachers instead of just stopping them. The gamekeepers were so proud of us that friendly competitions arose to see who had the most pawesome dog. These competitions grew popular, and eventually we entered the English show dog circuit. Our roles over the years have earned us a few nicknames, including the Gamekeeper's Night Dog and the Silent Watchdog.
We likely first came to the United States when John D. Rockefeller brought us over from England in the 1920s to help him guard his estate in Tarrytown, New York. Since then, the Bullmastiff breed has been a favorite of American celebrities – Marlon Brando, Christina Aguilera, Jon Bon Jovi, Sylvester Stallone, and Bob Dylan are just a few of the famous humans who've brought us into their homes!
In 1924, we were welcomed into England's Kennel Club in 1924, and the American Kennel Club (AKC) followed suit in 1933. And in 1988, American Bullmastiff lovers formed the American Bullmastiff Association!

Pawesome Pups to Parent
In addition to purebred Bullmastiffs like me, there are tons of pawfectly sweet mixed-breed Bullmastiffs that are looking to find their furever homes. You can learn where to find your next pet below!
Be aware that Bullmastiffs are prone to bloat.
As a large breed dog, Bullmastiffs are prone to GDV, also known as bloat or gastric torsion. Consider gastropexy at the time of spay or neuter, and be mindful of excessive exercise after eating.
Take care of your Bullmastiff's facial folds.
Brachycephalic breeds, like Mastiffs and Pugs, can experience some irritation within the folds of their faces. These areas deserve some special care and attention in order to prevent dermatitis. Irritation can also be related to issues with the eyes, such as entropion or excessive rubbing of the eye from the eyelid. Regularly keep an eye on these vulnerable areas.
Protect your Bullmastiff from developing orthopedic issues.
Large breeds often develop orthopedic problems as they age. Help your adult dog maintain a healthy weight, and speak to your vet about joint protective supplements. Monitor your dog to watch for limping, and if your dog develops a limp, speak to your vet about further treatments.
Coach your pup out of its stubbornness.
Bullmastiffs can be very strong willed. If your pup is being obstinate and repeating unwanted behaviors, turn around, ignore them for a few seconds, and take a deep breath. The trick is not letting them seize control of the narrative by doing something else to get your attention, whether it's barking or gnawing on the couch. Remember to reward the good behaviors with treats and love, ignore the bad behaviors, and always stay positive to bring out the best in your pup.
Teach them to use their jaws gently.
It's important to start teaching dogs gentleness and precision early on. While you can't eliminate their desire to chomp, you can teach them what's OK to chomp on: their designated toys. You can also help them soften their bite by hand-feeding them treats and kibbles while they're young. If there's a bite that feels hard – even if it doesn't touch skin – pull the treat away and then wait for them to take it gently.
Give your Bullmastiff plenty of physical and mental exercise.
Train your Bullmastiff pup's mind by getting creative with feeding time. Instead of feeding them in a regular bowl, try putting their food in a Kong toy. These require dogs to use their jaws more intelligently and use their creativity to get the food out, so it ends up being a little bit of play and a little bit of exercise, too.

Why Get Dog Insurance?
from Pumpkin®
While Bullmastiffs are a generally healthy breed, unexpected ruh-rohs can happen to any dog at any age. If your pup gets hurt or sick, pet insurance can help you say 'yes' to the best care, even when it's costly. When it comes to shopping for this breed, you'll want to choose an insurance plan like Pumpkin plan that covers hereditary conditions Bullmastiffs are prone to developing, and that can be costly to treat. While a reputable breeder will conduct genetic testing on your pup's parents to help minimize the chances of passing down hereditary conditions, they can't always be avoided. Let's look at some common ones, and how Pumpkin Dog Insurance plans could help cover the cost of care!
*Sample shows 90% reimbursement of covered vet bill assuming $250 annual deductible has been met.