Meet the Boxer
Best Fur Friend
High Doggy I.Q.
Canine Comedian
Looking for a high-energy pup with a big heart and a goofy personality? Then I'm the breed for you! We Boxers may look tough, but we're absolute sweethearts. I love to love my humans – especially the tiny ones – but I'm really playful, so I need grownups to train both me and the kiddos early so we learn to love each other safely. I'm also athletic, so I need energetic humans to keep up with me. If I don't get my energy out (or if I'm alone too long and get bored) I might end up destroying your stuff!
My short coat makes grooming easy, but it also makes me especially sensitive to hot weather – I can get sunburned, just like you! Even though I'm a smarty paws, I can be stubborn, and that means I need my human to be patient and persistent with my training. You may want to teach me "down" first because I tend to jump around and do a happy dance when I get excited! I also drool a lot (and I snore, and I'm gassy), but Boxer lovers know that's just part of what makes us such funny and lovable family dogs.
Ready to learn more about me? Let's dig in.
Ready to learn more about me? Let's dig in.
About Me
pumpkin
Get the pet insurance all the Boxers are wagging about.
Fetch My Free Quote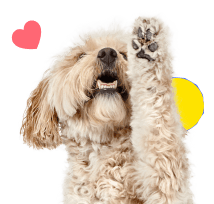 My Many Looks
Brindle & White
Fawn & Black Mask

Brindle

Fawn & White

My Breed Characteristics

Furbulous Fact
White Boxers get a bad rap, so let's set the record straight. They aren't rare – about 25% of Boxers are white. They aren't albino – they have eye, nose, paw, and skin pigment. They are more prone to deafness but their color doesn't automatically mean they have health issues (and they certainly aren't born aggressive). One thing is true, though – white Boxers are more susceptible to sunburn, so grab some doggy sunscreen!

As I Grow Up
As you can see, we Boxers age pretty gracefully. Here are a few key milestones in my growth and development to be aware of as I grow up from a pupper to an adult and senior!
Puppy
3-12 Months
I need socialization and obedience training early and often, especially in homes with kids. (Just make sure I've had all my vaccines first, pawlease)!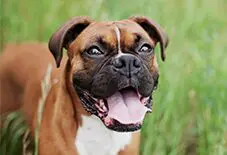 Adult
2-3 Years
I need at least 1 hour of daily exercise and playtime with my humans – I can get very destructive without physical and mental stimulation.
Senior
7-8 Years
I'm prone to obesity and joint problems, so switch to a senior-friendly dog food to help me maintain a healthy weight.




History of My Breed
Today, we Boxers are mostly known for being affectionate and goofy family dogs, but we come from some really tough and hard-working pups! The first Boxers were developed in late 19th-century Germany from a now-extinct breed, the Bullenbeisser (which means "bull biter" in German). These mastiff-type dogs were really popular with the German nobility in medieval times because they helped their humans hunt big game like deer, wild boar, and even bears! By the 19th century, big game hunting wasn't very popular anymore, and Germans started breeding Bullenbeissers with Bulldogs and created the first Boxers!
Though the humans don't agree on where exactly we get our name, some believe the name Boxer comes from the playful way we stand up and "box" other dogs with our front paws. Others think it comes from some old German words, but that's not nearly as fun! Wherever our name came from, we were established in Germany by 1895. Like our ancestors, we were hard workers from the very start, helping our humans as police dogs, World War I military dogs, watchdogs, rescue dogs, guide dogs, and guard dogs, just to name a few of our jobs. Today's Boxers are good workers, too – especially as watchdogs, since we're smart, alert, and loyal to our humans – but we spend a bit more time snuggling on the couch than our ancestors did.
The American Kennel Club first recognized us in 1904 – and the American Boxer Club was formed in 1935 – but we didn't become super popular right away. It wasn't until after World War II, when American soldiers brought Boxers home with them from overseas, that Boxers really started to shoot up the popularity chart in America. Today, our winning combination of smarts, athleticism, work ethic, warmth, and playfulness make us the AKC's 14th most popular dog breed.

Pawesome Pups to Parent
In addition to purebred Boxers like me, there are tons of pawfectly sweet mixed-breed Boxers that are looking to find their furever homes. You can learn where to find your next pet below!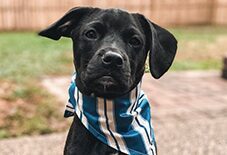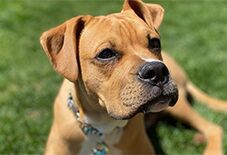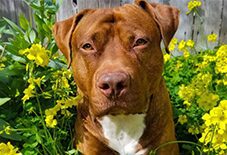 Check your Boxer for lumps monthly.
Boxers are very prone to developing cancerous lumps called mast cell tumors. I recommend feeling over your dog's body every month to look for new growth. If you find a new lump, I recommend recording the location, size, shape, and texture. If the growth is still present in the next month or you notice rapid changes, then I recommend evaluation by your veterinarian.
A little grooming goes a long way.
Boxers thankfully have minimal grooming needs, but I recommend brushing once a week with a rubber curry-brush or a hand glove. I recommend brushing your Boxer's teeth once a day to help minimize dental disease. Also, their nails should be trimmed every four to six weeks to reduce overgrowth.
Be proactive about your Boxer's health with supplements.
I recommend Boxers being started on glucosamine, chondroitin, and fish oil supplementation at one year. These supplements will help encourage joint health and decrease inflammation associated with arthritis in the future. Additionally, fish oil supplementation will help improve skin health as some Boxers can deal with atopy (contact allergies).
Exercise your Boxer but don't overexert them.
Boxers have a history of being very versatile dogs and are well suited to a variety of lifestyles. But one thing is clear – they require exercise. There are many physical activities that owners can do to exercise their Boxer, including walking, hiking, and games of fetch and tug. It is important to be cautious regarding overexertion, since Boxers have respiratory features that can complicate their breathing and make them prone to conditions such as heat stroke.
Early socialization is a must for your Boxer.
It is important to socialize boxers with any and all human and non-human animals that they may encounter in their lifetime to ensure they're comfortable. Boxers tend to be social dogs, and allowing them the ability to socialize with other humans and other dogs will benefit them greatly. They can be very sweet but, like any dog, they may be fearful if not socialized properly. Socialization requires more skill than most people think – therefore, you may want to work with a certified dog trainer to prevent some of the behavior issues that can develop due to under-socializing them or socializing them too exuberantly.
Get your Boxer used to being handled early in life.
Boxers are prone to some health conditions (mainly allergies, ear infections, eye problems, and musculoskeletal problems), so it's important that they get used to having their feet and limbs touched and manipulated, their ears touched and cleaned, and other general handling. This desensitization can be beneficial and make life much easier if, later in life, your Boxer needs regular handling due to a medical condition.

Why Get Dog Insurance?
from Pumpkin®
While Boxers are a generally healthy breed, unexpected ruh-rohs can happen to any dog at any age. If your pup gets hurt or sick, pet insurance can help you say 'yes' to the best care, even when it's costly. When it comes to shopping for this breed, you'll want to choose an insurance plan like Pumpkin plan that covers hereditary conditions Boxers are prone to developing, and that can be costly to treat. While a reputable breeder will conduct genetic testing on your pup's parents to help minimize the chances of passing down hereditary conditions, they can't always be avoided. Let's look at some common ones, and how Pumpkin Dog Insurance plans could help cover the cost of care!
*Sample shows 90% reimbursement of covered vet bill assuming $250 annual deductible has been met.