Meet the Boston Terrier
Comedic Canine
Apartment Friendly
Best Fur Friend
Are you in need of a little comic relief all wrapped up into one squishable, lovable ball of fun? Then I might just be the pawfect pup fur you! I may be small, but my personality is delightfully energetic and silly. I'm a natural comedian! When I'm not busy being the life of the party, I love going on walks with humans to flaunt my tuxedo-like coat to the world – they don't call me "The American Gentleman" for nothing!
I'm a pretty easy going pup and I get along with all humans, even kids, and other dogs. I need regular daily exercise and I can get bored pretty easily, so throw me a ball every once in a while to keep me entertained. My easy-going personality and travel-sized body make me the pawfect pup for anyone. After all, I am from Boston, which means I'm witty, tough, and born to be the center of attention! What's not to love?
Ready to learn more about me? Let's dig in.
Ready to learn more about me? Let's dig in.
About Me
pumpkin
Get the pet insurance all the Bostons are wagging about.
Fetch My Free Quote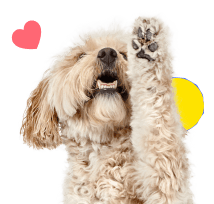 My Many Looks

Brindle

Seal
Black
Brown

My Breed Characteristics

Furbulous Fact
Did you know the Boston Terrier is the state dog of Massachusetts? Yep! On May 14, 1979, the Massachusetts legislature agreed that we'd become their their official state pooch. It's probably not much of a surprise because, after all, our name is Boston Terrier – but it's still pretty puptastic! In addition to sharing a name with the state's capital, we hail from the Bay State ourselves. Go Sawx!

As I Grow Up
As you can see, we Boston Terriers age pretty gracefully. Here are a few key milestones in my growth and development to be aware of as I grow up from a pupper to an adult and senior!
Puppy
3-12 Weeks
Puppyhood is the best time to socialize me! Once I get all my shots, I can spend time with other pups at training classes and the park.


Adult
10-14 Months
Unlike bigger breeds, Bostons stop growing around the one year mark. As I age, remember to care for my eyes, which are prone to illness.
Senior
8-12 Years
My knees can cause me trouble as I age, so I might need help getting up on the couch or bed. But remember – I'm still young at heart!



History of My Breed
Meet the Boston Terrier, also known as the American Gentleman! Our official name comes from our Boston birthplace, while our nickname probably has something to do with our dapper appearance and winning pawsonality! Although we were born in the United States, our history dates back to 19th century England, where people used to pass the time by making canines fight one another. Thankfully, that pup-posterous practice is now outlawed.
Our story begins with a dog named Judge (Hooper's Judge), an English Bulldog and White English Terrier mix who was born in Liverpool in the 1860s. I know what you're thinking: "Liverpool? I thought you were the Boston Terrier!" Well, Judge made the long voyage to Boston when his owner sold him to an American named William O'Brien. A decade later (in human years, of course!), another man named Robert C. Hooper purchased Judge.
Hooper then introduced Judge to a beautiful, four-legged lady friend, an English Bulldog named Burnett's Gyp. Hubba hubba! Together, they produced a pup named Wells' Eph – and the rest is history, as they say! Wells' Eph began the lineage of the Boston Terrier. Over the years, our dog breed has been called many names (Round Heads, Bullet Heads, Bull Terriers), but Boston Terrier, a name honoring the birthplace of our ancestors, stuck in 1889.
It didn't take long for Americans to fall in love with our playful personality and fondness for snuggling (even if we do snore)! We're also presidential pups! Both Gerald Ford and Warren G. Harding had Boston Terriers in the White House. To top it off, we're also the mascot of Boston University and the official dog of Massachusetts.
In 1893, our popular breed was recognized by the American Kennel Club (AKC) as part of the non-sporting group. Two years earlier, the Boston Terrier Club of America was formed.

Pawesome Pups to Parent
In addition to purebred Boston Terriers like me, there are tons of pawfectly sweet mixed-breed Bostons that are looking to find their furever homes. You can learn where to find your next pet below!
Be careful with your Boston's eyes.
As a brachycephalic breed like Pugs and French Bulldogs, Boston Terriers have protruding eyes which make them more prone to eye problems, including corneal abrasions. Be careful with your Boston during playtime to avoid any eye injuries, but if they do occur, talk to your vet about how to treat it.
Consider getting your Boston's nares opened up for better airflow.
Another result of being a brachycephalic breed is that their flat, short muzzles can sometimes impose on their ability to breathe. If you notice your Boston is starting to have trouble breathing, talk to your vet about getting their nares opened up to allow for better breathing.
Watch for signs of allergies.
Boston Terriers are prone to skin allergies, so keep an eye out for irritated areas of the skin. Skin can become red, flaky, and itchy and the irritation can also spread fairly quickly. Talk to your vet about giving your dog allergy medication, or about topical ointments and treatments that can help ease irritation.
Train aggressive tendencies out of your Boston early.
Boston Terriers tend to invoke aggression in other dogs, and can be a little bit aggressive themselves. Train aggression out of them when they're puppies through gradual socialization, one dog at a time. If there's any instance of aggression from any dog involved, just remove your Boston from the situation entirely. Always err on the side of caution.
Stay calm and so will your Boston.
Boston Terriers feed off other people's energy, so be as calm around them as you can. In moments of stress, present calmness and emotionally lead by example, and your Boston should follow. Move slowly and deliberately to avoid any chaos.
Don't reward bad behavior.
Sometimes, we dog owners are tempted to give our dogs a treat to entice them out of a situation, but this encourages bad habits. Don't reward bad behavior. Instead, remain calm and remove your Boston from whatever the situation may be. If you come across another dog on the street, make your Boston sit before engaging with them and reward them if they do well.

Why Get Dog Insurance?
from Pumpkin®
While Boston Terriers are a generally healthy breed, unexpected ruh-rohs can happen to any dog at any age. If your pup gets hurt or sick, pet insurance can help you say 'yes' to the best care, even when it's costly. When it comes to shopping for this breed, you'll want to choose an insurance like Pumpkin that covers hereditary conditions Bostons are prone to developing, and that can be costly to treat. While a reputable breeder will conduct genetic testing on your pup's parents to help minimize the chances of passing down hereditary conditions, they can't always be avoided. Let's look at some common ones, and how Pumpkin Dog Insurance plans could help cover the cost of care!
*Sample shows 90% reimbursement of covered vet bill assuming $250 annual deductible has been met.