Meet the Bolognese Dog
Couch Cuddler
Apartment Friendly
Best Fur Friend
Are you looking for a loveable lap dog who will follow you everywhere ? Well, then I'm the pup for you! There's nothing I love more than spending quality time with my humans. Whether we're snuggling on the couch or taking leisurely strolls through the neighborhood, I'll be right by your side, keeping you entertained with my funny and endearing pawsonality!
In fact, I love chilling with my people so much that I tend to get anxious when left alone for too long. While my separation anxiety means I might not be a great fit for humans who work all day, I'm perfect for apartment-dwellers because of my small size. I don't need much exercise and am a bit of a couch pawtato - hehe! Just know that I can be a little high maintenance: my long, unruly locks require frequent trips to the groomer! At the end of day, if you're looking for a little, puffy goofball who's always ready to be the center of attention, you won't find a better match than me!
Ready to learn more about me? Let's dig in.
Ready to learn more about me? Let's dig in.
About Me
pumpkin
Get the pet insurance all the Bolos are wagging about.
Fetch My Free Quote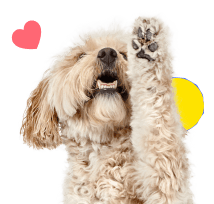 My Many Looks

White

My Breed Characteristics

Furbulous Fact

As I Grow Up
As you can see, we Bolognese age pretty gracefully. Here are a few key milestones in my growth and development to be aware of as I grow up from a pupper to an adult and senior!
Puppy
4-16 Months
Introduce me to plenty of humans and four-legged friends as a puppy so I get used to strangers! Just make sure I get my shots first.
Adult
6-12 Months
As I grow into adulthood, don't be afraid to show me who's boss! I can become a little stubborn if you let me get my way too often.
Senior
10-14 Years
Like other tiny dogs, I often get knee and dental problems. Keep up with my vet visits so I stay healthy and happy in my old age!

History of My Breed
When you hear "Bolognese," you probably think of the delicious Italian meat sauce of the same name - and it just so happens we share a hometown! Like Bolognese sauce, Bichon Bolognese pups hail from Bologna, Italy, where we rose to pawpularity among the most powerful and wealthy families. In the Middle Ages and the Renaissance, in particular, we found favor with prominent families like the Medicis, the Gonzagas, and the Estes. You can even see us - and our furbulous white coats - in artwork from the time period, specifically 1600s Flemish tapestries!
Royalty kept us around as companion dogs, of course - much like other small white dogs in the Bichon family, including Maltese, Bichon Frise, and Coton de Tulear. But we were also traded around the world and sent as gifts. The famous Cosimo de Medici, for example, sent eight of us to Belgium as presents for influential families in the country. Italy's King Umberto also gave us as a gift to a Belgian royal - Princess Jose of Belgium. What a furbulous era for the Bolognese!
But all pawesome things must come to an end, and our glorious heyday did, too. By the mid-1900s, we were nearly extinct, until European breeders like Gian Franco Giannelli helped revive us. In 1990, Liz Stannard brought us to England for the first time, and we debuted in the Imported Register show class. It didn't take long for us to gain a foothold, though. By 1995, we were officially recognized by the United Kennel Club.
Our first appearance in the United States came slightly earlier, around 1986, when Dorothy and Bert Goodale brought us over. We became eligible for American Kennel Club (AKC) shows in July 2008 - and we're currently in the Foundation Stock Service on our way to full recognition!

Pawesome Pups to Parent
In addition to purebred Bolognese like me, there are tons of pawfectly sweet mixed-breed Bolognese that are looking to find their furever homes. You can learn where to find your next pet below!
Look out for any joint abnormalities in your Bolognese.
Like most small dogs, Bolognese can be prone to luxating patellas which is when the kneecap slides in and out of a groove in the joint. They can also be prone to Legg–Calvé–Perthes disease, which can cause a lack of blood flow to the femoral head. If you ever notice anything unusual about the way your Bolognese walks, make sure to consult your veterinarian.
Keep up with your Bolognese's teeth by brushing.
Small breeds like the Bolognese can be more prone to dental disease than others. Start brushing your Bolognese's teeth early to stay ahead of dental disease.
Keep up with grooming around your Bolognese's face.
Bolognese shed very little and don't require much grooming, but owners will need to make sure that the hair around their eyes is regularly trimmed. If left ungroomed, hairs could irritate your Bolognese's eyes and lead to tear staining around the eyes.
Coach your pup out of its stubbornness.
If your Bolognese is being obstinate and repeating unwanted behaviors, turn around, ignore them for a few seconds, and take a deep breath. The trick is not letting them seize control of the narrative by doing something else to get your attention, whether it's barking or gnawing on the couch chair. Remember to reward the good behaviors with treats and love, ignore the bad behaviors, and always use positive reinforcement to bring out the best in your pup.
Give your Bolo a set schedule
Bolognese are commonly an anxious breed. In order to mitigate their anxiety, create a well-thought-out schedule and stick to it daily. Feed your dog at the same time every day, walk your dog at the same time every day, and keep everything tight and controlled. This will help your dog feel safe and secure and will reduce anxiety.
Invite your Bolo onto furniture
Instead of picking your Bolo pup up to take them to furniture, invite them up onto furniture. You should have some control over cuddling on furniture, otherwise they'll feel like the couch and bed are theirs and they won't have to listen to you. If you're going to make your Bolo a lap dog, pick a spot where you let them sit in your lap. Don't let them cuddle with you on everything, although you may feel the urge to. There have to be boundaries somewhere.

Why Get Dog Insurance?
from Pumpkin®
While Bolognese dogs are a generally healthy breed, unexpected ruh-rohs can happen to any dog at any age. If your pup gets hurt or sick, pet insurance can help you say 'yes' to the best care, even when it's costly. When it comes to shopping for this breed, you'll want to choose an insurance plan like Pumpkin plan that covers hereditary conditions Bolognese are prone to developing, and that can be costly to treat. While a reputable breeder will conduct genetic testing on your pup's parents to help minimize the chances of passing down hereditary conditions, they can't always be avoided. Let's look at some common ones, and how Pumpkin Dog Insurance plans could help cover the cost of care!
*Sample shows 90% reimbursement of covered vet bill assuming $250 annual deductible has been met.