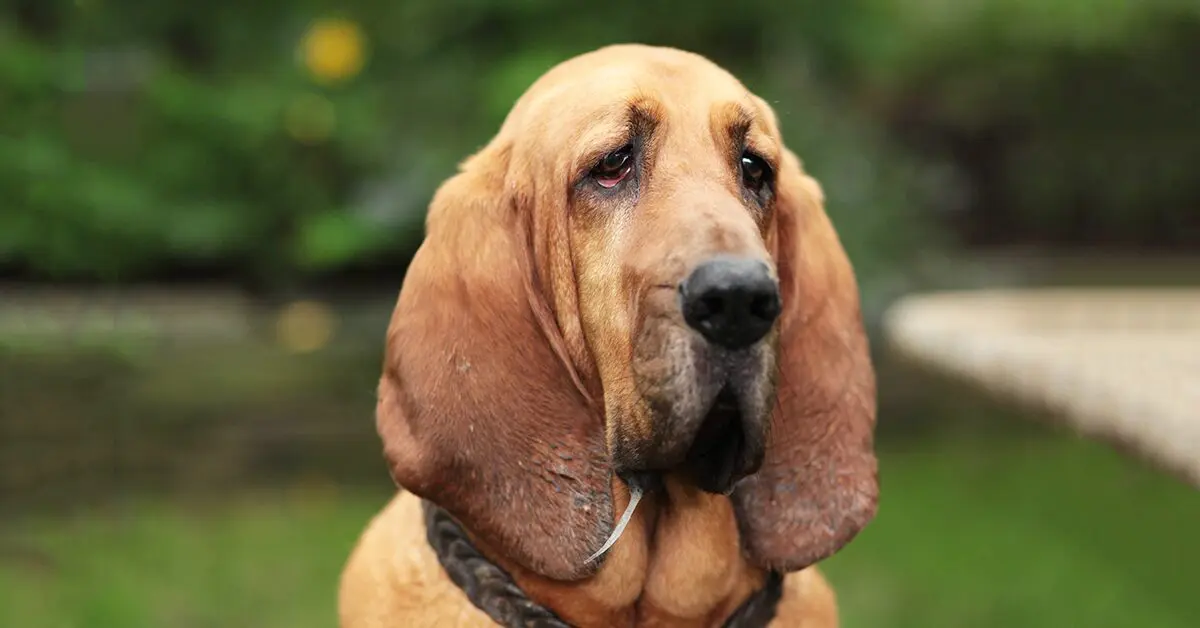 Meet the Bloodhound
Calm Canine
Top Working Dog
Pawfect Playmate
If you're looking for an endearing, devoted family dog, then I just might be the pooch for you! You've probably noticed my droopy ears and skin folds - I'm a face you can't forget! Most known for being a puptastic scent tracker, I can follow a smell for miles and miles. I can be a little stubborn (oops!), so I'll need good training to make sure I don't get too carried away by my snout.
The one thing I love more than a good smell? My family! I'm furbulous with kids and other pets, and I'm happy just being by your side. Eventually, you'll get so used to my company that you won't even notice my drool or doggy smell anymore - hehe! One thing, though - I do need to be kept occupied or I can get into some trouble around the house. Several long walks every day will help tire me out. Once we get our exercise out of the way, you'll find I'm a cool, calm, and collected pup who will quickly become part of the family!
Ready to learn more about me? Let's dig in.
Ready to learn more about me? Let's dig in.
About Me
pumpkin
Get the pet insurance all the Bloodhounds are wagging about.
Fetch My Free Quote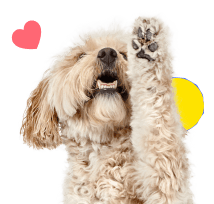 My Many Looks
Black & Tan
Liver & Tan
Red

My Breed Characteristics

Furbulous Fact
I bet you've noticed my long, droopy ears and loose skin, but did you know that they actually serve a pawticular purpose? Yep! When I'm chasing a scent, my long ears drag along the ground and pick up odors, making it easier for me to find a scent trail. Odors also get caught in my skin folds! I think more pups should embrace wrinkles!

As I Grow Up
As you can see, we Bloodhounds age pretty gracefully. Here are a few key milestones in my growth and development to be aware of as I grow up from a pupper to an adult and senior!
Puppy
4-8 Months
Puppyhood is the most important time to train me. Make sure you show me who's boss so I don't become a stubborn adult down the road!
Adult
1-2 Years
I have a huge appetite and will eat just about anything! Make sure I don't eat too much dog food - or gobble up something I shouldn't!
Senior
9-12 Years
My cute droopy ears and eyes are prone to getting infections. Take me to the vet twice a year to keep my health in tip-top shape!

History of My Breed
Although my breed's origins are shrouded in a bit of mystery, some people believe we date all the way back to the third century - wowza! Back then, a scholar named Aelian wrote about a scenthound with tracking powers unlike any other in the world. I hate to brag, but my nose is pretty pawesome!
During the Medieval Era in Western Europe, my pawpularity soared. Noblemen and high-ranking church members would take us hunting for big game. We lived on the grounds of monasteries where we were bred by monks. In fact, the monks were so devoted to the practice of breeding that people joked our bloodline was aristocratic, earning us the name "blooded hounds." Every year, the officials at the Abbey of Saint Hubert in Belgium gave the king of France a pair of us as gifts. Even to this day, we're referred to as the St. Hubert Hound in France!
Eventually, our reputation as puptastic mantrailers spread all across the world! In 1805, England's Thrapston Association for the Prevention of Felons brought us on their team to search for poachers and thieves, marking our debut as crime-fighting pups. Long after, law enforcement still ask us to find criminals or help with search and rescue. There's even a National Police Bloodhound Association - and sometimes we're called to testify in court!
The first arrival of the Bloodhound in the United States wasn't recorded, but many purebreds were brought over from England in the late 1800s after a breeder showed three of us at the Westminster Kennel Dog Show. In 1885, we were officially recognized by the American Kennel Club (AKC) - and in 1952, the American Bloodhound Club was formed.

Pawesome Pups to Parent
In addition to purebred Bloodhounds like me, there are tons of pawfectly sweet mixed-breed Bloodhounds that are looking to find their furever homes. You can learn where to find your next pet below!
Take precautions against GDV.
Bloodhounds are at higher risk for gastric dilatation volvulus (GDV), a potentially fatal twisting of the stomach that occurs after overeating. Otherwise known as bloat, GDV is more common in deep chested dogs like bloodhounds. The most foolproof way to avoid this condition is to have the stomach surgically "tacked" to the abdominal wall so it won't twist. This procedure can be done at the same time as a spay or neuter. Otherwise, minimize your risk by feeding measured meals twice a day, and keep all food locked up out of reach of dogs, and rest hounds for one hour after meals.
Take care of your Bloodhound's eyes.
Bloodhounds are predisposed to both entropion (eyelid or lids that roll in) and ectropion (eyelid or lids that roll out). Both of these conditions can dry out or irritate the eyelid, and in severe cases, can cause blindness. These conditions are usually evident between 4-6 months of age. Ectropion and entropion are both treatable by surgery.
Take good care of your Bloodhound's skin and ears.
Bloodhounds have many skin folds which can get irritated or infected if the dog swims frequently or has any skin allergies. Skin fold dermatitis looks like angry, red skin that may or may not have odor or discharge. Bloodhounds have very long, floppy ears and very long ear canals that can get infected if a dog has allergies or swims often.
Prioritize leash training.
Leash training is important for Bloodhounds because of their innate desire to pursue interesting scents. Teach your puppy how to heel, which is a form of walking where the dog isn't pulling you at all and are instead walking right beside you at the same pace. They'll want to run ahead, and you'll want to control that. It's also important to teach them how to behave off the leash because that's when they're the most comfortable.
Coach your pup out of its stubbornness.
If your Bloodhound puppy is being obstinate and repeating unwanted behaviors, turn around, ignore them for a few seconds, and take a deep breath. The trick is not letting them seize control of the narrative by doing something else to get your attention, whether it's barking or gnawing on the couch chair. Remember to reward the good behaviors with treats and love, ignore the bad behaviors, and always stay positive to bring out the best in your pup.
Train your pup to respond to commands – the first time.
As you teach your pup verbal commands like "come," "sit," "stay," and the like – only give the verbal command once. If you give a command twice, you may accidentally be teaching your pup to ignore you the first time. When a pup who knows how to sit doesn't sit when you tell it to – it's testing a boundary. Use your body language to emphasize a point. For example, try raising your hand in a closed fist as you give your command – firmly and gently.

Why Get Dog Insurance?
from Pumpkin®
While Bloodhounds are a generally healthy breed, unexpected ruh-rohs can happen to any dog at any age. If your pup gets hurt or sick, pet insurance can help you say 'yes' to the best care, even when it's costly. When it comes to shopping for this breed, you'll want to choose an insurance plan like Pumpkin plan that covers hereditary conditions Bloodhounds are prone to developing, and that can be costly to treat. While a reputable breeder will conduct genetic testing on your pup's parents to help minimize the chances of passing down hereditary conditions, they can't always be avoided. Let's look at some common ones, and how Pumpkin Dog Insurance plans could help cover the cost of care!
*Sample shows 90% reimbursement of covered vet bill assuming $250 annual deductible has been met.