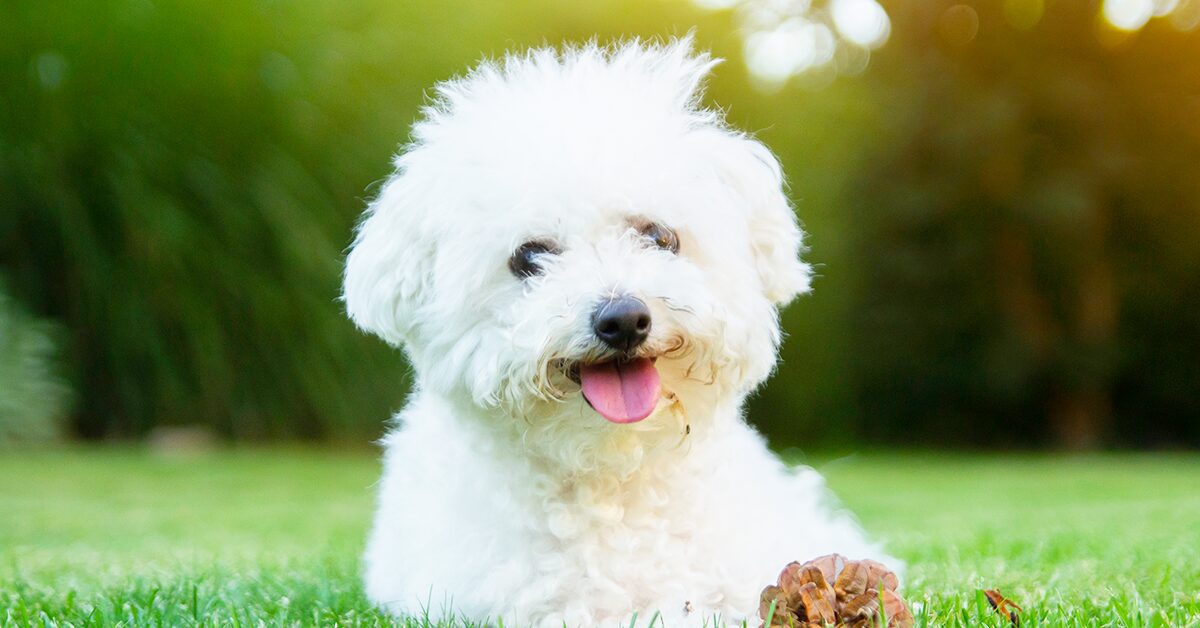 Meet the Bichon Frise
Pawfect Personality
Apartment Friendly
Couch Cuddler
Are you in need of a fun-loving, easy-going ball of fluff with a pawsonality that's to die for? Look no fur-ther! Not to brag, but we Bichons Frises are known for our cheerfulness, playfulness, AND our cleverness. My super soft, super fluffy coat makes me the best cuddle buddy around – plus it's cute! I'll even let you brush it for me (2 to 3 times a week, pawlease!)
I'm happy living in any size space as long as I'm with my humans. I'm also grrreat with kids, probably because I'm their size, and I get along with other pets in the house, too! I'm generally easy to train because of my high IQ, but I am known to be difficult to potty train – I'm trying, OK? I need some exercise every day, but you'll notice that I mostly just get the zoomies whenever I feel like it and then crash for long periods of time. Overall, I'm sweet, I'm fun, and I have a cozy, cute coat. What's not to like!
Ready to learn more about me? Let's dig in.
Ready to learn more about me? Let's dig in.
About Me
pumpkin
Get the pet insurance all the Bichons are wagging about.
Fetch My Free Quote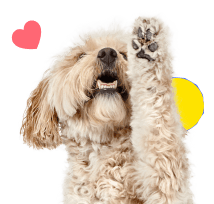 My Many Looks

White
White & Apricot

White & Buff
White & Cream

My Breed Characteristics

Furbulous Fact
I'm French! That probably comes as no surprise, being the sophisticated pups that we Bichons are, but I bet you don't know what my name means. Don't worry, I'm about to tell you. In France, they called us Bichon a poil frise. "Bichon" means small dog and "frise" means curly. Put it all together and what do you get? A cute little pup with curly hair who you can't help but fall in love with! By the way, it's pronounced "free-zay" not "fries!"

As I Grow Up
As you can see, we Bichons Frises age pretty gracefully. Here are a few key milestones in my growth and development to be aware of as I grow up from a pupper to an adult and senior!
Puppy
3-8 Months
In my puppy stage, it's time to train and socialize me. I'm prone to separation anxiety, so make sure I'm comfortable being alone!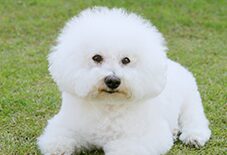 Adult
1 Year
My puppy energy is mellowing out into my outgoing, fully adult self! Keep a lookout for eye diseases and tooth complications as I age.
Senior
11-14 Years
Maybe I'm sleeping more these days, but I'm still always down to cuddle on the couch! I love company just as much as I did as a pup.

History of My Breed
My breed's history starts with the Barbet, also known as the French Water Spaniel. Over 2,000 years ago, the French wanted a smaller (and cuter!) version of the Barbet, so they made a dog breed known as Barbichons. Barbichons include a whole crew of little white dogs: Bichon Bolognese, Bichon Havanese, Bichon Maltese, and Bichon Tenerife.
What about the Bichon Frise? Great question. I'm glad you asked! The Bichon Tenerife hailed from the Canary Island of the same name, in Spain. Sailors in the Mediterranean grew fond of us (can you blame them?) and transported us around the world, bartering us little powder puffs for goods. Eventually, European nobility started fawning over us – Spanish, Italian, French. We were loved by the royal courts and even became Henry III's favorite breed! He carried a basket around his neck to hold his beloved Bichons. You can also find us in the paintings of centuries-old artists, from Francisco de Goya to Pierre-Auguste Renior.
Despite our lasting appeal, we almost met our demise during the French Revolution when we were driven out of the high courts and into the streets. No more treats or cuddling! Thankfully, we were able to charm street performers with our wits and winning personalities. It wasn't long before they noticed how furbulously we performed in front of a crowd, so we joined their acts. We managed to charm our way through tough times!
We came to America in 1956 when Helene and Francois Picault of Dieppe brought a few of us over from France. Having just barely survived World War I and World War II, we quickly flourished in the United States. Americans fell for our charm and we stunned dog show judges time and time again.
In 1964, the Bichon Frise Club of America was formed. In 1971, we were recognized by the American Kennel Club (AKC) and joined the Non-Sporting Group in 1972.

Pawesome Pups to Parent
In addition to purebred Bichons Frises like me, there are tons of pawfectly sweet mixed-breed Bichons that are looking to find their furever homes. You can learn where to find your next pet below!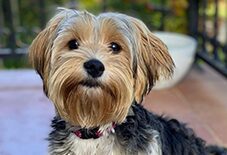 Watch out for your Bichon's allergies.
Bichons are prone to skin allergies, like dermatitis, so keep an eye out for irritated areas of the skin. Skin can become red, flaky, and itchy. The irritation can also spread fairly quickly. Talk to your vet about giving your dog allergy medication, or about topical ointments and treatments that can help ease irritation.
Maintain your Bichon's ears.
Bichons Frises are known to have frequent ear infections, so be alert from the start and regularly check your dog's ears for infection.
Take care of your Bichon's tear stains.
Tear staining is caused by an overproduction of tears or a dog's inability to drain away tears like normal. This causes unsightly dark marks around the dog's eyes. Be sure to work with a good groomer to maintain proper hygiene.
Potty train early and tightly.
While potty training, take your Bichon outside frequently so you gain an understanding of their restroom schedule. Designate a specific spot for them to go outside and take them to that spot on a leash. Give them a huge amount of praise when they do their business outside, but ignore them when they go anywhere else. If ignoring them isn't working, put bitter apple spray on spots to give off a scent that repulses them from the area.
Exercise your Bichon's mental muscles.
Keep your Bichon sharp by giving them treat puzzles and consistently training them. Be wary of letting your dog's training plateau. All dogs thrive from opportunities to keep learning new things.
Invite your Bichon onto furniture.
Instead of picking your Bichon pup up to take them to furniture, invite them up onto furniture. You should have some control over cuddling on furniture, otherwise they'll feel like the couch and bed are theirs and they won't have to listen to you. If you're going to make your Bichon a lap dog, pick a spot where you let them sit in your lap. Don't let them cuddle with you on everything, although you may feel the urge to. There have to be boundaries somewhere.

Why Get Dog Insurance?
from Pumpkin®
While Bichons Frises are a generally healthy breed, unexpected ruh-rohs can happen to any dog at any age. If your pup gets hurt or sick, pet insurance can help you say 'yes' to the best care, even when it's costly. When it comes to shopping for this breed, you'll want to choose an insurance plan like Pumpkin plan that covers hereditary conditions Bichons are prone to developing, and that can be costly to treat. While a reputable breeder will conduct genetic testing on your pup's parents to help minimize the chances of passing down hereditary conditions, they can't always be avoided. Let's look at some common ones, and how Pumpkin Dog Insurance plans could help cover the cost of care!
*Sample shows 90% reimbursement of covered vet bill assuming $250 annual deductible has been met.