Meet the Australian Cattle Dog
Top Working Dog
High Doggy I.Q.
World-Class Watchdog
Looking for a high energy, hard-working companion dog? I'm the breed for you! We Australian Cattle Dogs (AKA Blue Heelers) are the pawfect pup for active humans. Couch potatoes need not apply – I'm a herding dog so I need hardcore daily exercise. If you've got little kids, I'm not the best choice – my instincts are so strong that I will try to herd them (even nipping at their heels). I can also be aggro toward other fur babies unless I'm socialized with them early.
I'm a smarty paws so training is easy for an experienced dog parent who knows how to show me who's boss (I can be stubborn). Despite my independent spirit, I'm incredibly loyal – I'll follow you everywhere and just want to go on fun adventures with you (if I'm left alone too long I'll misbehave). I was born to work hard so I'm great at dog sports like agility, flyball, and (of course) herding. I also make a top watchdog because I'm so alert and wary of strangers. If you can keep up with me, I'll be your best friend furever!
Ready to learn more about me? Let's dig in.
Ready to learn more about me? Let's dig in.
About Me
pumpkin
Get the pet insurance all the Blue Heelers are wagging about.
Fetch My Free Quote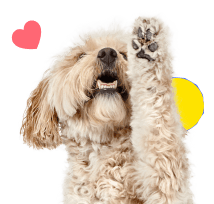 My Many Looks
Blue Speckled
Blue Mottled
Red Speckled
Red Mottled

My Breed Characteristics

Furbulous Fact
Our gorgeous coat colors and patterning is a part of what makes us Australian Cattle Dogs unique – it's part of why we are nicknamed Blue Heelers and Red Heelers, after all. But I bet you didn't know that our coats start off completely white! Newborn ACDs have totally white fur, but our humans don't have to wait long to find out what we're going to look like. Our true colors show when we are about six weeks old.

As I Grow Up
As you can see, we Australian Cattle Dogs age pretty gracefully. Here are a few key milestones in my growth and development to be aware of as I grow up from a pupper to an adult and senior!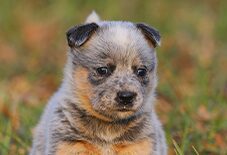 Puppy
3-6 Months
I need super early socialization classes & obedience training to be my best self! (Just make sure I've had all my vaccines first, pawlease)!


Adult
1 Year
I'm all grown up but I've still got puppy energy. I need daily exercise, continued training, and lots of mental stimulation to stay out of trouble!


Senior
9-11 Years
I'm starting to slow down, but I still need shorter and lower intensity exercise. I may start to put on weight so switch to a senior-friendly dog food.

History of My Breed
We Australian Cattle Dogs come from (you guessed it) Australia! We have many different names – Blue Heeler and Red Heeler (for our coloring), and Queensland Heeler (for where we were bred). All our nicknames end in Heeler because nipping at heels is kind of our thing – how else are we supposed to boss around big herds of cattle? That's what we were bred to do, after all, but it took a lot of breeding to get us just right.
In the early 1800s, a human named Thomas Hall came to Australia with his family. The Halls were in the cattle business, but the climate and terrain of Australia was a lot different than England! They realized pretty quickly that the English herding dogs (an extinct breed called Smithfields) were not suited to the temperature or long distances required to drive cattle in their new land. Hall decided to import blue merle Highland Collies from Scotland and bred them with the Dingo, a wild dog native to Australia. These were my earliest ancestors, called Halls Heelers, and they were so good at their job that the Halls didn't let other humans have them!
In 1840, a rancher named George Elliot from Queensland got the same idea. He started breeding Dingoes with the blue merle Collies, but he was willing to sell his pups to other ranchers. The next step in our evolution came when two brothers, Jack and Harry Bagust, decided they could make our breed even better. They crossed my early ancestors with Dalmatians (which gave us our speckled pattern) and Black and Tan Kelpies. With the heartiness of the Dingo and the combined working skills of the Collie, Dalmatian, and Kelpie, we were finally the pawfect herding dog!
It took a while for us to catch on in the USA, but in 1980 the AKC finally recognized us as a member of the Working Group, and we were a charter member of the Herding Group when it was created in 1983.

Pawesome Pups to Parent
In addition to purebred Australian Cattle Dogs like me, there are tons of pawfectly sweet mixed-breed Heelers that are looking to find their furever homes. You can learn where to find your next pet below!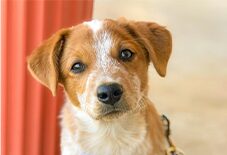 Keep an eye on your ACD's eyes.
Cataracts are the most common cause of blindness in the dog, and the Australian Cattle Dog may be predisposed to their development. A cataract occurs when the lens of the eye becomes cloudy, resulting in an opaque appearance to the normally transparent lens, and causing vision impairment and ocular inflammation. This is not to be confused with nuclear or lenticular sclerosis, an aging change seen commonly in dogs that does not generally have a significant effect on vision. Clinical signs of cataracts may include clumsiness, bumping into objects, and uncertainty about new environments. Surgery is the most effective treatment for cataracts.
Watch out for lumps when petting your pup.
Any lump or bump that appears on your dog and doesn't go away should be checked by a veterinarian. They can run tests on the cells inside the mass to see what type of it is and recommend the best treatment. Australian Cattle Dogs are more commonly associated with a serious type of mass known as a mast cell tumor. These tumors are sometimes (but not always!) pink or red at the surface and may easily become inflamed. If your dog is diagnosed with a mast cell tumor, your veterinarian will most likely want to do surgery to remove the mass as soon as possible.
Be on the lookout for signs of deafness.
The Australian Cattle Dog can carry a congenital (inherited) form of deafness. Deafness in a dog can be difficult to detect because dogs are good at compensating and at times it can be hard to know if the dog can't hear you or if it's just not listening! If you suspect your dog may be deaf, let your veterinarian know. There is a test called a Brainstem Auditory Evoked Response (BAER) that can help to diagnose deafness. Deaf dogs can still be trained with the use of hand signals and positive reinforcement.
Socialize your Australian Cattle Dog early and often.
It's important to socialize your Australian Cattle Dog with dogs and people of all ages. When introducing them to someone new, keep them on a leash and always talk to the person or dog cheerfully to encourage your pet. Reward your pup if they come closer and sniff, and when they begin to approach people confidently, let the stranger hand them some treats. ACDs can be aggressive when they play so it's important to teach them what is appropriate. If they get too rough, pull them away on their leash and give them a quick timeout. Remember to do this each time your dog is too rough so they understand which behaviors are not allowed. Also, make sure the dogs you are introducing them to are over three years old since an older dog will correct them when they are being too rough.
Your Australian Cattle Dog needs LOTS of daily exercise.
Since ACDs were bred to herd cattle, they need lots of activity. Plan on at least 40 minutes of running time each day along with games and walks. You can make exercise part of the training program by teaching them to fetch. Find two identical toys for your dog to play fetch with, but only throw one and hide the other. If they don't bring it back, end the game. If they retrieve it, show the second toy and throw it. Each time you throw a toy, get your pup super excited about it. Remember that these two toys are only to be used when you want to play, so don't leave them out for him or her all the time or they will become less exciting.
Use replacement techniques to avoid problem chewing.
When an Australian Cattle Dog has not had enough exercise and is given too much freedom, they will start to dig and chew. Until they understand what they can and cannot chew, restrict their access to the yard and house. Do not punish them when they chew, but tell them to "leave it" and redirect their attention to a different toy. Remember not to chase your pup if they have an object they shouldn't have because that just creates an awesome game. Grab a different toy they can have and run with it like that is the most awesome game ever. It's almost guaranteed that your dog will drop what they have to come and get your toy instead.

Why Get Dog Insurance?
from Pumpkin®
While Australian Cattle Dogs are a generally healthy breed, unexpected ruh-rohs can happen to any dog at any age. If your pup gets hurt or sick, pet insurance can help you say 'yes' to the best care, even when it's costly. When it comes to shopping for this breed, you'll want to choose an insurance plan like Pumpkin plan that covers hereditary conditions ACDs are prone to developing, and that can be costly to treat. While a reputable breeder will conduct genetic testing on your pup's parents to help minimize the chances of passing down hereditary conditions, they can't always be avoided. Let's look at some common ones, and how Pumpkin Dog Insurance plans could help cover the cost of care!
*Sample shows 90% reimbursement of covered vet bill assuming $250 annual deductible has been met.