Meet the Airedale Terrier
High Doggy I.Q.
World-Class Watchdog
Best Workout Buddy
​​​​If you're an energetic and experienced pup parent, I may be the breed for you! We Airedale Terriers are the largest terrier breed with that classic terrier attitude: we're bold, smart, and brave, but we're also big chewers who love to dig! Apartment dwellers need not apply – I need room to play outside (preferably in a fenced yard). I also have tons of energy to burn so I need humans who can give me two walks a day and other physical and mental stimulation. I can be destructive when I'm bored or lonely.
​​​​​​I'm very alert so I'm a great watchdog, but I can also be stubborn, so train me early. I love when my humans turn training activities into fun games for us to play together! I love kids but I'm not the best with other dogs or cats. I like to be the boss and my prey drive is strong, so I'll chase small animals if given the chance. My furbulous looks require some work: a few brushings a week and a couple of trips to the groomer a year. Even though I can be a handful, my playful personality more than makes up for it!
Ready to learn more about me? Let's dig in.
Ready to learn more about me? Let's dig in.
About Me
pumpkin
Get the pet insurance all the Airedales are wagging about.
Fetch My Free Quote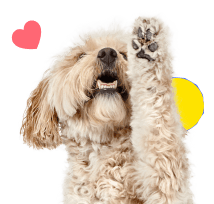 My Many Looks
Black & Tan
Grizzle & Tan

My Breed Characteristics

Furbulous Fact
​​The bravery of the Airedale Terrier is widely known, and no one is braver than Jack, an Airedale Terrier who served in the British Army in World War I. In 1918, Jack's battalion was cut off from all reinforcements and this courageous Airedale was their only hope. Jack traveled through miles of enemy territory and was gravely injured along the way, but he never quit. He was able to deliver a message that saved his entire battalion before he died a war hero. After his death, Jack was awarded the Victoria Cross, the highest honor in Britain.

As I Grow Up
We Airedales age pretty gracefully. Here are a few key milestones in my growth and development to be aware of as I grow up from a pupper, to an adult, to a senior!
Puppy
2-9 Months
I need early socialization and obedience training so I can grow up to be a good doggo. Just make sure I've had all my vaccines first, please!
Adult
1-2 Years
I have a very high energy level, so I need long walks and mental stimulation to stay happy & healthy.
Senior
9-10 Years
I'm prone to joint problems so switch to a senior-friendly dog food so I can maintain a healthy weight.

History of My Breed
​​​​​​We Airedale Terriers, also known as the King of Terriers, have always been hard working dogs of the people. My ancestors were first bred in the 19th century in Aire Valley in Yorkshire, England. Most of the humans who lived there were factory workers, coal miners, and farmers who wanted to create a versatile working dog. My earliest ancestors were a cross between the Black and Tan Terrier and the Otterhound. We were originally called different names like the Waterside Terrier and the Bingley Terrier. My ancestors were skilled hunting dogs and retrievers – they were especially good ratters and otter hunters! We aren't just great at hunting, though – we can do lots of different jobs! Our intelligence, courage, and alertness make us pawesome guard dogs, watchdogs, and police dogs.
​​​​​​My ancestors proudly competed in Aire Valley's first dog show in 1864 (though they were still being called the Waterside Terrier or Bingley Terrier). Around this time, our humans decided to change our name to Airedale Terrier to reflect where we came from. The Kennel Club of England recognized us as the Airedale Terrier in 1886. We first came to North America in the 1880s, and the American Kennel Club recognized us almost right away in 1888. Despite our many skills, World War I really made us popular. Because we are so smart and brave, we were given many different jobs during the war, including messengers, scouts, food and ammunition couriers, and ambulance dogs. Stories of my courageous war hero ancestors made us popular among many American presidents, including Theodore Roosevelt, Warren Harding, and Calvin Coolidge. Today, in addition to being great family dogs, our athleticism and smarts make us champions at dog sports like agility, flyball, and hunt and field trials.

Pawesome Pups to Parent
In addition to purebred Airedale Terriers like me, there are tons of perfectly sweet mixed-breed Airedales that are looking for their furever homes. Find your next pet below!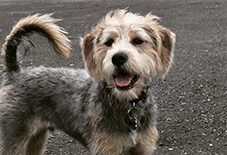 Feed them frequent, small meals to prevent bloat.
Airedales have tall, deep chests, which can predispose them to a condition called bloat. Bloat causes the stomach to fill up with air and twist, and can be immediately life threatening. The signs of bloat include distended abdomen, vomiting, lethargy, loss of appetite, collapse, and death. Bloat can have a very fast onset and must be treated as an emergency, as without veterinary treatment it can be fatal. Feed your Airedale Terrier frequent, small meals to decrease gulping which can cause bloat, and consider having your dog's stomach surgically tacked during a spay or neuter surgery.
Purchase from a responsible breeder.
While well-bred and cared for Airedales can be very healthy, this breed is susceptible to certain heritable disorders, like hip dysplasia, which can cause pain and loss of mobility. In addition to heritable joint conditions, Airedales are also predisposed to heritable thyroid issues. Avoid heartbreak and veterinary expenses by purchasing puppies from responsible breeders who only breed dogs that provide health guarantees, require OFA or PennHip certification, and eye clearance from CERF.
Schedule yearly veterinary visits.
Airedales are stoic in nature and may hide signs of pain or disease from you. It is recommended to have them checked once a year by a local veterinarian, not only for hidden sources of pain but also for heart disease, as the breed can be predisposed to developing heart murmurs in old age.
Socialize them with other animals.
If you have other dogs or cats, the Airedale will need to be introduced to them at a young age or their hunting instincts may take over. In fact, socializing your dog with other animals throughout puppyhood is a great idea no matter what breed you have. If you don't have other animals at home, find friends with dogs who can visit for playdates. Not only will it help socialize your Airedale, but also help them get some much needed exercise!
Boredom is their enemy.
Airedales, like many terriers, can display rambunctious and destructive behavior. They need a lot of physical stimulation, but even more critical is mental stimulation. These are smart dogs that can become easily bored. Make sure they're getting plenty of challenging training and attention. This is not a breed to stick in the backyard or leave alone for hours at a time. (Unless you hate your shoes and furniture!)
Don't let them become watchdogs.
Airedales can get possessive of people and things. Make sure your puppy understands that their toys, ultimately, belong to you. But also make sure that they understand you don't need their protection! One way to assure they don't hyper-bond to just one person is to have everyone in the family pitch in for feeding and training. If you notice the dog becoming protective of one person, have that person tune them out for a few days.

Why Get Dog Insurance?
from Pumpkin®
While Airedale Terriers are a generally healthy breed, unexpected ruh-rohs can happen to any dog at any age. If your pup gets hurt or sick, pet insurance can help you say 'yes' to the best care, even when it's costly. When it comes to shopping for this breed, you'll want to choose an insurance plan like a Pumpkin plan that covers hereditary conditions Airedales are prone to developing, and can be costly to treat. While a reputable breeder will conduct genetic testing on your pup's parents to help minimize the chances of passing down hereditary conditions, they can't always be avoided. Let's look at some common conditions, and how Pumpkin Dog Insurance plans can help cover the cost of care!
*Sample shows 90% reimbursement of covered vet bill assuming the annual deductible has already been met.