Meet the Siberian

Best Fur Friend

Purrfect Playmate

Loyal Cuddler
Looking for an affectionate cat who loves to play? Then look no further! We Siberians look majestic and glamorous – we're pretty much Russian royalty, after all! – but we're also the purrfect playmates for adults and kiddos alike. We love our humans, which means we'll never leave your side while you watch TV, eat dinner, or go to sleep. And we don't mind if you have guests over, since your humans are our humans too!
Not only do we love to play, but we especially love to play with water – and our fur is water resistant (probably because we used to be forest cats). Either way, we're happy when we're basking in a fountain, jumping in puddles, or splashing in the tub, and we're even happier when we can settle down for some cuddles afterward. As long as we get some love and attention, we're guaranteed to be happy kittens.
Ready to learn more about me? Let's dig in.
Ready to learn more about me? Let's dig in.

About Me
pumpkin
Get the pet insurance all the Siberians are purring about.
Fetch My Free Quote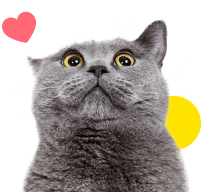 My Many Looks
Blue
Cream

White Tabby
Black

My Breed Characteristics











Furbulous Fact
We Siberians are the national cats of Russia, which you probably could have guessed from our name. We star in a ton of Russian fairy tales, folklore, and children's books, which often depict us as magical purr-tectors of children. And even though we don't actually have magical powers, we're still pretty powerful – and we'll always purr-tect our kids!

As I Grow Up
As you can see, we Siberians age pretty gracefully. Here are a few key milestones in my growth & development to be aware of as I grow up from a kitten to an adult and senior!
Kitten
>5 years
My coat needs to be brushed a few times a week, so start early so I get used to it. Brushing my teeth every now and then is good, too!
Adult
5-10 years
It takes me a while to mature, but once I do, I'm pretty big. And I love to climb and play, so keep breakable things out of my reach!
Senior
10-18 years
While I don't have many health problems, I am prone to obesity. Make sure you feed me nutritious foods so I live a long, happy life!

History of My Breed
We Siberians are as Russian as they come – and as ancient. Sometimes called Siberian Forest Cats or Norwegian Forest Cats, we've been around for about 1,000 years (and we're still purrin')! At heart, though, we're hunters – in our earliest days, we helped shopkeepers, homeowners, and farmers keep rodents away from food and crops. (And we did a good job of it, too!) Thankfully, we were able to keep warm through the cold Russian winter because of our triple coats, which make us the fluffy and adorable kittens we are today.
Later, we retired to a life of luxury, becoming furbulous domestic cats for all pet owners – but not before we had our moment at cat shows in both England and New York in the 19th century. And as previously mentioned, we also appeared in Russian folklore and fairytales, some particularly famous examples of which can be found in a book called "Our Cats and All About Them" by Harrison Weir. But we didn't come to the United States as pets until 1990, and we weren't recognized by the International Cat Association until 1996 (and other cat clubs recognized us even later). In other words, we're old cats, but we're still quite new to the U.S.A!
However, our playful and affectionate nature has landed us at the #18 spot on the Cat Fancier's Association (CFA) breed popularity list. We're easygoing and lovable, we like attention but don't demand too much, and we love to play but aren't bursting with energy. And, of course, we're not too bad to look at – we have luscious, long-haired coats and beautiful round eyes in shades of green, gold, green-gold, and copper. (Some White Siberians even have blue eyes, or eyes that are two different colors!) The bottom line? Russia may be cold, but we're not – and we can't wait to warm up to our humans!

Pawesome Cats to Parent
In addition to purebred Siberians like me, there are tons of prrrfectly sweet mixed-breed Siberians that are looking to find their furever homes. You can learn where to find your next pet below!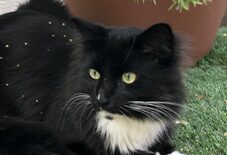 Purchase kittens from a breeder who tests their breeding cats for genetic disease, provide documentation and a health guaranty.
Hypertrophic cardiomyopathy, a condition that causes heart failure due to thickened heart muscles, is common in Siberians, and appears to be associated with a genetic mutation. Lower the risk that your cat has this condition by purchasing a kitten from a breeder that ensures their animals are free of heritable diseases. If you already have an adult Siberian, signs of heart disease include breathing faster than 30 breaths per minute when resting, difficulty breathing, pale or blue gums, increased lethargy, poor appetite, and sudden high limb weakness due to a saddle thrombus.
Feed your Siberian a combination of high quality canned and dry food, and don't overfeed.
Most cats, including Siberians, tend to develop strong food preferences and not drink enough water. That is why it is a good idea to feed your Siberian a combination of canned and dry food, and rotate a few flavors, textures (pate, stew, etc.), and shapes (stars, triangles, etc.) to provide moisture, protein, and discourage picky appetites. In addition, most active adult Siberians need no more than 350-400 kcals per day to stay at a healthy weight. Check with your veterinarian on how much to feed your cat.
Provide your Siberian with ample opportunities for exercise and mental stimulation to keep muscles and brain in tip-top shape and prevent stress-related disorders.
While our indoor cats are safer from trauma and infection, they can suffer from other problems, such obesity from a sedentary lifestyle and stress from boredom and loneliness, which can lead to litterbox problems. Your Siberian was born to play and explore, so make sure to provide mental stimulation with food puzzles and play sessions with you, provide safe outdoor experiences on a leash or in an enclosure, and provide ample climbing and scratching opportunities.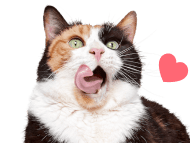 Why Get Cat Insurance?
from Pumpkin®
While Siberians are a generally healthy breed, cat-astrophes can happen to any cat at any age. If your kitty gets hurt or sick, pet insurance can help you say 'yes' to the best care, even when it's costly. When it comes to shopping for this breed, you'll want to choose an insurance plan like Pumpkin plan that covers hereditary conditions Siberians are prone to developing, and that can be costly to treat. While a reputable breeder will conduct genetic testing on your kitty's parents to help minimize the chances of passing down hereditary conditions, they can't always be avoided. Let's look at some common ones, and how Pumpkin Cat Insurance plans could help cover the cost of care!
*Sample shows 90% reimbursement of covered vet bill assuming annual deductible has been met.