Meet the Selkirk Rex
Curly Cutie
Happiest in a Lap
Miss Congeniality
Looking for a cat disguised as a sheep? We Selkirk Rexes are the teddy bears of kitties, with curly coats, round heads, and big, adorable eyes that make you want to pick us up and give us a hug. And we don't just look like teddy bears – we act like them, too! We can sit in our favorite human's lap for hours on end.
If you need to go to work, we're comfortable being left alone, but we're not exactly the most low-maintenance kitty around. We want lots of attention and need regular brushing for our thick, curly hair. Lots of brushing provides a great excuse to spend more time cuddling our curious, friendly selves. We're happy cats with a lot of love to share with our human friends.
Ready to learn more about me? Let's dig in.
Ready to learn more about me? Let's dig in.
About Me

My Many Looks
Brown
Grey
Blue
Black

My Breed Characteristics

Furbulous Fact
Wondering why our hair looks a little messy? We promise we're not having a bad hair day! Our unstructured curls and curly whiskers are as natural as they are adorable. Our curls are most prominent on our flanks, belly, and around our necks. If you're wondering where they came from, our curls resulted from a happy cross-breeding accident between a Persian cat and a British Shorthair house cat.

As I Grow Up
As you can see, we Selkirk Rexes age pretty gracefully. Here are a few key milestones in our growth and development to be aware of as we grow from a kitten, to an adult, to a senior!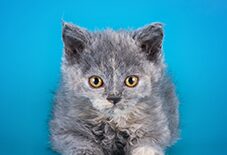 Kitten
< 2 years
After six months of curls, I'll have a thin straight coat for a while. Introduce grooming to me early on, so that I like it later!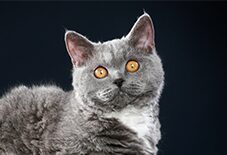 Adult
2-9 years
Once I'm full-grown, my hair starts to resemble lamb's wool. You'll need to brush it two to three times a week to prevent tangles!
Senior
9-15 years
As an older cat, I may slow down and become the ultimate lap cat. If I seem to be moving too slow, ask a vet about hip dysplasia.

History of My Breed
While many cats are bred intentionally for their looks, my curls appeared naturally. At an animal shelter in Montana in 1987, a feral blue Tortoiseshell cat and a white British Shorthair house cat met, and the house cat gave birth to one strange-looking kitten in a litter of five. The kitten had curly hair and whiskers, and it wasn't long before she caught the attention of a Persian breeder, Jeri Newman. Jeri named the curly kitten Miss DePesto, because she was always pestering Jeri for more love.
Jeri did some research and found out that Miss Depesto's mixed-breed mother also had hair that slightly varied in texture. But Miss Depesto's hair was remarkable in that her whiskers were curly, she had matted hair in her ears, and there were waves of hair all over her body. Miss Depesto also had prominent cheeks, and a wide flat spot between her ears. Similar to a Cornish Rex, her body was heavy, but her legs were long. Because all of Miss Depesto's siblings had normal coats, and because there were no other curly cats in the area, Jeri decided that Miss Depesto might be carrying a new gene. Jeri bred Miss Depesto with a black Persian male cat, and of the six kittens born, three had curly hair. It was a dominant gene! The Selkirk Rex gene, that is. Not long after that, in 1999, the International Cat Association accepted us into their New Breed Program. We were the talk of the town at the championship competition, and we've been winning humans' hearts ever since.

Pawesome Cats to Parent
In addition to purebred Selkirk Rex cats like me, there are tons of purrfectly sweet mixed-breed Selkirk Rex cats that are looking to find their furever homes. Learn where to find yours below!
Make sure you screen for genetic issues.
Selkirk Rex is a generally healthy breed, but they can be prone to a few genetic issues. Hip dysplasia and cardiac issues are relatively common, so cats should be genetically tested before breeding.
Brush their fur often.
Selkirk Rex have very curly hair, which means that their fur can become easily matted. Gently brushing them and removing mats and tangles will help keep their fur healthy - and give you built-in quality time with your kitty.
Make sure to cat-proof your home.
Selkirk Rexes tend to be very curious cats. They will open drawers and cabinets in your house and get into things that they shouldn't. Make sure that you keep any harmful chemicals, plants, and human medication in a safe area that your cat cannot access.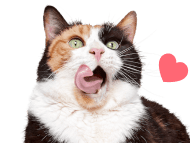 Why Get Cat Insurance?
from Pumpkin®
While the Selkirk Rex is a generally healthy breed, cat-astrophes can happen to any cat at any age. If your kitty gets hurt or sick, pet insurance can help you say 'yes' to the best care, even when it's costly. When it comes to shopping for this breed, you'll want to choose an insurance plan like a Pumpkin plan that covers hereditary conditions the Selkirk Rex is prone to developing, and that can be costly to treat. While a reputable breeder will conduct genetic testing on your kitty's parents to help minimize the chances of passing down hereditary conditions, they can't always be avoided. Let's look at some common ones, and how Pumpkin Cat Insurance plans could help cover the cost of care!
*Sample shows 90% reimbursement of covered vet bill assuming the annual deductible has already been met.