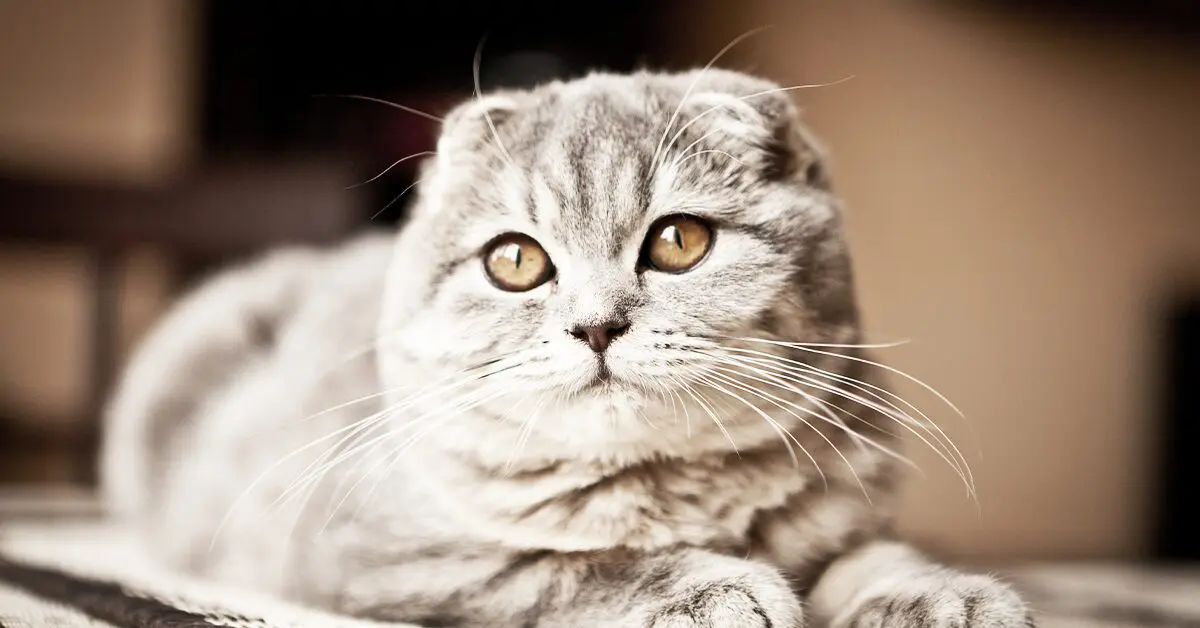 Meet the Scottish Fold
High Kitty I.Q.
Best Fur Friend
Best Couch Cuddler
If you're looking for a mellow, affectionate, quirky cat, I'm the breed for you! I get along with everyone (including kids and other pets), but we Scottish Folds do tend to pick a favorite human. I'll follow you around but that's just cause I like being around you! I'm super laid back and don't need constant attention, so I'm happy chilling at home if you're at work. I'm not a chatty kitty, and when I do feel like talking, I have a soft, sweet voice.
Humans love my quirky looks, especially my folded ears (though some of us do have straight ears). My rounded head and eyes give me a sweet expression and I amuse humans when I do funny stuff with my body like sitting in "buddha position" and sleeping on my back – maybe it looks weird, but it's comfy! I'm a homebody but my ancestors were barn cats so a need for stimulation is in my DNA. I love interactive toys, playing fetch, scratching posts, and cat trees! I don't need much to be happy except a human to keep me healthy and give me love.
Ready to learn more about me? Let's dig in.
Ready to learn more about me? Let's dig in.
About Me
pumpkin
Get the pet insurance all the Scottish Folds are meowing about.
Fetch My Free Quote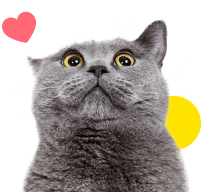 My Many Looks

Blue

Calico

Red Tabby
Silver Tabby

My Breed Characteristics

Furbulous Fact
My recent surge in popularity is due to one of the most famous cat-loving humans in the world, Grammy-winning singer-songwriter Taylor Swift! Taylor pawsitively loves cats of all kinds, but she has a special place in her heart for us Scottish Folds. She has two of us – Meredith Grey and Olivia Benson – and they are superstars among the Swifties. Taylor shows them off on Instagram along with her other cat, a Ragdoll named Benjamin Button.

As I Grow Up
As you can see, we Scottish Folds age pretty gracefully. Here are a few key milestones in my growth & development to be aware of as I grow up from a kitten to an adult and senior!
Kitten
4-6 Months
It's impawtant to keep my folded ears clean, so get me used to this and other regular grooming (coat combing and teeth brushing) when I'm little!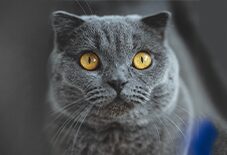 Adult
1.5-2 Years
I need stimulation to stay healthy & happy so make sure I've got some pawesome toys to keep my mind and body active.


Senior
9 years
I may start to develop arthritis (especially in my tail) so make sure to keep an eye on it in addition to scheduling twice yearly vet check-ups.

History of My Breed
We Scottish Folds are a pretty new breed. We come from (you guessed it!) Scotland, and all of us can be traced back to one ancestor: a white barn cat named Susie. Susie lived on a farm in the Tayside region of Scotland, near the town of Coupar Angus. In 1961, a human named William Ross took notice of Susie and her adorable folded ears. William and his wife were British Shorthair breeders, and he asked Susie's humans if he could have one of her lop-eared kittens. William named her Snooks and the Rosses began to breed us, originally calling us Lops or Lop-ears after a type of ears some rabbits have. We didn't get our official name, the Scottish Fold, until 1966 when the Rosses registered us with the Governing Council of the Cat Fancy (GCCF) in the UK.
Human geneticists discovered that the genetic mutation that causes my cute little folded ears is a dominant gene, meaning only one of our parents needs to have the gene to produce lop-eared kitties. The humans say it's not good for our health to breed two Scottish Folds together, so since the beginning we have always been outcrossed with British Shorthairs (and later American Shorthairs). This is why some Scottish Folds have straight ears and some of us have folded ears. None of us have folded ears when we are born – they start to fold (if they are going to) when we are 3 or 4 weeks old.
Humans aren't 100% sure, but they think that my ancestor Susie may have had some genes for long hair because I have a longhaired cousin called the Highland Fold (they are technically still Scottish Folds, but they have their own breed standard for cat shows). Some places today (including the GCCF) no longer recognize our breed, but we are still popular in America. The Cat Fanciers' Association officially recognized us in 1978, and today we are the CFA's 14th most popular cat breed!

Pawesome Cats to Parent
In addition to purebred Scottish Folds like me, there are tons of prrrfectly sweet mixed-breed Scottish Folds that are looking to find their furever homes. You can learn where to find your next pet below!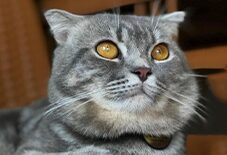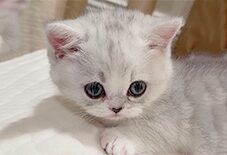 Care Tips
from Veterinarians
Provide your Scottish Fold with a clean space to roam.
A clean environment, proper nutrition, and adequate living space are important for a Scottish Fold cats. Folds do not like to be confined to small cages, so adequate steps must be taken to provide space for the cat. - Gail Wolfe, DVM
Get key health screenings for early detection.
Scottish Folds should be given regular veterinary exams to screen for conditions they are genetically prone to developing. These include orthopedic problems, kidney disease, heart disease, and ear problems. - Gail Wolfe, DVM
Provide adequate litter boxes.
Scottish Folds are prone to developing calcium oxalate urinary crystals. Encouraging drinking by allowing access to water in multiple areas in the home is helpful to dilute the urine. Some Folds may even enjoy a water fountain. For all cats, we should use the "Golden Rule of Litter Boxes" to encourage frequent urination: provide one more box than the number of cats in the home. - Stacy Choczynski, DVM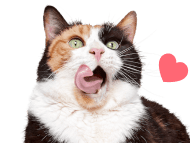 Why Get Cat Insurance?
from Pumpkin®
While Scottish Folds are a generally healthy breed, cat-astrophes can happen to any cat at any age. If your kitty gets hurt or sick, pet insurance can help you say 'yes' to the best care, even when it's costly. When it comes to shopping for this breed, you'll want to choose an insurance plan like Pumpkin plan that covers hereditary conditions Scottish Folds are prone to developing, and that can be costly to treat. While a reputable breeder will conduct genetic testing on your kitty's parents to help minimize the chances of passing down hereditary conditions, they can't always be avoided. Let's look at some common ones, and how Pumpkin Cat Insurance plans could help cover the cost of care!
*Sample shows 90% reimbursement of covered vet bill assuming $250 annual deductible has been met.