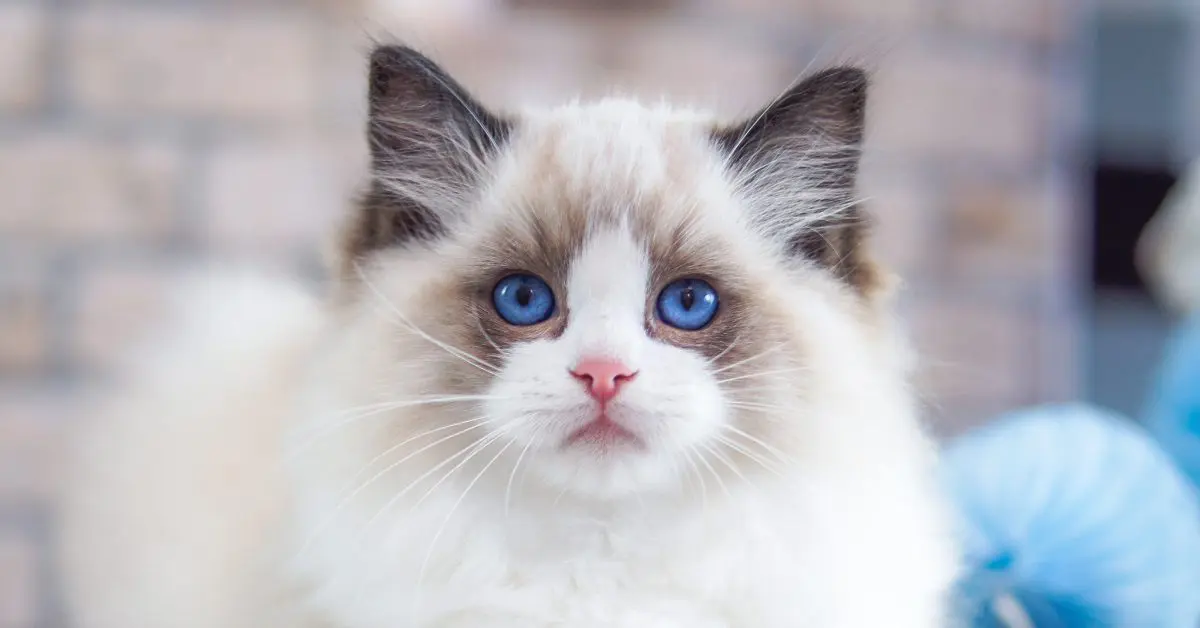 Meet the Ragdoll
High Kitty I.Q.
Family-Friendly Feline
Best Fur Friend
If you're looking for a sweet, easygoing kitty with lots of love to give, I'm the one for you! I'm one of the most affectionate breeds around and love to be held so much that I will literally go limp in your arms (which is why some humans call us Ragdolls "floppy cats"). I'm just as much of a sweetie to other pets as I am to my humans. In fact, my docile nature and love of snuggles makes me a great cuddle buddy for the whole family! Because I'm a large and sturdy breed, I can also be a great playmate for your kiddos (as long as they're not TOO rough). I'm told I have a dog-like personality, so don't be surprised if I'm waiting at the door when you get home.
While I love to chill, I'm also a smarty-paws and can learn some tricks. I can come when called, play fetch, and even walk on a leash! I am best kept indoors, though, and should never be left outside without a human chaperone. I'm a blue-eyed beauty, but my elegant looks do require a little upkeep. Luckily for you, I enjoy being groomed (I adore the attention!) and all it takes to keep me looking prrrfect is a quick daily brushing. Low maintenance and extremely loveable – it's no wonder why I am the CFA's #1 most popular cat breed!
Ready to learn more about me? Let's dig in.
Ready to learn more about me? Let's dig in.
About Me
pumpkin
Get the pet insurance all the Ragdolls are meowing about.
Fetch My Free Quote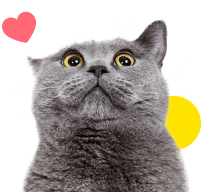 My Many Looks

Seal Point

Blue Point

Lilac
Chocolate

My Breed Characteristics

Furbulous Fact
New York City's historic Algonquin Hotel has had a cat-in-residence since the 1930s, and one of the most famous of all was a Ragdoll named Matilda III. Matilda was rescued from the North Shore Animal League in nearby Long Island and came to live at the Algonquin in 2010.
The prrrfect cat ambassador at the Algonquin, Matilda III worked at the front desk greeting all the humans, chilled out on a chaise lounge in the lobby, and posed for pictures with guests. The staff loved her so much they named her DirecFURR of Guest Relations and made her business cards! She even dined on crab cakes prepared for her by the hotel chef! Matilda III was so beloved and famous that she inspired a children's book – Matilda, The Algonquin Cat – which is written from Matilda's perspective.

As I Grow Up
As you can see, we Ragdolls age pretty gracefully. Here are a few key milestones in my growth & development to be aware of as I grow up from a kitten to an adult and senior!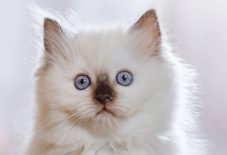 Kitten
6 Mo-2 Yrs
I have a ton of energy as a kitty, so make sure I have outlets! A few short daily play sessions and a box full of toys should do the trick!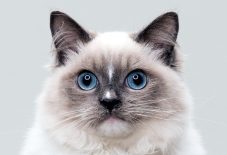 Adult
3 Years
I have mellowed out and reached my large adult size! Keep an eye on my weight though because I've been known to get a little chunky.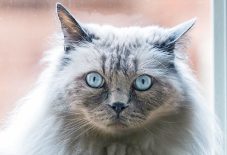 Senior
11 Years
I'm 60 in human years, so teeth & gum issues may be on the way. Along with routine vet check-ups, pawlease brush my teeth regularly!

History of My Breed
I am a pretty new breed, but my short history is pawsitively fascinating! My ancestors were first bred in 1963 by a human named Ann Baker in Riverside, California. She found a beautiful domestic longhaired white cat named Josephine in her neighborhood and bred her with several other male cats she either found or owned. That's right, most of my earliest ancestors were rescues! Ann Baker wasn't looking for a specific pedigree – she bred us for our good looks and sweet-natured temperament. Some of my early ancestors included Persian, Birman, and Burmese cats. She named us Ragdolls because of our tendency to flop into our humans' arms.
Josephine's fur son, Daddy Warbucks, was the first Ragdoll to be registered with the National Cat Fanciers Association in 1966. Ann Baker was very protective of us and she wanted to make sure that our breed standard met her expectations. She created the International Ragdoll Cat Association (IRCA) in 1971 in order to manage the number of breeders. She even trademarked our breed name in 1975!
There were other passionate Ragdoll breeders in the early days, including husband and wife Denny and Laura Dayton. With a desire to take Ragdoll breeding in a new direction, the Daytons (and other Ragdoll-loving humans) broke away from Anne Baker's IRCA shortly after she trademarked our name. They formed the Ragdoll Fanciers Club International (RFCI) in order to standardize the breed and be officially recognized by more cat registries.
They succeeded, and most of today's Ragdolls are actually descended from the Daytons' litters! The Cat Fanciers Association started to register Ragdolls in 1993 and they were fully recognized in 2000. Today we are recognized by most registries, including the American Cat Fanciers Association (ACFA) and The International Cat Association (TICA). Even though we haven't been around for long, our winning personalities and gorgeous looks helped us become the most popular breed in no time!

Pawesome Cats to Parent
In addition to purebred Ragdolls like me, there are tons of prrrfectly sweet mixed-breed Ragdolls that are looking to find their furever homes. You can learn where to find your next pet below!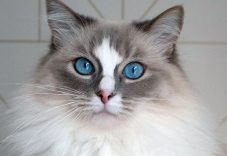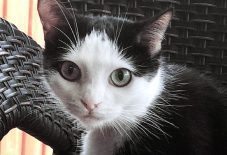 Get key health screenings and routine wellness care.
In addition to yearly wellness exams, recommended vaccines for your cat's lifestyle, routine blood, urine, and fecal screens, and appropriate parasite prevention, talk to your vet about getting a DNA test + other health screenings for hereditary conditions and breed-specific health issues. For example, it is important to know whether your kitten has the HCMrd gene responsible for heart disease in Ragdoll cats. Ask your breeder if their breeding cats have tested negative for this disease and any other genetic conditions.
Feed the right amount of a high quality diet.
Ragdoll cats do not have any special dietary requirements when compared to other cats. What is important is to choose a high quality cat food that is certified to be complete and balanced by AAFCO. It is recommended to feed a combination of wet and dry food. Equally as important is to not overfeed Ragdoll cats because obesity can predispose them to a large number of chronic diseases. You can use the hand test to determine if your cat is at a healthy weight, or ask your vet what is a good weight for your cat.
Groom your cat's coat daily.
Ragdoll cats have long hair that mats easily if not cared for. Brush your cat daily with a soft bristle brush – if you start when the cat is young and brush daily it will become part of your cat's routine. If the hair becomes matted, use a fine tooth comb to gently tease out the mat.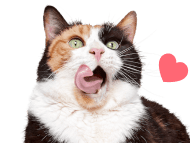 Why Get Cat Insurance?
from Pumpkin®
While Ragdolls are a generally healthy breed, cat-astrophes can happen to any cat at any age. If your kitty gets hurt or sick, pet insurance can help you say 'yes' to the best care, even when it's costly. When it comes to shopping for this breed, you'll want to choose an insurance plan like Pumpkin plan that covers hereditary conditions Ragdolls are prone to developing, and that can be costly to treat. While a reputable breeder will conduct genetic testing on your kitty's parents to help minimize the chances of passing down hereditary conditions – they can't always be avoided. Let's look at some common ones, and how Pumpkin Cat Insurance plans could help cover the cost of care!
*Sample shows 90% reimbursement of covered vet bill assuming $250 annual deductible has been met.