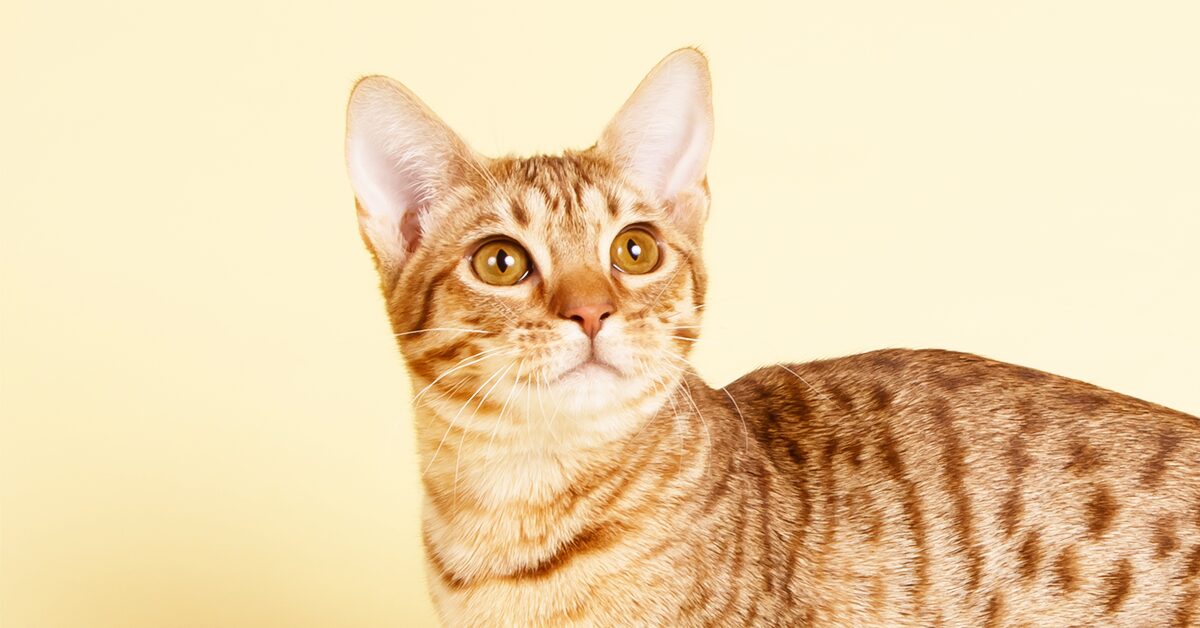 Meet the Ocicat
Best Fur Friend
Star Athlete
Low-Maintenance Looks
Looking for an exotic beauty with wildcat looks and a domestic cat personality? Then I'm the breed for you! We Ocicats may look like we came straight from the jungle, but we're all housecat! I'm very loving to my humans and get along great with kids and cat-friendly pets. I'm also sociable and outgoing – I thrive when I have company (human or animal), so pawlease don't leave me alone for too long! I'm also a world-class jumper with a high energy level, so don't be surprised if you find me at the highest perch in your house. (I'd invest in a cat tree if I were you!)
Plus, I'm a smarty paws ,so I need lots of toys and playtime. I can even learn tricks and play fetch, which is partly why the humans think I'm like a dog in a cat's body! My furbulous looks are easy to maintain – I just need a weekly brushing to remove dead hair, and a wipedown with a chamois cloth to keep my coat looking lustrous. Between my eye-catching looks and friendly and loving personality, it's no wonder the humans can't get enough of me!
Ready to learn more about me? Let's dig in.
Ready to learn more about me? Let's dig in.
About Me
pumpkin
Get the pet insurance all the Ocicats are purring about.
Fetch My Free Quote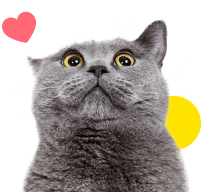 My Many Looks
Tawny
Blue Silver
Cinnamon
Chocolate Silver

My Breed Characteristics

Furbulous Fact
A lot of cat breeds hate water, but not me! We Ocicats will happily swat at running water from the faucet, play around with our water dish, and maybe even follow you into the bath or shower! For that reason, Ocicat parents will want to keep the toilet lids down – unless, of course, they don't mind us taking a dip in the toilet water for some reason. And speaking of water, a word of warning: if you have fish for pets, I won't be able to resist, so cat-proof your aquarium to make sure everyone is safe.

As I Grow Up
As you can see, we Ocicats age pretty gracefully. Here are a few key milestones in my growth & development to be aware of as I grow up from a kitten to an adult and senior!
Kitten
3-6 Months
I'm prone to gum disease, so get me used to teeth brushing early on – I'll love the attention, and treats always help!



Adult
1 Year
I'm a smart and energetic breed, and I love to play and climb. Make sure I have puzzle toys and a cat tree to keep my mind and body active.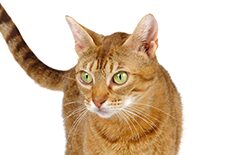 Senior
11-12 Years
I'm slowing down, so make sure to switch to a senior-friendly cat food and take me for twice-yearly vet checkups to monitor for my breed's potential heart problems.

History of My Breed
We Ocicats are a pretty new breed. Even though we look like ocelots– the spotted wildcat we get our name from – we have zero ocelot (or any other wildcat) DNA in our gene pool. The first Ocicat was just a happy accident! In 1964, a human named Virginia Daly was trying to create an Abyssinian-pointed Siamese. She bred a ruddy Abyssinian with a seal point Siamese, but the first-generation litter all looked Abyssinian. In the second generation, though, she achieved not only the Abyssinian-pointed Siamese she was aiming for, but also something far more impawtant: one of the kittens came out spotted! This kitten, named Tonga and called an "ocicat" by Daly's daughter, was the first Ocicat in the world.
Tonga wasn't used as part of an Ocicat breeding program – he was neutered and sold as a pet – but another human, a geneticist named Clyde Keeler, heard about Tonga and wanted to develop our breed. He contacted Daly, who bred my ancestor parents again and produced a spotted cat named Dalai Dotson. The breeding program continued and started to include the American Shorthair, which introduced silver coloring to our coats. Then word got around about the new, exotic beauties being bred, and it wasn't long before the Cat Fanciers' Association recognized our breed in 1966. It took them a long time to let us into the show ring, though – we weren't given championship status until 1987. We were fully recognized by The International Cat Association for champion status in 1986, and the other major cat registries followed shortly thereafter.

Pawesome Cats to Parent
Abyssinian, Siamese, and American Shorthair cats were mixed together to create prized Ocicats like me, but there are also plenty of prrrfeclty sweet purebred kitties that are looking to find their furever homes, too. You can learn where to find your next pet below!
Games and toys are an excellent way to entertain your Ocicat.
The Ocicat is a sociable and intelligent cat breed with a high energy level who needs a lot of environmental enrichment. Make sure to regularly rotate the toys on offer, as Ocicats get bored easily with the same toys. If they do not receive the appropriate amount of enrichment, their behavior can become aggressive towards people, as they do not have an outlet for their energy.
Train your Ocicat to walk on a leash for extra exercise.
Due to their intelligence, Ocicats are highly trainable, and are one of the few breeds of cat that are relatively adaptable to being leash trained. This can open up a whole new world of exploration while being safely controlled by their owner. Start young with your kitten wearing the harness around the home and gradually introduce leash activity using treats or toys as positive reinforcement.
Be proactive about your Ocicat's heart health.
Ocicats have a genetic predisposition to cardiac disease. While not every Ocicat will have cardiac issues, it is essential to get your Ocicat thoroughly checked by a veterinarian annually to look for signs of cardiac disease. They are predisposed to both congenital (genetic issues found at birth) and acquired (disease that develops over time) heart disease. Signs of heart disease include weight loss, difficulty breathing, lethargy, and exercise intolerance.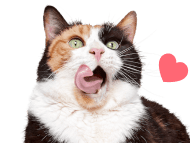 Why Get Cat Insurance?
from Pumpkin®
While Ocicats are a generally healthy breed, cat-astrophes can happen to any cat at any age. If your kitty gets hurt or sick, pet insurance can help you say 'yes' to the best care, even when it's costly. When it comes to shopping for this breed, you'll want to choose an insurance plan like Pumpkin plan that covers hereditary conditions Ocicats are prone to developing, and that can be costly to treat. While a reputable breeder will conduct genetic testing on your kitty's parents to help minimize the chances of passing down hereditary conditions, they can't always be avoided. Let's look at some common ones, and how Pumpkin Cat Insurance plans could help cover the cost of care!
*Sample shows 90% reimbursement of covered vet bill assuming $250 annual deductible has been met.