Meet the Himalayan
Best Fur Friend
Feline Chic
Best Couch Cuddler
Looking for a gentle loving kitty with show-stopping looks? I'm the breed for you! We Himalayans are the best of both worlds: the mellow personality of a Persian with the blue eyes and striking coloring of a Siamese. This kind of beauty doesn't come easy, though, and I need my human to groom me every day so I can stay looking my best. If you do, I'll reward you by being low maintenance in every other way (but get yourself a lint roller because I shed A LOT).
I love to give and get affection, but I'm not super clingy – I'm prrrfectly content to lounge around or amuse myself with toys if you're away from home. Since I'm so chill, I don't do well with rambunctious little kids or hyper furbabies. I love indoor playtime with my human, and I need it because I'm low energy and have a tendency to get chunky if my human doesn't get me moving and watch my weight! If you're willing to put in the grooming time and effort – I promise, I'm worth it! – I'm the sweetest, most easy going furbaby around.
Ready to learn more about me? Let's dig in.
Ready to learn more about me? Let's dig in.
About Me
pumpkin
Get the pet insurance all the Himmies are purring about.
Fetch My Free Quote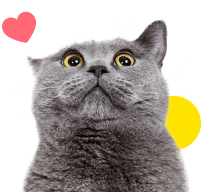 My Many Looks
Seal
Point
Lilac
Point
Blue Lynx
Point
Chocolate Lynx Point

My Breed Characteristics

Furbulous Fact
We Himalayans are known for our furbulous looks, so it's no wonder we are frequently featured on the silver screen. One of the most famous and memorable Himalayan cats in film is Mr. Jinx from Meet the Parents. Mr. Jinx is the beloved furbaby of Robert De Niro's character, Jack, who has taught him many tricks ­– even how to use a toilet and flush! While us IRL Himalayans prefer a litter box, we are still proud to see Mr. Jinx repping us on the big screen.

As I Grow Up
As you can see, we Himalayans age pretty gracefully. Here are a few key milestones in my growth & development to be aware of as I grow up from a kitten to an adult and senior!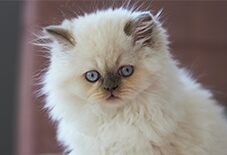 Kitten
3-6 Months
I'm going to need a lot of grooming, so get me used to combing and baths early on – I'll love the attention, and treats always help!


Adult
1-2 Years
I'm all grown up! I'm not an active breed, so I need my human to keep an eye on my weight so I don't get too chunky.



Senior
-9-10 Years
This is a great time for my human to start taking me for twice yearly checkups, including blood work to screen for my breed's potential kidney problems.

History of My Breed
Unlike our Persian and Siamese ancestors, we Himalayans are a very new breed. In 1931, Virginia Cobb and Dr. Clyde Keeler of Harvard University started an experimental breeding program. They wanted to learn more about how certain genetic traits were inherited, so they started to cross Persians and Siamese cats. It took a few tries but they were finally able to produce a longhaired cat with the Siamese colorpoint markings! This first true Himalayan was named Newton's Debutante. Their study proved that both the longhaired gene and the colorpoint gene are recessive, which means that both parents have to have the gene in order for the babies to have it.
Cobb and Keeler never meant to start a new breed, so once they figured out all the science stuff, they stopped experimenting. Other humans (both in the US and the UK) were very interested in this Persian/Siamese hybrid, but World War II got in the way. It looked like the Himalayan would never come to be, but in 1950, an American named Marguerita Goforth was cat-sitting for a friend. Her friend's cat was a longhaired seal point shelter cat named Princess Himalayan Hope, and she got permission from her friend to use her to start a breeding program. Her efforts were a success, and our breed was officially recognized by the CFA in 1957.
Today, though we are beloved and recognized by cat registries across the world, not all the humans agree whether we should be a standalone breed or a type of Persian. We've had a lot of names, too. In the UK, when we were first recognized we were called the Longhaired Colourpoint. Today, we are also known as Colorpoint Persians and Himalayan Persians. According to the CFA and TICA, we are part of the Persian breed, but other organizations recognize us on our own. Either way, we Himalayans always stand out from the crowd!

Pawesome Cats to Parent
In addition to purebred Himalayans like me, there are tons of prrrfectly sweet mixed-breed Himmies that are looking to find their furever homes. You can learn where to find your next pet below!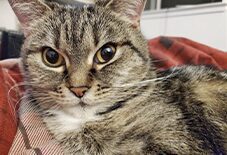 Daily grooming is a must for Himalayans.
I recommend daily grooming with your Himalayan by brushing its coat and teeth. Included in your daily grooming kit, I recommend having a wide-tooth metal comb, soft bristle brush, fine tooth metal comb, rubber matt, a finger toothbrush, pet toothpaste, and cat treats.
Keep your Himmie's face clean.
Due to the flattened face of a Himalayan along with the folds that may develop, I recommend daily face wipes. You may use a dampened washcloth with warm water or a pet-specific sanitary wipe. I recommend ensuring the face is dried well after washing to prevent infection with bacteria or yeast.
Keep an eye on your Himmie's weight.
I recommend using caution not to overfeed your Himalayan as they can be prone to obesity resulting in health problems. If you notice your Himalayan putting on extra pounds, I recommend discussing a customized diet plan with your veterinarian.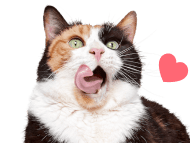 Why Get Cat Insurance?
from Pumpkin®
While Himalayans are a generally healthy breed, cat-astrophes can happen to any cat at any age. If your kitty gets hurt or sick, pet insurance can help you say 'yes' to the best care, even when it's costly. When it comes to shopping for this breed, you'll want to choose an insurance plan like Pumpkin plan that covers hereditary conditions Himalayans are prone to developing, and that can be costly to treat. While a reputable breeder will conduct genetic testing on your kitty's parents to help minimize the chances of passing down hereditary conditions, they can't always be avoided. Let's look at some common ones, and how Pumpkin Cat Insurance plans could help cover the cost of care!
*Sample shows 90% reimbursement of covered vet bill assuming $250 annual deductible has been met.