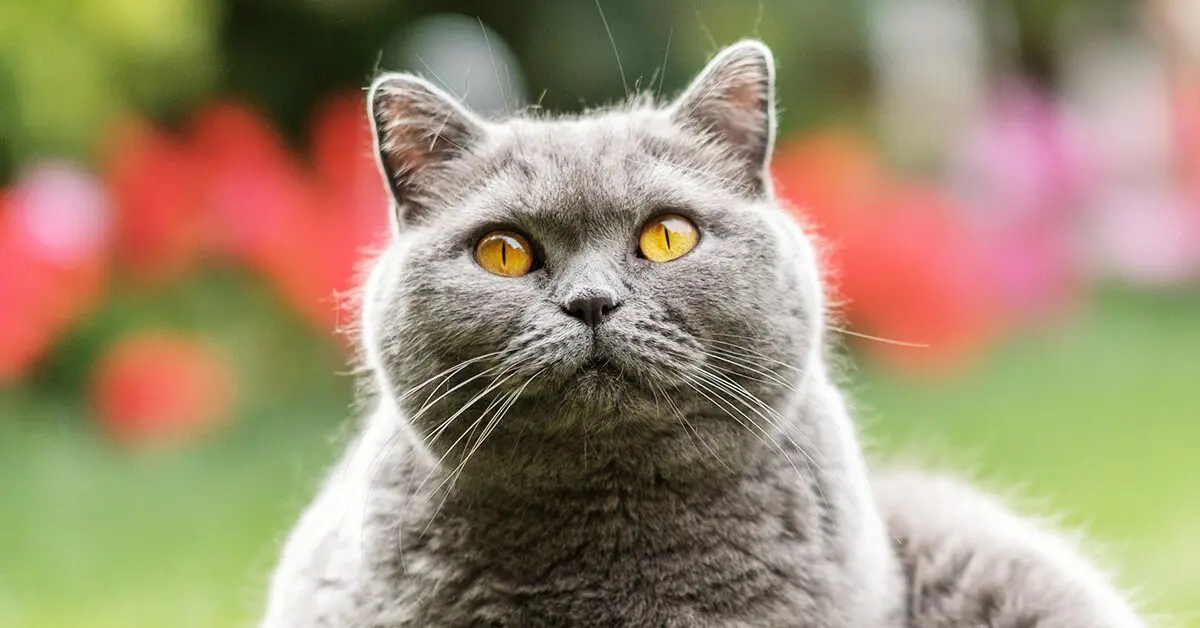 Meet the British Shorthair
Prrrfect First Pet
Low-Maintenance Looks
Family-Friendly Feline
Looking for a mellow, low-maintenance kitty with lots of love to give? I'm the breed for you! We British Shorthairs are beloved for our chill attitudes so I'm a great choice for newbie cat parents or older humans looking for a companion. I'm also great with kids and cat-friendly pets. Some humans think I look like a teddy bear because of my plush coat and roundness – round head and cheeks, round eyes, round body, round paws, rounded tip tail – you name it, it's round! I'm a pretty large breed but I'm a gentle giant (though I don't like being picked up).
I can be reserved (I'm British, after all) but I love spending time with you. I'm on the lazy side (and prone to obesity) so I need playtime to exercise my body and mind. I'm super smart so I can entertain myself with puzzle games, and I'm prrrfectly happy chilling at home while my humans are out. I'm also a breeze to groom! I don't need a lot to be happy, which is why I'm the CFA's 3rd most popular cat breed!
Ready to learn more about me? Let's dig in.
Ready to learn more about me? Let's dig in.
About Me
pumpkin
Get the pet insurance all the Brits are purring about.
Fetch My Free Quote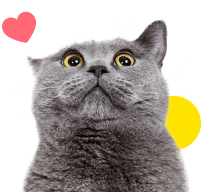 My Many Looks
Blue
Golden
Calico
Tortoiseshell

My Breed Characteristics

Furbulous Fact
We British Shorthairs are known for our cobby round bodies, which is why many humans think that we were the inspiration for the Cheshire Cat character from Lewis Carroll's Alice in Wonderland. As the story goes, Carroll saw a British Shorthair on the label of Cheshire cheese and it inspired him to create the round tabby Cheshire Cat. Take one look at a contended British Shorthair today, and you'll recognize that iconic Cheshire Cat smile!

As I Grow Up
As you can see, we British Shorthairs age pretty gracefully. Here are a few key milestones in my growth & development to be aware of as I grow up from a kitten to an adult and senior!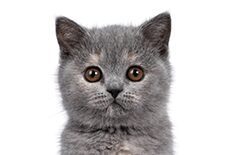 Kitten
3 Mos.-1 Year
Get me used to teeth brushing and nail clipping early on – I'll love the attention, and treats always help!


Adult
3-5 Years
I am prone to obesity so it's impawtant to watch my weight and play with me, both for exercise and for fun!


Senior
9-10 Years
I'm slowing down so in addition to regular vet visits, you may need to switch my food to a senior-friendly formula if I'm getting too chunky.

History of My Breed
We British Shorthairs can trace our ancestry as far back as the ancient Egypt and the Roman Empire! The humans think that the Romans imported my early ancestors from ancient Egypt so we could keep their food and shelters clean of nasty rodents. When the Romans invaded Britain in 43 C.E., they brought my ancestors with them, and for centuries we mixed with the local native cats.
By the late 1800s, my ancestors had long been British street and farm cats, but one human named Harrison Weir (who is considered "The Father of the Cat Fancy") took an interest in us. Weir started a selective breeding program to develop the British Shorthair breed as it is today. Initially, the focus was on the British Blue variety (a solid blue coat with copper/orange eyes). Today, this is still one of the most popular colors of British Shorthair cats, but over the years more colors and patterns were introduced, and now we come in every color and pattern combo under the sun!
We were featured in the very first cat show (organized by Weir) at the Crystal Palace in London in 1871 and were beloved in Britain for our good looks and sweet temper – that is until the pesky Persian showed up. The popularity of the exotic Persian cat nearly wiped us out (although crossbreeding between us created the British Longhair). By the end of World War II, we were practically extinct, but the humans rescued up by breeding my remaining ancestors with Russian Blues, Domestic Shorthairs, and Chartreux. We were saved! British Shorthairs were finally recognized by The International Cat Association in 1979 and the Cat Fanciers' Association in 1980. Today, we are the most popular cat breed in our native Britain and the 3rd most popular cat breed in America!

Pawesome Cats to Parent
In addition to purebred British Shorthairs like me, there are tons of prrrfectly sweet mixed-breed Brits that are looking to find their furever homes. You can learn where to find your next pet below!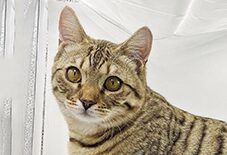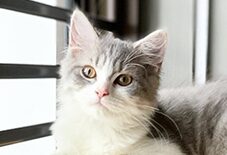 Regular grooming is a must.
Brush your British Shorthair once or twice a week with a metal-tooth comb or rubber brush to help remove loose hair. During shedding seasons such as the spring or fall, I recommend once a day brushing. British Shorthair cats also need daily tooth brushing to help prevent dental disease.
Daily exercise promotes bonding & health.
Playing with your British Shorthair for at least 30 minutes a day to help encourage exercise and bonding. I recommend using lure toys, mice, and cat tunnels. British Shorthairs will need more toys lower to the ground since they do not tend to seek out heights compared to some of their relatives.
Get a DNA test & key health screenings.
Health-wise, the British Shorthair has very few genetic disease concerns. The most common genetic disease in the British Shorthair is Hemophilia B. I recommend your cat have a genetic test performed to determine if they are a carrier of the disease.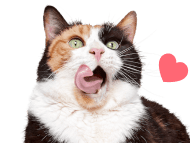 Why Get Cat Insurance?
from Pumpkin®
While British Shorthairs are a generally healthy breed, cat-astrophes can happen to any cat at any age. If your kitty gets hurt or sick, pet insurance can help you say 'yes' to the best care, even when it's costly. When it comes to shopping for this breed, you'll want to choose an insurance plan like Pumpkin plan that covers hereditary conditions Brits are prone to developing, and that can be costly to treat. While a reputable breeder will conduct genetic testing on your kitty's parents to help minimize the chances of passing down hereditary conditions, they can't always be avoided. Let's look at some common ones, and how Pumpkin Cat Insurance plans could help cover the cost of care!
*Sample shows 90% reimbursement of covered vet bill assuming $250 annual deductible has been met.