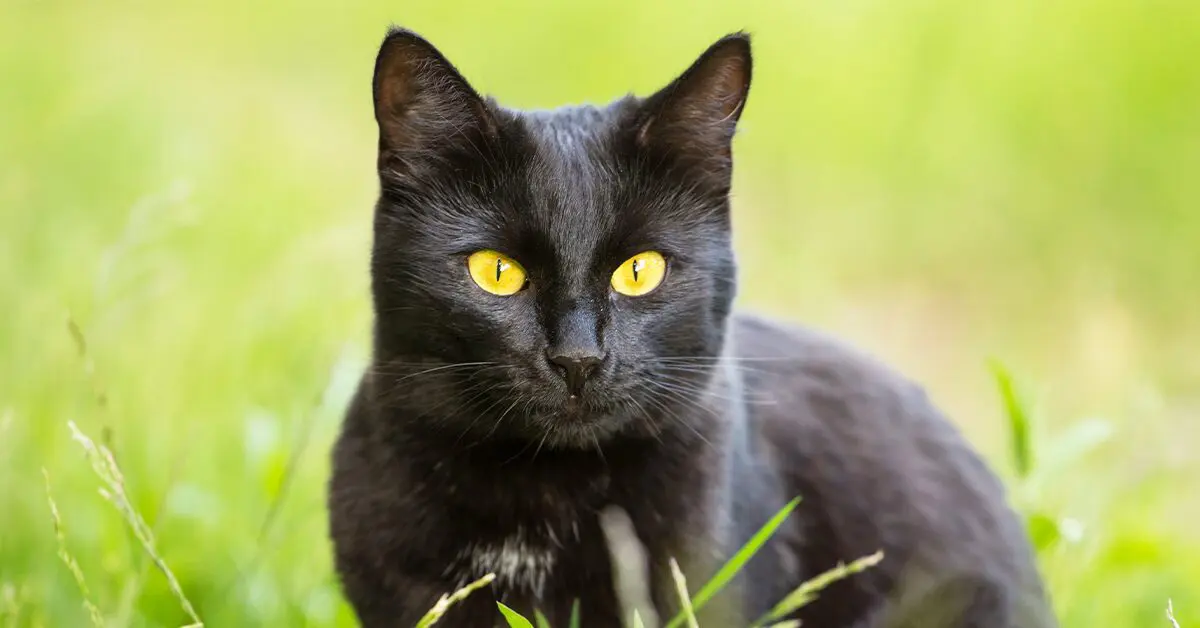 Meet the Bombay
Family-Friendly Feline
High Kitty I.Q.
Best Couch Cuddler
Looking for a loving lap cat with wild cat looks? I'm the breed for you! We Bombays were bred to look like black jungle cats, and our all-black everything (fur, nose, paw pads) and our copper eyes have earned us the nickname "patent-leather kid with the new-penny eyes." We're also called parlor panthers, but don't worry – I'm a cat that's all domestic! I'm gentle and easygoing, which makes me great with kids and other furbabies. I'm also super friendly and will greet you at the door and follow you around everywhere you go.
I don't need a ton of activity (I'm happy snuggling on the couch) but I'm smart and inquisitive so I love playtime with my humans – I get to exercise my mind and spend time with you! I don't shed a lot and my black coat will stay furbulously glossy with weekly brushings. I do need attention though – lots of it – and I won't be happy in a home where my humans are gone for too long. I may look wild but I'm a big sweetheart and I would love to find my furever home with you!
Ready to learn more about me? Let's dig in.
Ready to learn more about me? Let's dig in.
About Me
pumpkin
Get the pet insurance all the Bombays are purring about.
Fetch My Free Quote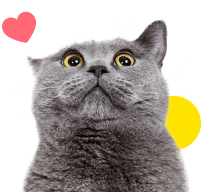 My Many Looks
Black

My Breed Characteristics

Furbulous Fact
There's a reason we Bombays are big-time lap cats. Yes, of course it's partially because we love our humans, but we also love the heat that we get from your lap! We are known to always seek out the warmest possible spot, whether that's on top of our humans, in a particularly toasty sunbeam, or next to a heater or fireplace. We will also burrow under blankets on your bed, so don't be surprised if you find me all tucked in!

As I Grow Up
As you can see, we Bombays age pretty gracefully. Here are a few key milestones in my growth & development to be aware of as I grow up from a kitten to an adult and senior!
Kitten
3-6 Months
Get me used to teeth brushing and nail clipping early on – I'll love the attention, and treats always help!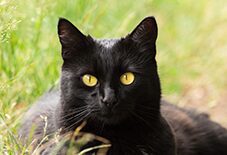 Adult
1.5-2 Years
I'm all grown up! I'm not a super active breed, so I need my human to keep an eye on my weight so I don't get too chunky.


Senior
9-10 Years
This is a great time for my human to start taking me for twice yearly checkups, including screenings for my breed's potential heart problems.

History of My Breed
We Bombays are a very young breed, but we've certainly made a splash! Despite what our name may lead you to believe, we don't come from India – but from Lexington, Kentucky instead. In the late 1950s, a human cat fancier named Nikki Horner decided she wanted to create a domestic cat that looked like a mini version of an Indian black leopard (and that's why she gave us the name Bombay). She began a very selective breeding program that started when she crossed a black American Shorthair with bright copper eyes with a Grand Champion sable Burmese cat. We weren't just bred for our exotic parlor panther looks – we were also bred to have very specific personality traits. We get our easygoing and gentle nature from the American Shorthairs, and our intelligent, affectionate side from the Burmese. It took a while to get us absolutely prrrfect, but eventually the breed standard all-black Bombay with the copper eyes was accepted by the Cat Fanciers' Association in 1970. The International Cat Association (TICA) followed in 1979, and today we are recognized by all cat registries.
Today, my breed has two types: the American Bombay and the British Bombay. American Bombays are the original parlor panthers – the American Shorthair/Burmese cross – developed by Nikki Horner. American Bombays have yellow to orange eyes (with copper being the ideal color). British Bombays are a cross between Burmese and British Shorthair. The two types of Bombays aren't that different in appearance or temperament, but some British Bombays have green eyes. The British Bombay also has a slightly puffier coat where American Bombays have a very flat coat. Whether American or British, we Bombays are relatively rare cats, but we always delight our fans at cat shows and – for the humans lucky enough to get their hands on one of us – we make the prrrfect family pet!

Pawesome Cats to Parent
In addition to purebred Persians like me, there are tons of prrrfectly sweet mixed-breed Persians that are looking to find their furever homes. You can learn where to find your next pet below!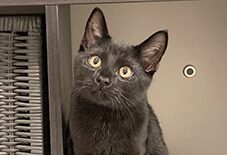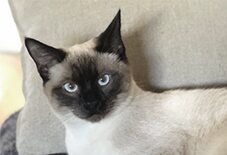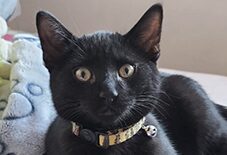 Grooming your Bombay is a breeze.
Bombays don't need much in the way of grooming. All your Bombay requires is a weekly brushing with a rubber curry brush, daily tooth brushing with a vet-approved cat toothpaste, and nail trimming twice a week.
Keep an eye on your Bombay's heart.
Bombay cats are known to develop hypertrophic cardiomyopathy, which is a thickening of the heart muscles. I recommend Bombays have an examination by their veterinarian every six months with yearly or every other year echocardiograms to monitor heart changes.
Clean your Bombay's eyes regularly.
Bombays are known to have excessive tearing from their eyes due to their shortened faces. I recommend cleaning around their eyes daily with a warm washcloth then drying well to prevent matting of the fur. If your cat starts to show any symptoms of eye irritation, colored discharge, or foul odor then I recommend having them evaluated by your veterinarian.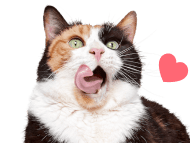 Why Get Cat Insurance?
from Pumpkin®
While Bombays are a generally healthy breed, cat-astrophes can happen to any cat at any age. If your kitty gets hurt or sick, pet insurance can help you say 'yes' to the best care, even when it's costly. When it comes to shopping for this breed, you'll want to choose an insurance plan like Pumpkin plan that covers hereditary conditions Bombays are prone to developing, and that can be costly to treat. While a reputable breeder will conduct genetic testing on your kitty's parents to help minimize the chances of passing down hereditary conditions, they can't always be avoided. Let's look at some common ones, and how Pumpkin Cat Insurance plans could help cover the cost of care!
*Sample shows 90% reimbursement of covered vet bill assuming $250 annual deductible has been met.