Meet the Abyssinian Cat
Prrrfect Playmate
High Kitty I.Q.
Family-Friendly Feline
Looking for an intelligent kitty who doubles as the prrrfect playmate? Then I'm the pawfect cat fur you! I LOVE to play – seriously, it's all I do. When I'm not running, jumping, or playing (which is almost never), I like to cuddle up with my people on the couch, like any good lap cat. I'm also a family feline, so I'm great with kids, other cats, and even dogs. And I love my humans, so I'd prefer to live inside the house, if that's alright with you.
But despite my constant need to entertain, I'm pretty low-maintenance. You can easily maintain my beautiful ticked coat with regular brushing, and I don't really shed. I'm prone to some health issues, though, so pawlease make sure I have a good vet for the best cat care. I'm a quiet kitty, but what I lack for in volume, I make up for in playfulness. You'll never be bored when I'm around!
Ready to learn more about me? Let's dig in.
Ready to learn more about me? Let's dig in.
About Me
pumpkin
Get the pet insurance all the Abys are purring about.
Fetch My Free Quote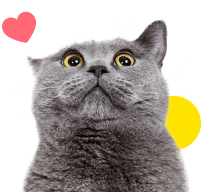 My Many Looks
Ruddy

Blue
Fawn
Red

My Breed Characteristics

Furbulous Fact
An Abysinnian starred in the 1978 Disney movie The Cat From Outer Space. The movie follows Jake, an Abyssinian cat from another planet, as he tries to rebuild his spaceship after crash-landing on Earth. Wondering if Jake ever makes it back home? Guess you'll have to watch the movie to find out!

As I Grow Up
As you can see, we Abyssinians age pretty gracefully. Here are a few key milestones in my growth & development to be aware of as I grow up from a kitten to an adult and senior!
Kitten
3-6 Months
I'm known for being an energetic kitten! Keep some cat toys and towers handy for when I want to play, which is often!


Adult
6-12 Months
We Abys are extremely social. If you aren't at home often, consider getting another cat to keep us occupied and out of trouble.
Senior
-9-15 Years
Like other purebreds, I can develop health problems in my old age. Vet visits twice a year are the best way to stay on top of my health.

History of My Breed
My breed's history is a little fuzzy, but the first written record of us dates back to the 19th century, during England's Victorian Era. Cat shows were extremely pawpular and it was at one of these – the Crystal Palace Cat Show – that we Abyssinians made our debut! We even won third place!
Back then, most humans believed that British soldiers had brought us back from Abyssinia, or modern day Ethiopia, after the Abyssinian War. But this was just speculation. Other humans thought that we hailed from ancient Egypt, and some went so far as to claim the Pharaohs had loved us. had it that we hailed None of this was true, but can you blame the humans for thinking it was? We do look very similar to the cats depicted in ancient Egyptian art! Just look at our large ears!)
How do we know these rumors aren't true? Well, the oldest taxidermied Abyssinian isn't in Ethiopia or Egypt – it's in a museum in Holland. The Leiden Zoological Museum purchased the Abyssinian sometime between 1834 and 1836, and the founder of the museum labeled it "Patrie, domestica India," linking our homeland to Asia. Genetic testing eventually confirmed that we originated by the Indian Ocean, where English colonists may have picked us up during a stop in Calcutta, which was then an East India Company trading post. Nowadays, the humans think our ancestors are the Burmese, Siamese, and Russian Blue cats.
Though we first arrived in the United States in the early 1900s, it wasn't until the 1930s that an Abyssinian breeding program really took off. We have lots of nicknames – one of them being Aby Grabby,because we love to play with objects around the house!
In 1934, we were registered by the Cat Fanciers Association. Since then, we've become one of the most popular purebred cats!

Pawesome Cats to Parent
In addition to purebred Abyssinians like me, there are tons of prrrfectly sweet mixed-breed Abyssinians that are looking to find their furever homes. You can learn where to find your next pet below!
Watch your Abyssinian's weight.
Like many cat breeds, Abyssinians are prone to obesity, and their delicate frame actually makes them even more likely to become obese. Make sure you're feeding your Abyssinian high-quality cat food and be mindful of the amount of treats you're giving them.
Look out for signs of heart disease.
Many purebred cats have an increased risk of heart disease, including Abyssinians. Watch for lethargy, changes in behavior, and difficulty breathing and talk to your vet right away if you see any of these signs.
Know the signs of FIP.
Purebred cats are more likely to develop FIP (Feline Infectious Peritonitis), which is a feline coronavirus that impacts both wild and domestic cats. Alert your vet to any behavior changes or signs of illness, such as bloated stomach, cloudy eyes, or general lethargy.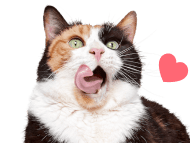 Why Get Cat Insurance?
from Pumpkin®
While Abyssinians are a generally healthy breed, cat-astrophes can happen to any cat at any age. If your kitty gets hurt or sick, pet insurance can help you say 'yes' to the best care, even when it's costly. When it comes to shopping for this breed, you'll want to choose an insurance like Pumpkin that covers hereditary conditions Abyssinians are prone to developing, and that can be costly to treat. While a reputable breeder will conduct genetic testing on your kitty's parents to help minimize the chances of passing down hereditary conditions, they can't always be avoided. Let's look at some common ones, and how Pumpkin Insurance could help cover the cost of care!
*Sample shows 90% reimbursement of covered vet bill assuming $250 annual deductible has been met.