When the winter months roll in and the weather turns cold, your dog's warmth and comfort are just as important as your own.
You may consider protective winter dog jackets or coats, but what about winter dog boots?
Winter dog boots not only give your pup traction against slippery sidewalks and roads, but also protect their paw pads from de-icing salts and chemicals. No matter the dog breed or age, winter dog boots can benefit any pup braving harsh elements.
Let's take a look at the reasons your dog could use winter boots and find the best pair for your canine companion.
Why dog paws need protection
Dogs paws are unique. A dog's paws have their own internal heat exchange system that helps their core body temperature stay constant. It's pretty amazing, but not foolproof in extreme weather.
Most dogs' paws are fine unless temperatures reach the freezing level, or if dogs spend too much time outdoors with no protection from the elements. Senior dogs, puppies, and dogs with chronic health issues, however, are more vulnerable to inclement weather.
But temperature is not the biggest issue for dogs in winter. Snow, ice, and rough surfaces cause the most harm. Snow can dry out your dog's paws, causing painful cracking, while a slippery road can cause a nasty fall, injuring joints and limbs.
Salts and de-icing chemicals like magnesium and calcium used on icy roads present a hazard to your dog. The deicers can leech into their systems or be ingested when a dog licks their paws, leading to anything from an upset stomach to more serious salt poisoning.
Road salts can get in between your dog's paws and cause bruising, as well as a burning sensation in their paw pads. So how do you protect your tail-wagger's paws during the winter? The answer is winter dog boots.
Snow boots and winter boots: What's the difference?
Dog snow boots are made for snow and ice. They prevent slipping on icy surfaces, blistering, and injuries from sharp ice crystals. Snow boots have anti-slip soles, are water-resistant, and are constructed with warm, insulating materials like cotton, wool, flannel, cashmere, or faux fur.
Winter boots or dog booties are lighter and place more emphasis on traction and water resistance rather than warmth. This type of boot is quite versatile, protecting against the hot pavement as well.
Let's check out snow boots as well as winter boots and booties your dog may need to avoid discomfort during walks and play.
These are high-quality, heavy-duty dog boots that will stand up to the worst winter conditions. Your dog can run, play, jump, and hike in the snow with ease because these boots have superb traction.
These boots also have a reflective straps to keep your pup visible when running throughout the night. There is a hook and loop closure ensuring a secure, yet flexible fit. These quality boots are available in different sizes to fit most dogs.
These dog boots come in multiple sizes and are lightweight enough to wear in hard cold winters or sizzling hot summers.
The boots are easy to put on and take off. They have two adjustable velcro straps with reflective tape for visibility on dark nights.
With nine size options in multiple colors, and made with a rugged anti-slip sole for superior traction on icy roads or hiking trails.
If you're looking for a more versatile boot, this one may fit the bill. Interestingly enough, these winter dog boots are disposable, biodegradable, and come in a pack of 12 for multiple uses.
Made of rubber, the water-resistant material is suitable for snow, rain, heat, and hiking.
If you don't need heavy-duty winter boots, the seven sizes and multiple colors may make this boot your best bet for a versatile winter dog boot option. Bear in mind, if you have a larger dog, these slip-on winter boots may be a little too tight for bigger paws. Always be sure to gauge your pup's comfort with every winter dog boot you try!

Pet Pro Tip: When shopping for products for your dog, make sure to also help protect your pooch with best-in-class dog insurance or puppy insurance plans for accidents & illnesses.
These adorable high-top boots are ideal for snowy, harsh conditions. Made with a multi-grip rubber sole and a zipper and straps, FLAdorepet snow shoes provide the best grip on icy sidewalks and roads
Their velcro straps secure the boots on your dog's paws and shins for maximum warmth. These snow shoes not only protect your pup's paws from snow, ice, salt, and more but also prevent them from dragging the elements inside. Extra tail wags for a clean home!
Go wherever you want whenever you want with these versatile boots. Made of breathable tight-weave mesh and sturdy gripping soles for even the toughest terrain, these are suitable for snow, ice, mud, and more.
These water-resistant dog boots have reflective strips and LED lights in green and red on the soles to spot your dog easily in the dark.
Available in eight sizes to fit the tiniest dogs to the largest dogs, these boots will protect your dog's paw pads. The foam comfort pad makes for a super comfy fit, with a non-slip sole for steady traction.
Made of breathable fleece, these boots are suitable for snow, heat, and indoor use, but probably not what you need for paw protection in extreme winters.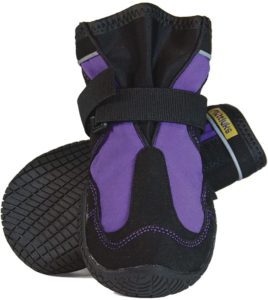 The water-resistant outer shell with the cozy fleece lining will protect your dog's paws in extreme cold. Coming in multiple sizes and colors, every dog will look stylish in these.
The "muttmotion" tread flexes in multiple directions for your dog's comfort providing a barefoot feel to these boots. The extra-large opening and double-strap closures make these boots stay on securely. The reflective trim makes visibility of your dog's location easy on dark winter days.
These dog shoes are a great option for small dogs like the Chihuahua or Pomeranian. These boots are fleece-lined, with non-skid soles and a drawstring closure to keep them on even the teeniest paws. They also come complete with reflective straps to spot them easily in the dark.
Keep your little ones warm and safe with these brightly colored winter booties.
These waterproof dog boots are made from leather material with a warm fleece lining. The anti-skid surface eliminates the worry of slick icy sidewalks, allowing your canine companion to walk with ease.
Easy to put on and take off, a velcro fastening strap keeps these booties on tight during play. Both lightweight and comfortable, these boots ensure pleasant winter walks.
Things to consider when shopping for winter dog boots
Fit: Measure your dog's foot width and length before you purchase winter boots. Most manufacturers have a sizing chart and measuring instructions. You want the boots to be snug enough for walks or play, but be easy enough to get off without a struggle.
Construction: Some manufacturers use glue to hold the upper layers to the soles. This method can cause the the boot to fall apart in wet weather. Look for stitched boots, especially if you need heavy-duty wear.
Fasteners: Most boots have laces, velcro straps, or zippers. Velcro works the best and stays secure. Laces can be tricky because many dogs will try and chew them, making the boots unable to stay on securely. Zippers work well, but can break easily with hard play.
Insoles: You want boots that will be comfortable for your dog, and not rough or slippery. Most boots are designed to have a "barefoot" feel, meaning they are lightweight and easily conform to your dog's foot. Some even have imprinting so the paws position themselves naturally in the boot.
Outersoles: For winter boots, look for non-slip or non-skid weather resistant materials. If you're looking for hiking boots, you'll want your dog's paws in boots that have high-grip soles.
Cold weather shouldn't stop your dog from exploring the great outdoors. Help your dog walk or play in even the harshest conditions with the right pair of winter dog boots.
If your pup takes a tumble in the ice or snow, pet insurance can help cover the cost of injury. Learn how you can protect your canine companion with Pumpkin's dog insurance plans today.
*Pumpkin Pet Insurance policies do not cover pre-existing conditions. Waiting periods, annual deductible, co-insurance, benefit limits and exclusions may apply. For full terms, visit pumpkin.care/insurancepolicy. Products, discounts, and rates may vary and are subject to change. Pumpkin Insurance Services Inc. (Pumpkin) (NPN#19084749) is a licensed insurance agency, not an insurer. Insurance is underwritten by United States Fire Insurance Company (NAIC #21113. Morristown, NJ), a Crum & Forster Company and produced by Pumpkin. Pumpkin receives compensation based on the premiums for the insurance policies it sells. For more details visit pumpkin.care/underwriting-information and pumpkin.care/insurance-licenses.