Most dogs love spending time outdoors. With the warmer weather, they're more likely to lay in the grass, run in the dog park, or accompany you to the beach. However, this also means they'll be exposed to the sun more often, which can bring potential health troubles like dehydration, heatstroke, and sun damage.
Why is sun protection important?
Contrary to popular belief – dogs can get sunburn, too! Some dog breeds are more susceptible to sun damage than others, such as:
Chinese crested dogs
White german shepherds
Greyhounds
Generally, if your dog has a light-colored or thin coat, or is completely hairless, there's a good chance they can develop a sunburn more quickly than others. However, this doesn't mean other dogs are in the clear. Any part of a dog's skin that's exposed to sunlight for a prolonged period of time can get burnt, like their nose, for example. Sunburn can be very painful, and potentially lead to other serious skin conditions in dogs like skin cancer.
It's important that pet owners take the necessary precautions to protect their dogs from the sun, whether it's purchasing a cooling mat, providing ample amounts of water, or helping them apply sunscreen.
You might be wondering, "Can dogs wear human sunscreen?" Dogs need to apply sunscreen that's specifically formulated to be safe for their skin. Human sunscreen often contains ingredients like zinc oxide or para-aminobenzoic acid, which are highly toxic to dogs if they consume them. If ingested, they can lead to diarrhea, vomiting, and other serious health conditions.
To help protect your precious pooch, we've listed our favorite dog sunscreens and where you can find them. With their non-toxic formulas and natural ingredients, they are safer for your dog to wear than human sunscreen while still protecting their skin from the sun. Let's take a look!
The 5 best dog sunscreens
Epi-Pet sun protector spray has 30 SPF and is effective in reducing both UVA and UVB rays. So far, it's the only FDA-approved pet sunscreen, so you can be sure your dog will be safe when wearing it. With its aerosol spray and non-greasy, non-oily solution, you can apply this sunscreen easily, while also conditioning your dog's fur with a pleasant vanilla scent.
The protector spray is also highly water resistant, so if your dog loves to swim, they'll still be thoroughly protected. Just make sure to reapply every two to four hours when they're outdoors, or 80 minutes if they're in the water!
Note: Refrain from using this sunscreen on cats. It is safe for dogs and horses only.
Emmy's sunscreen is made with natural, non-toxic ingredients like coconut oil and shea butter. Although it's not an aerosol spray, it's still convenient to apply with its regular spray bottle. It has an SPF of 30 and must be generously sprayed all over your dog's body, especially their belly and feet. However, it's best that you use your hands to apply the sunscreen to their face area.
This protector spray must be applied 15 minutes before sun exposure and reapplied every 30 to 60 minutes.

We listed Warren London as a best sunscreen because of its (not so) secret ingredient: aloe vera. Its non-toxic, non-oily natural ingredients moisturize your dog's skin while protecting them from harmful UV rays, and is especially effective in guarding more sensitive areas. It can also soothe any sunburn your dog may already have.
This sunscreen is also a convenient spray and doesn't leave any leftover residue that might trap dirt. It can protect your dog throughout the whole day as they enjoy their time outdoors with you and your family.

Pet Pro Tip: When shopping for products for your dog, make sure to also help protect your pooch with best-in-class dog insurance or puppy insurance plans for accidents & illnesses.
If you don't want to use a dog sunscreen protector spray but still need sun protection for your pup, My Dog Nose It is a popular balm with a creamy consistency and spreads very easily. It's primarily used to protect a dog's nose to prevent sunburn and cracking, but it can also be used for the ears and stomach area.
This sunscreen balm is made of natural ingredients like carnauba wax and coconut oil, which helps with moisturization and healing. So, although prevention is best, it can also help soothe some symptoms of prolonged sun exposure.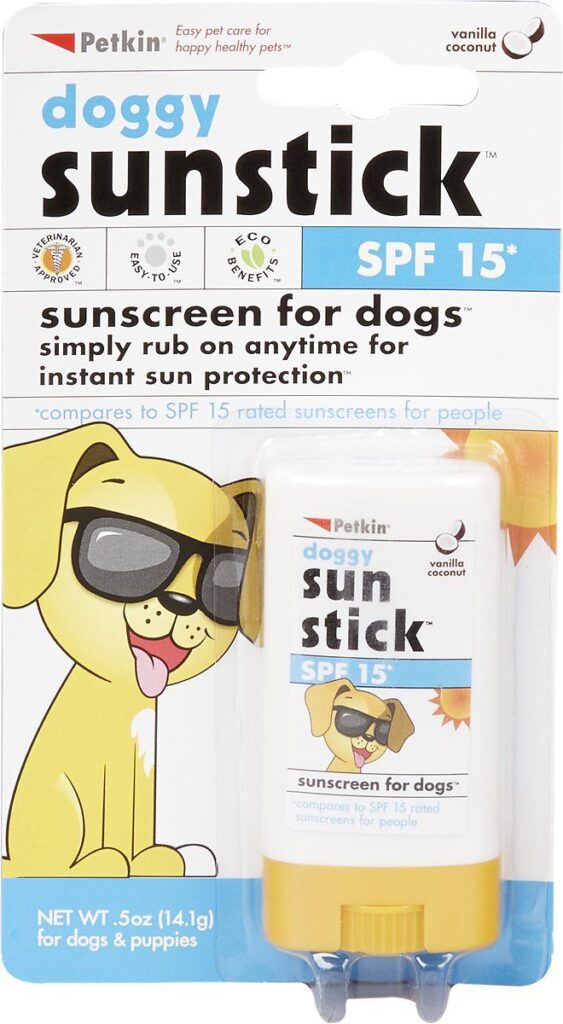 The Petkin doggy sun stick has an SPF of 15 and is made of a gentle, non-greasy formula for easy application. You can use this product on your dog's nose, ears, muzzle, and any areas that have pink skin. Its small, portable size makes it easy for pet owners to carry, so you can take it with you anywhere, whether it's the beach, pool, or dog park.
Like all other sunscreens, ensure that you're reapplying the sun stick every two hours. If you're planning to use it on a puppy younger than six months, however, consult with your veterinarian first.
Bottom line: Your precious pooch deserves the best protection – on sunny days and beyond.
When unexpected accidents or illnesses happen, we believe your dog deserves the best care possible – that's why Pumpkin Pet Insurance plans help pay 90% cashback on eligible vet bills. Don't wait – fetch your free quote today!