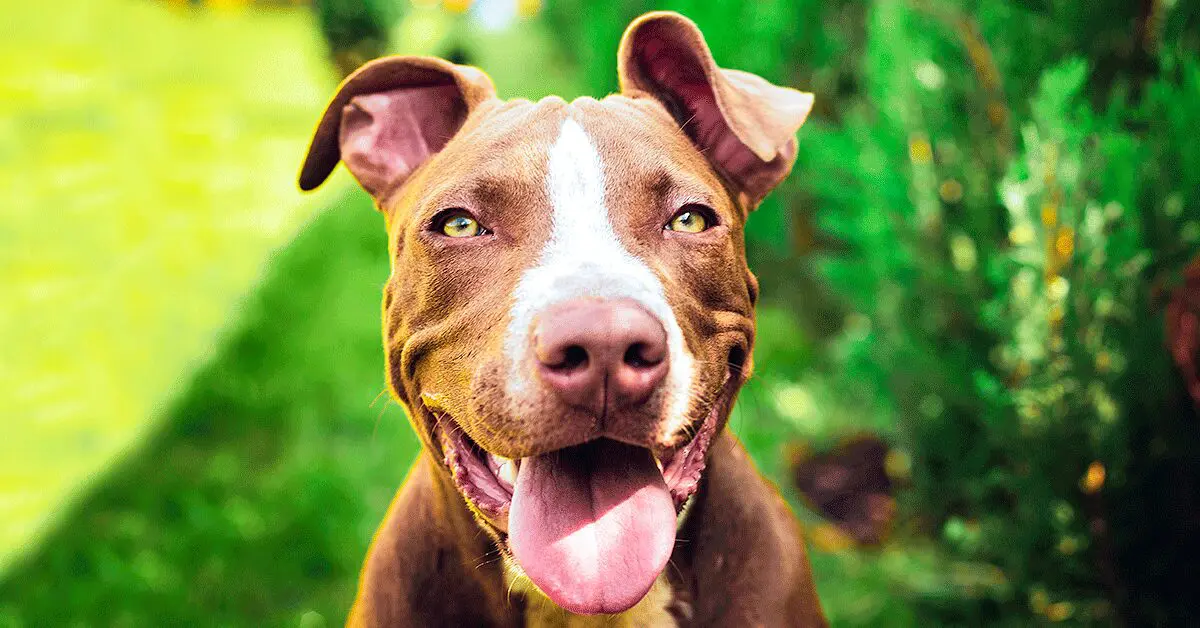 Meet the American Pit Bull Terrier
Couch Cuddler
Courageous Canine
Best Fur Friend
If you're looking for a furry friend who's always ready for a good time, I could be the pup for you! Pay no attention to my ruff reputation. Back in the day, humans used to make us Pit Bulls fight one another – so word on the street is that we're mean green canine machines. But these days, most of us are all bark and no bite. I love being around my humans, especially the kiddos, or really anyone who gives me belly rubs and lets me snuggle on the couch. I'll give you slobbery kisses in return!
When it comes to brains or brawn, I have both! I'm super smart and will learn new commands as fast as pawssible. Sometimes other pets and I don't get along too well – they tend to get under my fur. Socialization is important for me as a puppy, but keep me on a leash at dog parks because I don't bark down from a fight. The pawfect human parent for me will love to play outside. I need lots and lots of exercise or I can get a little destructive and be a pain in the tail. But with plenty of walks and games of fetch, I'll be your very best fur friend who never leaves your side!
Ready to learn more about me? Let's dig in.
Ready to learn more about me? Let's dig in.
About Me
pumpkin
Get the pet insurance all the Pitties are wagging about.
Fetch My Free Quote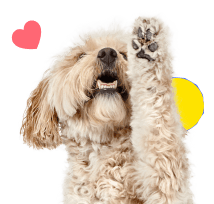 My Many Looks
Red
Brindle

White
Black

My Breed Characteristics

Furbulous Fact
Despite the somewhat bad rap we've been given, we're usually very good boys and girls. Did you know that we're actually sweet and loyal enough to have once been employed as "nanny dogs?" That's right – we were trusted to watch over all family members, even kids! In the early 1900s we often helped out humoms by staying by their children's side to keep them safe. We love our humans like they're our own blood and we make great family pets. We'll always protect them like the guard dogs we were born to be.

As I Grow Up
As you can see, we Pitties age pretty gracefully. Here are a few key milestones in my growth and development to be aware of as I grow up from a pupper to an adult and senior!
Puppy
2 Mos-1.5 Yrs
When I'm a pup, focus on teaching me a few commands at a time. Give me treats as encouragement and I'll catch on!
Adult
3-7 Years
I become less needy during adulthood, but I do need to constantly flex my mental muscles and my actual muscles, so keep me active.
Senior
8-14 years
As I get older, I may get tired more easily. But don't let me become lazy! Keep throwing that ball – just maybe not so far this time.

History of My Breed
Our history began in the 1800s in the United Kingdom. Old English Bulldogs became popular in the British Isles for "bull baiting," a sport where bulldogs harassed a bull until it collapsed – sounds ruff, I know. Eventually, British Parliament outlawed baiting, but people started putting the Bulldogs in pits with rats to see how many they could kill in the shortest amount of time. Then, the public started making these poor pooches fight each other! This required the English Bulldogs to be more agile and quick, so they were bred with Terriers. This Bulldog and Terrier mix became the modern Pit Bull Terrier!
Right before the Civil War, immigrants from the British Isles brought us with them to the United States. In America, we used our agility and speed to herd cattle and sheep, guard livestock, protect families, and catch hogs. We played a huge role in developing America's agricultural economy!
We started to be seen as working class companions, and our brave, hard-working spirit made us the "all-American dog." During WWI and WWII, we were used as the nation's mascot – some of us even went to war! A courageous Pittie named Sergeant Stubby served 18 months on the front lines and was the most decorated war dog of World War I!
On top of being war dogs, we were America's sweethearts. We became family dogs and prominent people owned us, including both Teddy Roosevelt and FDR. We frequently appeared on the big screen, too. Perhaps the most famous one of us was Petey, the Pittie from The Little Rascals!
Finally, the humane society pushed for action to be taken against dogfighting and in 1976, the Supreme Court made it illegal. Unfortunately that led to an increase in underground dog fighting throughout the 1980s. This is how our ill-informed reputation as dangerous attack dogs was reinforced. Thankfully, a lot of humans advocate for our dog breed, and our reputation is improving. We never stopped being kind, gentle, and protective of our loved ones and I promise we always will be!
The American Kennel Club recognizes the American Staffordshire Terrier, but not the American Pit Bull Terrier (APBT). Instead of the AKC, we have organizations like The American Pit Bull Foundation and we're recognized by the United Kennel Club (UKC).

Pawesome Pups to Parent
In addition to purebred Pit Bulls like me, there are tons of pawfectly sweet mixed-breed Pitties that are looking to find their furever homes. You can learn where to find your next pet below!
Be on the lookout for lethargy.
Lethargy is the hallmark symptom of a red blood cell parasite called Babesia, to which Pitties are especially prone. It can be passed down from the mother, as well as picked up through the dog's environment. Babesia can lead to anemia if not treated in time, so make sure you work with your vet if you notice any lethargy in your pup.
Give your Pittie enough exercise – but don't overdo it.
Pit Bulls are an energetic breed that need plenty of exercise. Their needs vary by age, and they'll need more activity while they're puppies. Just observe your pup's energy levels during and after activity, and make sure you don't overdo it.
Make sure you stick to a strict vaccine protocol.
Pitties are highly susceptible to Parvovirus, which is a gastrointestinal disorder that can be fatal if left untreated. Make sure you and your Pit pup stick to strict vaccine booster protocols, starting as early as six weeks of age. From there, they should receive booster shots every three weeks until 18-20 weeks of age.
Teach your Pittie to use their jaws gently.
Pit Bulls are notorious for their strong jaws and powerful bite, and it's important to start teaching them gentleness and precision early on. While you can't eliminate their desire to chomp, you can teach them what's OK to chomp on: their designated toys. You can also help them soften their bite by hand-feeding them treats and kibbles while they're young. If there's a bite that feels hard – even if it doesn't touch skin – pull the treat away and then wait for them to take it gently.
Discourage your pup's guarding behaviors.
Pitties can be protective about their food if they're left to their own impulses around feeding time. The trick is teaching your Pit pup at an early age to view you as the food resource – and that the human is the one in control. For example, if you put down a bowl of food and your pup hasn't finished it after 20 minutes, don't let the bowl linger! Remove the bowl from sight after 20 minutes, so they learn to recognize their human as the source of the food.
Give your Pittie plenty of physical and mental exercise.
Train your Pit pup's mind by getting creative with feeding time. Instead of feeding them in a regular bowl, try putting their food in a Kong toy. These require dogs to use their jaws more intelligently and use their creativity to get the food out, so it ends up being a little bit of play and a little bit of exercise, too.

Why Get Dog Insurance?
from Pumpkin®
While Pit Bulls are a generally healthy breed, unexpected ruh-rohs can happen to any dog at any age. If your pup gets hurt or sick, pet insurance can help you say 'yes' to the best care, even when it's costly. When it comes to shopping for this breed, you'll want to choose an insurance plan like Pumpkin plan that covers hereditary conditions Pit Bulls are prone to developing, and that can be costly to treat. While a reputable breeder will conduct genetic testing on your pup's parents to help minimize the chances of passing down hereditary conditions – they can't always be avoided. Let's look at some common ones, and how Pumpkin Dog Insurance plans could help cover the cost of care!
*Sample shows 90% reimbursement of covered vet bill assuming $250 annual deductible has been met.