Meet the American Staffordshire Terrier
Pawfect Playmate
Courageous Canine
Protective Pooch
Looking for a pup that doubles as the pawfect guard dog and cuddle buddy? Then look no further! I'm equal parts sugar, spice, and everything nice, all wrapped up into one stocky pup. I'm a smart dog who loves making my humans happy, which means I'm easy to train. But since my ancestors were natural fighting dogs, I do have an aggressive streak, so it's best to supervise me when I'm with other dogs. Aside from that, I'm a good family pet who loves being around other furbabies and humans, even the little ones!
You should keep in mind though that apartments aren't my favorite place to live. I have high energy levels, need daily exercise, and I love to play, so I need space to work out my super strong muscles! All in all, though, I'm pretty chill and low maintenance. I mainly like to hang out with my people while they do pretty much anything. My shiny coat is easy to maintain, but please be aware of my skin allergies. With a bit of love, I'll be the most loyal and playful pup you could ask for!
Ready to learn more about me? Let's dig in.
Ready to learn more about me? Let's dig in.
About Me
pumpkin
Get the pet insurance all the Bullmastiffs are wagging about.
Fetch My Free Quote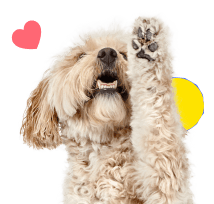 My Many Looks
Fawn
White
Black Brindle

Brown Brindle

My Breed Characteristics

Furbulous Fact

As I Grow Up
As you can see, we American Staffordshire Terriers age pretty gracefully. Here are a few key milestones in my growth and development to be aware of as I grow up from a pupper to an adult and senior!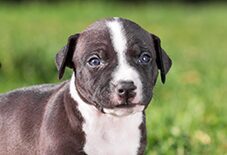 Puppy
3-6 Months
Puppyhood is the perfect time to introduce me to other dogs, cats, and humans! Enrolling me in training classes when I'm young will help me behave.
Adult
16-19 Months
Oh boy, do I love playing outside! It's even better when my humans are around, so schedule plenty of exercise time with me each day!


Senior
12-16 Years
Staffies can live very long lives! Although I may not be as nimble in my old age, I'm still as loyal and lovable as ever.




History of My Breed
Our history begins with the Staffordshire Terrier, one of our ancestors from Great Britain. In the 18th and 19th centuries, blood sports like dog fighting, bear baiting, and bull baiting were pawpular pastimes – humans used to make us pups fight each other for fun, and the audience would bet money on who they thought would win. Thankfully, we don't have to do that anymore.
The Staffordshire Terrier was bred specifically for these blood sports by mating Bulldogs with terrier dogs. To this day, the humans aren't certain which type of terrier Staffies descended from, but some believe it was either the White English Terrier or the Black-and-Tan Terrier, which are both now extinct. We don't fight anymore, thankfully – breed-specific legislation has been passed to prevent us from taking part in blood sports. Now, we use our protective instincts to be good watchdogs for our humans.
At some point in the mid-1800s, the Staffordshire Terrier was brought to the United States. Breeders started to make them a little bigger until they became a new breed entirely. That's how the American Staffordshire Terrier was born!
Over the years, we've appeared throughout American popular culture, from the Ken Burns documentary Horatio's Drive to the popular Our Gang comedies in the 1930s. (Some people think Petey from The Little Rascals was an AmStaff, but he was actually a Pit Bull.) Despite our long history in the U.S., some humans still confuse us with American Pit Bull Terriers. We're closely related and our breed standards overlap, but our bloodlines are very different now.
In the early 1900s, the United Kennel Club (UKC) recognized us as American Pitbull Terriers. The American Kennel Club (AKC) first recognized us as part of the Staffordshire Terrier breed in 1936, and in 1976, they split us into a separate breed category.

Pawesome Pups to Parent
In addition to purebred American Staffordshire Terriers like me, there are tons of pawfectly sweet mixed-breed American Staffordshire Terriers that are looking to find their furever homes. You can learn where to find your next pet below!
Talk to your vet about possible eye issues.
AmStaffs are prone to a few eye disorders, like progressive retinal atrophy (PRA), so speak to your breeder about any eye problems your Staffy could be predisposed to. Genetic screenings are also available for some heritable eye issues, so speak to your vet regarding those.
Watch out for your Staffy's allergies.
AmStaffs are prone to allergies, so keep an eye out for irritated areas of the skin. Skin can become red, flaky, and itchy. The irritation can also spread fairly quickly. Talk to your vet about giving your dog allergy medication, or about topical ointments and treatments that can help ease irritation.
Protect your AmStaff from developing orthopedic issues.
Large breeds often develop orthopedic problems as they age, like hip dysplasia. Help your dog maintain a healthy weight, and speak to your vet about joint protective supplements. Monitor your dog to watch for limping, and if your dog develops a limp, speak to your vet about further treatments.
Teach them to use their jaws gently.
It's important to start teaching dogs gentleness and precision early on. While you can't eliminate their desire to chomp, you can teach them what's OK to chomp on: their designated toys. You can also help them soften their bite by hand-feeding them treats and kibbles while they're young. If there's a bite that feels hard – even if it doesn't touch skin – pull the treat away and then wait for them to take it gently.
Give your Staffy plenty of physical and mental exercise.
Train your AmStaff pup's mind by getting creative with feeding time. Instead of feeding them in a regular bowl, try putting their food in a Kong toy. These require dogs to use their jaws more intelligently and use their creativity to get the food out, so it ends up being a little bit of play and a little bit of exercise, too.
Discourage your pup's guarding behavior.
As natural protectors, American Staffordshire Terriers can be overly protective of their people and property. The trick is teaching your pup at an early age to view you as the food resource – and that the human is the one in control. For example, if you put down a bowl of food and your pup hasn't finished it after 20 minutes, don't let the bowl linger! Remove it from sight after 20 minutes, so they learn to recognize their human as the source of the food.

Why Get Dog Insurance?
from Pumpkin®
While American Staffordshire Terriers are a generally healthy breed, unexpected ruh-rohs can happen to any dog at any age. If your pup gets hurt or sick, pet insurance can help you say 'yes' to the best care, even when it's costly. When it comes to shopping for this breed, you'll want to choose an insurance plan like Pumpkin plan that covers hereditary conditions American Staffordshire Terriers are prone to developing, and that can be costly to treat. While a reputable breeder will conduct genetic testing on your pup's parents to help minimize the chances of passing down hereditary conditions, they can't always be avoided. Let's look at some common ones, and how Pumpkin Dog Insurance plans could help cover the cost of care!
*Sample shows 90% reimbursement of covered vet bill assuming $250 annual deductible has been met.