As CBD products grow in popularity, you may wonder: Is CBD right for my dog? Is it safe and effective? What exactly does it do? When considering any health supplement for your pet, it's always best to check with your vet first and do your research. That's why we've created this guide to CBD for dogs: what it is, how it works, and what to look for in a product.
What is CBD?
There are over 80 different chemical compounds found in the hemp plant. These compounds are called cannabinoids. The most famous cannabinoid, tetrahydrocannabinol (THC), is known for its psychoactive effects and is unsafe for pets. However, a cannabinoid that is safe for pets in the right dosage is Cannabidiol, commonly known as CBD.
The FDA has approved a CBD-based prescription drug for treating seizures in humans. There is another prescription drug available to treat symptoms of MS.
More experimental products such as CBD oils, over-the-counter supplements, gummies, and lotions have taken off in popularity in recent years. It's not uncommon to find CBD-based topical skincare products or even a CBD latte at your local coffee shop.
These products generally aim to provide users relaxation and occasionally even pain relief. Many people swear by CBD's calming and anti-inflammatory properties.
Can I give my dog CBD?
The short answer? Yes! CBD is safe for dogs. While there have not been many formal studies on CBD's impact on dogs, anecdotal evidence has shown it to be an effective treatment for many issues.
However, it should be noted that not all cannabinoids are healthy for dogs. For instance, products that contain THC should be avoided, as THC is toxic for dogs. Only give your dog CBD products that do not contain any THC.
How does CBD treatment work?
CBD works by interacting with natural endocannabinoid receptors, which are found throughout the body. Endocannabinoids, lipid neurotransmitters made naturally in the body, bind to these receptors to regulate and stabilize the body. Cannabinoids, such as CBD, mimic these endocannabinoid properties.
CBD specifically interacts with the endocannabinoid system of receptors located in a dog's nervous system. This interaction promotes a sense of balance and keeps the nervous system in a state of homeostasis. Certain CBD products, such as hemp oils, chews, and CBD dog treats are manufactured specifically for dog use.

Pet Pro Tip: Illnesses won't wait to happen. You shouldn't wait to enroll in pet insurance. From common parasite infections, to costly hereditary illnesses, pet insurance is worth it and can cover crucial eligible treatment your pet may need for their unexpected accidents and illnesses. Find out how pet insurance works, what pet insurance covers, and choose a plan today.
Benefits of CBD
High-quality CBD offers a few key health benefits. It has been shown to promote wellness and provide relief for dogs dealing with certain health conditions. These include:
Seizures
CBD has been scientifically proven to be effective at treating seizures and epilepsy in humans. In 2018, the CBD oil Epidolex became the first prescription CBD treatment to be approved by the FDA. There is also much evidence to suggest CBD is an effective treatment for dogs dealing with seizures by reducing the frequency of seizures in dogs chronically prone to them.
In 2019, Colorado State University conducted a study on the effectiveness of CBD as a treatment for epilepsy in dogs. The study showed that the dogs treated with CBD had a 33% decrease in the frequency of their seizures. The university is now conducting a second study with a larger sample size, using a higher dose of CBD.
Arthritis
Several studies have shown that CBD can help regulate pain and inflammation in dogs. This has made it a popular supplement to help improve the quality of life for dogs with arthritis.
Anxiety
Because CBD is known for its calming effects, many dog owners have turned to it as a treatment for anxiety, especially separation anxiety, in their pets. While there is no clinical evidence that CBD reduces anxiety in dogs, there is plenty of glowing anecdotal evidence from individual pet owners. Talk to your vet if you think your dog is suffering from an anxiety issue that could be helped by CBD.
Itchiness
Some pet owners have been pleased to find that topical CBD pet products can help rid their dogs of excessive itchiness. This is most likely due to its anti-inflammatory and balance-restoring properties. Several companies have reported significant reductions in itchiness throughout trials of their products.
Side Effects of CBD
Typically, side effects of CBD are minimal, non-life-threatening, and tend to occur only after high dosage. A few potential side effects to be aware of are:
Lightheadedness: high doses of CBD have been shown to briefly lower blood pressure, which could lead to lightheadedness.
Dry Mouth: CBD decreases saliva production, which could leave your dog feeling a bit thirsty and uncomfortable.
Lethargy: Occasionally CBD can cause drowsiness or lethargy due to its calming effect.
Best CBD oil for dogs
A quality CBD oil can be a great boost to your dog's health and well-being. CBD oils of the highest quality contain no THC and are made with organic hemp and quality ingredients. It is also best to look for products that have a Certificate of Analysis from an accredited third-party lab. This ensures that you're buying a pesticide-free product with the correct dosage of cannabis to be safe and effective.
It's important to make sure you use the correct CBD dosage for your dog's body weight. Never give human-grade CBD products to your pet.
Here are a few places to start:
HolistaPet uses natural ingredients and whole-plant hemp extract to create a range of CBD products for dogs. Their non-GMO full-spectrum CBD oil is dairy and gluten-free. The product contains no THC. Aimed to reduce inflammation and promote general wellness, their oil is safe for both dogs and cats. You can apply tincture drops to your pet's food or directly into their mouth.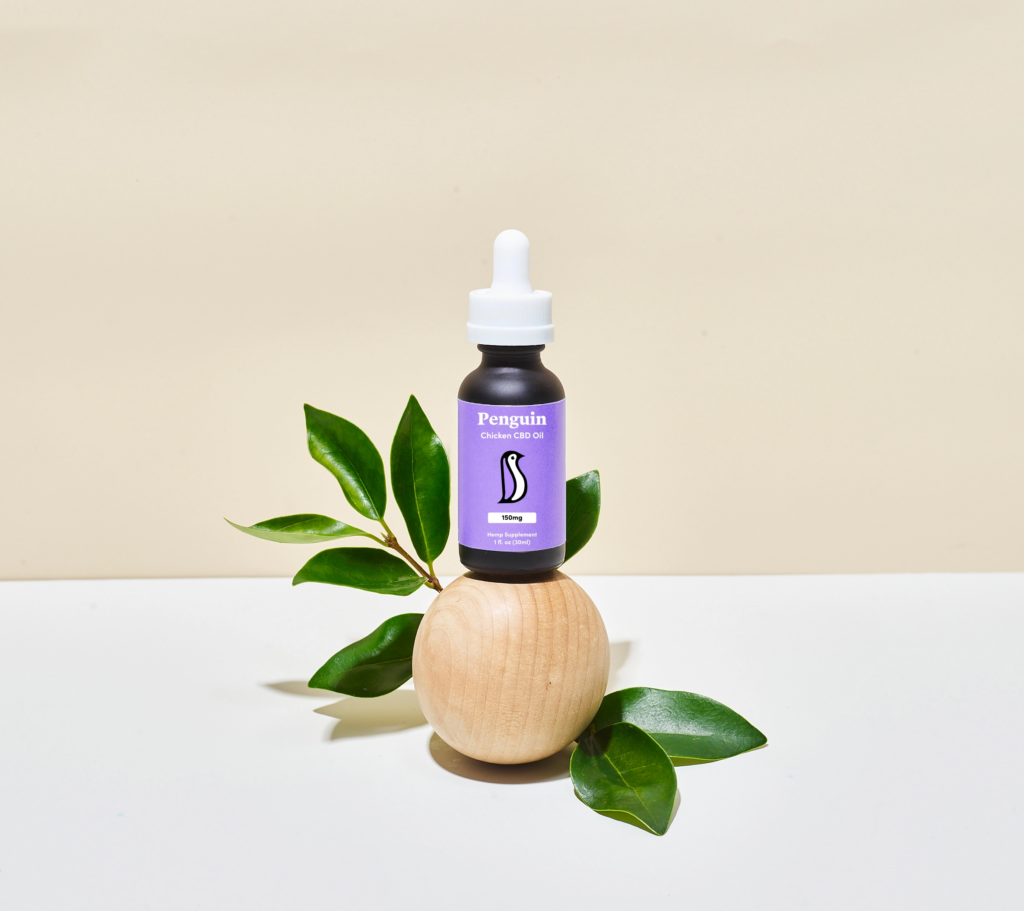 Penguin's chicken-flavored broad-spectrum CBD oil is made especially for dogs from hemp grown in Oregon. It contains 0% THC and is made for "treating issues from anxiety to arthritis."
Honest Paws pet CBD oil is made from all organic ingredients. It aims to support a dog's immune system and cognitive function, and provide seasonal allergy relief for your pet. Their CBD oil tincture is made with co2 extraction, a method that pulls cannabinoids and terpenes from organic hemp.
Honest Paws also offers a 30-day money-back guarantee, so you can try their products, and receive a refund if you're unsatisfied with the results.
How do I know if CBD is right for my dog?
Consulting your veterinarian is always the best place to start. If you have concerns about your dog's health and believe CBD may be an effective treatment, reach out to your vet to discuss your options. Always ask your vet before starting your dog on any type of health supplement.
How can I help my dog get the best care possible?
Help give your dog high-quality care with a Pumpkin Pet Insurance plan. Our plans pay 90% back on covered vet bills so that you can worry less about cost and more about care.