Ensuring your cat gets the nutrients they need means finding a cat food rich with amazing ingredients. But with so many cat food brands out there, it's hard to know which one will keep your cat happy and healthy from the start of their kittenhood all the way into their senior days. Add in factors like health issues and dietary restrictions and preferences, and it can be hard to know where to start.
That's why we've compiled a list that covers a bit of everything! Here are 13 of the best cat foods, why we like them, and where you can get them. Plus, we'll cover some additional tips for assessing cat food ingredients to help you find the best option for your feline friend. Without further ado, let's dive in.

Disclosure: This post contains affiliate links at no additional cost to you. We may earn commissions from Amazon or other vendors through these links. As an Amazon Associate, Pumpkin earns commissions from qualifying purchases.
Our Best Cat Food Picks
Best Overall: Royal Canin Indoor Adult Dry Cat Food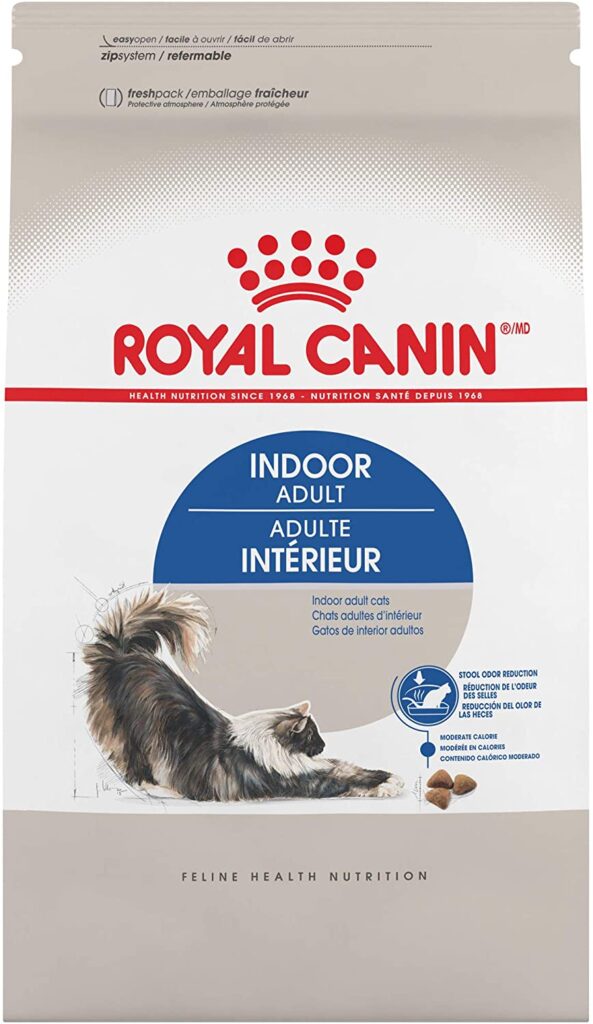 If you want the best cat food for an indoor, adult cat, Royal Canin's dry food is a great option. Their food is designed for healthy cats between the ages of one and seven – it contains all the nutrients they need to stay healthy.
Among other things, this cat food has fiber to help control hairballs, protein to help with digestion, and essential minerals (plus crunchy kibble) to slow the formation of tartar. Some of its main ingredients are chicken meal, corn, brewers rice, corn gluten meal, wheat, and chicken fat. With its moderate calorie count, this Royal Canin food is perfect for adult house cats.
Best for Kittens: Wellness CORE Grain-Free Kitten Formula Dry Cat Food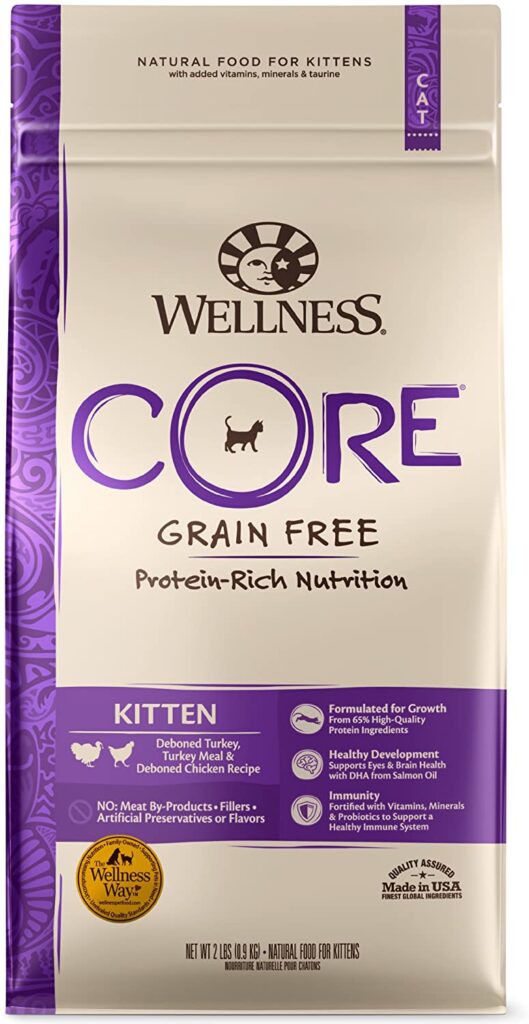 Wellness CORE kitten food is high in protein, grain-free, and full of the nutrients that growing kittens need. It includes deboned turkey, chicken and turkey meal, dried kelp for fiber, and cranberries for antioxidants.
This kitten food also has added DHA from salmon oil, which supports brain development. Plus, if you want to keep your cat eating a similar blend as they get older, Wellness offers original, adult, and indoor versions of their CORE brand.
Best for Seniors: Hill's Science Diet Adult 7+ Senior Vitality Cat Food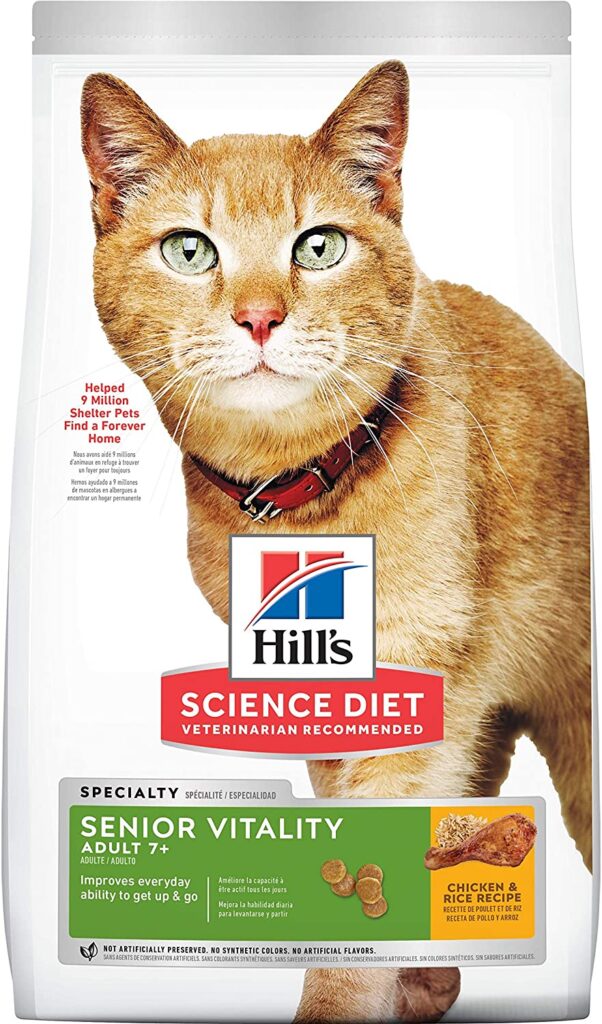 For senior cats that need balanced nutrition to "get up and go," Hill's Science Diet provides a dry food that supports brain health, interaction, energy, and vitality. Its primary ingredient is chicken, followed by brown rice. Overall, its makeup is over 35% protein, which aids in healthy digestion.
This cat food also contains Vitamin E and Omega-6 fatty acids, which help older cats keep their fur healthy. (As the name implies, it's designed for cats over seven years old.) Senior cats with sensitive or missing teeth who can't chew kibble might eat the canned variety of this blend.

Pet Pro Tip: When shopping for products for your cat, make sure to also help protect your kitty with a best-in-class cat insurance or kitten insurance plan for accidents & illnesses!
Best Subscription Service: Smalls
Smalls, a cat food subscription, is not only an efficient service, but is a nutritious option that can be tailored to your cat's needs. With this service, you answer a few questions about your cat and they'll send a free trial of personalized recipes straight to your door. Once you find out which food your cat likes, you can customize your monthly orders to include their favorites.
Smalls offers two types of food: human-grade fresh and freeze-dried raw. Their human-grade fresh food is available in three proteins and two textures and is all-natural with no preservatives or fillers. As its name implies, this food is human-grade, and the "fresh bird" protein recipe is made of 92% chicken breast and thigh.
Their freeze-dry raw food also comes in three proteins – and although it's designed for cats who like crunchy food, it's not kibble. These freeze-dried nibblets are all-natural, high-protein, raw food with no preservatives, artificial flavors or colors.
Smalls food can be given to felines of any age. Plus, they allow you to adjust your plan or pause your subscription at any time – perfect for busy cat parents that need a reliable delivery of nutritious cat food.
Best Dry: BLUE Indoor Health Natural Chicken/Salmon and Brown Rice Recipe Adult Cat Food
The best dry cat food is Blue Buffalo's BLUE Indoor Health dry food, which comes in two different varieties – chicken and salmon – that are great for adult, indoor cats. Depending on which variety you choose, this food contains large amounts of deboned salmon and chicken, along with whole grains and vegetables.
BLUE Indoor Health doesn't contain chicken or poultry byproduct meals, nor does it contain corn, wheat, soy, or artificial flavors and preservatives. Instead, it consists of chicken meal, barley, flax seed, carrots, and cranberries, all of which support your cat's immune system and life stage requirements. Plus, it offers a healthy oxidative balance without giving your cat too many calories.
Best Grain-Free: Purina Beyond Simply Grain-Free Cat Food
Purina's Beyond Simply cat food comes in two grain-free varieties: White Meat Chicken and Egg Recipe and Wild-Caught Salmon, Egg, and Sweet Potato Recipe. Whichever flavor your cat prefers, they'll be eating natural dry cat food with simple ingredients.
Both Purina Beyond Simply recipes have natural probiotics for digestive health an chicken or wild-caught salmon, depending on the variety. They do not contain corn, wheat, soy, poultry by-product meal, or artificial flavors, colors, and preservatives.
Best Wet: Wellness Complete Health Pâté (multiple flavors)
Whether your cat needs easier food to eat or simply likes wet cat food, you can't go wrong with the Complete Health Pâté line from Wellness. Their pâtés come in multiple flavors, including chicken, turkey, beef and chicken, beef and salmon, and more. If your cat is a picky eater or particular about certain flavors, Wellness Complete Health has you covered.
Their wet cat food contains high-quality protein along with essential fatty acids. Wellness Complete is grain-free, contains no artificial colors, flavors, or preservatives, and is made with natural ingredients.
Their chicken recipe, for example, includes real chicken for protein, carrots for fiber and antioxidants, and cranberries for additional antioxidants. All of these blends are great for your cat's hydration, urinary function, energy, and growth.
Best Organic: Castor & Pollux ORGANIX Organic Chicken & Brown Rice Recipe, Organic Turkey Recipe
Castor & Pollux's ORGANIX canned cat food is grain-free and certified organic. It contains no artificial preservatives, added growth hormones, antibiotics, chemical pesticides, or synthetic fertilizers.
Its ingredients include organic turkey, chicken, and chicken liver, as well as brown rice and a blend of superfoods – like flaxseed, coconut flour, dried egg, and cranberries. This wet food also contains omega-6 and omega-3 fatty acids that promote healthy skin and fur, plus extra fiber to help control hairballs.
Best Canned: Tiki Cat Luau Wet Food
Tiki Cat's Luau is a great option for canned cat food, with its high-moisture content, no grains, and no carbs. It comes in a variety of flavors including ahi tuna and chicken, ahi tuna and mackerel, chicken and egg, seabass, wild salmon and chicken, and more.
These varieties all contain natural proteins. In the wild salmon and chicken variety, for example, the first two ingredients are real chicken and real salmon, followed by chicken broth and sunflower seed oil. All of the Tiki Cat's Luau recipes also contain taurine, an amino acid that supports heart health.
Best for Urinary Health: Hill's Prescription Diet c/d Multicare Urinary Care
For a food that helps promote your cat's urinary tract health, consider Hill's Prescription Diet Urinary Care. This food is available in both wet and dry versions and is formulated to reduce your cat's risk of developing struvite and calcium oxalate crystals, which may lead to the creation of bladder stones.
If your cat already has struvite stones, it can help dissolve them in as little as seven days, though it usually does so in 27 days on average. This food promotes healthy urine pH levels and contains antioxidants, potassium citrate, and Omega-3 fatty acids. It also includes controlled levels of magnesium, calcium and phosphorus.
It's important to note that this urinary care food does require a veterinarian prescription, so for an alternative option, you might also consider Purina Pro Plan Urinary Tract Health Formula.
Best for Digestive Health: BLUE Sensitive Stomach
Does your cat have food sensitivities? A sensitive stomach? BLUE Sensitive Stomach is formulated to promote healthy digestion with deboned chicken, whole grains, and garden vegetables. This dry food from Blue Buffalo also contains fructooligosaccharide, a prebiotic plant sugar that increases the amount of healthy bacteria (probiotic organisms) in your cat's intestine.
This food contains no chicken or poultry by-product meals, artificial flavors, preservatives, corn, wheat, or soy. Plus, its LifeSource kibble bits were designed by veterinarians and animal nutritionists to contain a blend of antioxidants, vitamins, and minerals that support the immune system and lifestage health of your feline friend.
Best for Weight Loss: BLUE True Solutions Fit & Health
Another best cat food option from Blue Buffalo, this food contains natural, quality ingredients, chosen through a science-based formula to help your cat lose weight. BLUE True Solutions Fit & Healthy is made with L-Carnitine, an amino acid that can support healthy weight, as well as added fiber that helps your cat feel full.
This weight-control food also contains chicken and menhaden fish meal as protein sources, brown rice and barley for whole grain, carbs, and fiber, as well as cranberries for antioxidants and vitamins.
Moreover, BLUE True Solutions includes the amino acid taurine – an important supplement for supporting eye and heart health.
Best Vet Recommended: Hill's Science Diet Adult Indoor Cat Food
For a top veterinarian-recommended cat food, you should consider Hill's Science Diet Adult Indoor cat food. Unlike some of Hill's specialty proactive health foods, this recipe doesn't need a prescription to buy – you can get it on any retailer site that sells pet food, like Chewy or Amazon.
This cat is suitable for cats between the ages of one and six. It's formulated to keep cats at their healthiest as they move through adulthood. It contains chicken and whole-grain wheat along with natural, digestible fiber that supports stomach health. Plus, it includes high-quality protein, as well as vitamins, minerals, and amino acids.
What to Look for When Choosing Cat Food
There are a number of factors to consider when comparing cat food brands and trying to choose the right diet for your feline friend. Here are some things to keep in mind:
Nutrients: Cats are carnivores, which means they need nutrients found only in animal products. Therefore, a cat's diet should generally be high in protein, with moderate amounts of fat and minimal amounts of carbohydrates. Cats should also have a variety of other vitamins, minerals, fatty acids, and amino acids.
Cat food brand: The Feline Nutrition Expert Subcommittee of the Association of American Feed Control Officials (AAFCO) has established minimal nutritional requirements for cats. Cat food manufacturers use these standards to create their products.
Pet food brands are required to display nutrition facts on the packaging. So look for the AAFCO-approved nutritional guarantee, which tells you this cat food is nutritionally complete and balanced.
Ingredients and recipe: When comparing cat food brands, check to see if meat, meat byproducts, or seafood are listed as the first ingredients on the label. If these types of ingredients are listed first, the food probably contains enough protein sources to give your cat the fatty and amino acids they need.
Then, of course, you might also consider your cat's individual flavor preference. Does your cat prefer chicken or salmon? Your cat's tastes will affect what type of recipe you choose. Your cat may also have a preference for wet or dry food.
Wet or canned food contains more moisture. Choosing from different varieties can be helpful if your cat is finicky. These types of food can also be a better option if you have a senior cat with tooth sensitivities.
Health concerns: Finally, certain formulas of cat food are made for particular health concerns, such as urinary tract health, indigestion, hairball control, weight control, and more. If your cat has particular medical or health concerns, one of these specialized foods may be a good option for you.
When in doubt, contact your veterinarian to discuss your cat's diet. Your vet can help you create a lifelong nutrition plan and offer advice on how to choose the best cat food for your feline's unique needs.