Cats love to travel, be it an impressive jump from the couch to the kitchen table, or a stealth mission to the neighbor's porch to stare down that doggo. And as a devoted cat parent, you want to indulge that passion…right?
With a cat backpack, you can! Take a hike, ride public transportation, or enjoy a stroll around the neighborhood, all with your felis catus safely (and comfortably) secured on your back.
Of course, not all kitties will take to a backpack like bees to honey. You may have to do some work adjusting your fur baby to their new carrier before taking a long trip together. Start small with a short trip around the block. If possible, leave the backpack in a cat-accessible place inside your home for at least 24 hours before using it. This way, your cat has plenty of time to explore, sniff, and get comfortable with the new carrier. Another trick you can try is to feed your feline offspring some treats while they're in the backpack. After all, there's nothing like treats to sweeten the deal.
Disclosure: This post contains affiliate links at no additional cost to you. We may earn commissions from Amazon or other vendors through these links. As an Amazon Associate, Pumpkin earns commissions from qualifying purchases.
How to choose the best cat backpack
Choose your cat backpack carefully. Durability is important. If it's too flimsy, your cat might tear it to shreds (you've seen what those claws can do). Of course, you also want your kitty to be comfortable, so choose a backpack with soft inner lining and good ventilation.
That said, don't pick a backpack that's too large. Cats love cozy little spaces, and if your carrier is too big, they might get jolted around when you walk. Plus, you want the backpack to be a little snug so you can carry it easily. Another thing to consider is that cats like their privacy—just like us humans—so you may want to choose a backpack that's not transparent all the way around.
If you're planning on taking your kitty for a ride in the car or on an airplane, find a travel bag that can rest safely on a floor or car seat. Make sure you can buckle it in with a seatbelt if necessary. Many backpacks are airline approved, so be sure to check for that.
Finally, for both your sakes, look for a backpack that's easy to clean. Your cat will be much happier in a clean, healthy space. And it will be much easier for you when your fur baby makes a little mess, which is bound to happen from time to time.

Pet Pro Tip: When shopping for products for your cat, make sure to also help protect your kitty with a best-in-class cat insurance or kitten insurance plan for accidents & illnesses!
15 Best Cat Backpack Carriers
You need a cat carrier that's safe, comfortable, and convenient. We've scoured the internet to bring you the best pet backpacks on Amazon. Here are the top 15 choices for taking your feline friend out on the town.
Got a cat with some extra padding around the middle? Nothing is as cute as feline love handles. This airline-approved carrier for pets weighing up to 18 lbs is both fashionable and functional. The bubble window gives your cat a great view with plenty of privacy (plus it will make them look like a million-mile astronaut). The mesh panels and nine air holes on this carrier provide proper ventilation. Three zip-up doors make it easier to get Fluffy or Felicia in when she's being stubborn and hard to load. There's even a snap hook to keep them from wriggling out, like a feline David Blaine.
As an added plus, this cat backpack carrier is made from eco-friendly, durable fabric and leather, which you can wipe clean. There's also a removable pad to keep your feline friend comfy and make the cleaning process easy. The best part? When you need to store it in a tight place, the backpack folds down flat.
If you love this style but need a smaller cat bubble backpack, try this Texsens one.
This backpack has two side zippers, plus one in the front, making it easy to get your cat in or out, feed them, or just give a quick pat on the head. With a safety strap and three safety buckles, it's secure enough for even the best little escape artists. Soft sherpa padding lines the inside so your kitty can ride comfortably, with mesh providing ventilation. It also has chest straps to keep weight off your back. The PetAmi backpack comes in nine colors, from bright pink to black. Our favorite part? It has side and front pockets to store cat treats and pet supplies. In fact, it comes with a collapsible pet bowl that fits neatly in the side pocket!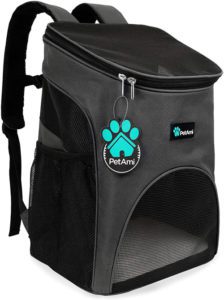 This high-quality backpack is perfect for small cats that weigh 8 lbs or less. And at only $25 on Amazon, it's a steal. Well-ventilated and lined with soft sherpa padding, it's designed to be comfortable and safe for your beloved fur baby. Like the Deluxe Pet Carrier Backpack, it comes in nine colors and includes safety straps, side pockets, and three zip-up doors. And don't forget the collapsible pet bowl, perfect for tucking into the side pocket so you can feed and water your cat on the go.
Don't let the name fool you: this cute Petsfit backpack works great for both dogs and cats up to 15 lbs. With tons of ventilation for your pet, there's even a space for them to poke their head out at the top. But don't worry, you can zip it shut so your cat doesn't get loose when you're not watching. It's both sturdy and durable, and has a tether inside to keep your kitty belted in for safety.
This trendy red and white backpack has a fun space capsule design, but that's not all it has to offer. If your cat needs to stretch their legs, you can expand the backpack to create a mesh tent. Two mesh side windows and nine air holes give your kitty the ventilation they need, and the window lets your fur baby look around. The backpack may be expandable, but it's lightweight enough (less than 3 lbs) to carry, with padded shoulder straps and an adjustable chest buckle.
This space capsule style backpack comes in several fun colors. A completely transparent front makes it easy to check on your kitty at any time. Plus, the material is durable and breathable, with plenty of ventilation. The straps relieve pressure from your back. You can wear this carrier as a backpack or a front pack, making it perfect for hiking, biking, or sightseeing.
This travel backpack earns an Amazon's Choice, and it's easy to see why it's a bestseller. While it's an expendable backpack like some listed above, it's also well-ventilated and convenient. It has large ventilation holes, mesh side zippers, and a lightweight design. The bestselling quality is that it's also waterproof. It's great for cats weighing 13 lbs or less; you can wear this carrier in front or back, and it's designed to fit under an airline seat. The expandable backpack comes in black, pink, or yellow, but you can also get a non-expandable one in green or red.
Looking for a comfortable carrier bag that's easy on your shoulders? The Pecute backpack features wide, reinforced straps, adjustable shoulder pads, and two retractable buckles to take pressure off your back. Plus, the back of the carrier is a breathable mesh elastic sponge. Four large, ventilated windows (choose mesh or acrylic), and locked zippers keep your kitty from escaping. Waterproof and environmentally friendly, it's made of durable oxford fabric with two zippers and pockets on both sides. When you're not using it, you can fold the backpack up to store it. And don't forget the removable, washable plush bottom, which you can flip over in the summer for breathable oxford cloth.
An Amazon's Choice for dog backpacks, this should work great for cat owners as well. Recommended for pets up to 15 lbs, it has four-sided ventilation with a skylight you can cover to protect your kitty from sun exposure. With a built-in safety strap, no-stick bottom, and lock zipper, this is designed to keep your fur baby healthy and secure. Plus, it's stylish and a great price – only $29 on Amazon.
Stylish and roomy, this bubble backpack comes in a few different sizes and colors. Its mesh top and sides make it breathable, while its bubble window gives your cat some much-needed privacy. A padded back and thick shoulder straps with a buckle help to take weight off your back and shoulders. The fabric is durable, waterproof, and scratch resistant, which makes it perfect for any situation. When you need to clean the window, just detach it. And when you need to store the backpack, simply fold it flat.
This backpack may be a little on the pricier side ($80 on Amazon), but that's because it has a tinted window, a built-in fan, and an LED light. Need to check on your cat at night? Simply double tap the controls and the light will turn on gradually (so as not to startle your kitty). If it's a hot day or you're in a stuffy place, switch on the fan for 360 degree air flow. You'll need to carry around a power bank, but luckily there's a hidden pocket on the back, perfect for storing a power bank. Wear it as a backpack, or carry it using the handy strap on top.
This practical cat carrier bag with foldable windows is perfect for taking your cat on a hike or for a walk in the park. With plenty of air circulation and visibility, your kitty should be happy and comfortable. And if your cat's a little on the chunky side (hey, we're not judging), this backpack should be a great fit, as it's designed for medium and large-sized kitties. But it's also great for you, with plenty of back support and durable, breathable material. Get it in pink, black, blue, or gray.
Designed to hold a small dog or a cat, this high-quality backpack should give your kitty all the privacy they need. If you want to let your cat stick their head up for fresh air, you can use the leash strap to keep them from jumping out. Big zip-up openings on the top and front help make it easier to get your cat inside, and side pockets make it easier to travel. Durable with padded shoulder straps and weight-relieving buckles, this is a great backpack to take hiking or camping. If you have to set your kitty down for a sec and turn your attention elsewhere, the safety strap and locked zippers should keep your friend from getting free while you're not watching.
The fun thing about this backpack is that it gives your furry friend plenty of privacy. Whenever your cat needs some alone time, you can roll down flaps to cover the mesh windows on each side. Then, if you want to peek in on your kitty, roll them up again. Your cat will still have plenty of ventilation (there are six air holes and a mesh window in front), but they can curl up to sleep without getting distracted by sights and sounds. Another fun feature is the large zipper pocket in front, perfect for storing cat treats in!
This bubble backpack for pets 12 lbs and under comes with a special pet treat pouch. Its large front window gives you plenty of visibility on your cat, while the mesh sides and eight holes provide proper ventilation. And with soft lining inside, your cat is ready to ride in comfort wherever you go. For long walks or bike rides, the sweat-absorbing straps keep you comfortable, too.
Safe pet travels!
With so many carriers to choose from, it may feel a little overwhelming to figure out which one is right for your kitty. But the truth is, it's hard to go wrong with any of these cat backpacks, since they're all made from durable material and provide proper ventilation. With size options for cats small and large, you should have no trouble finding the perfect fit for your feline. And with plenty of different styles, you can choose a carrier to match your personal aesthetic.
So, ready to take your cat on some fun-filled adventures (or just to the vet)? Whichever backpack you pick, we hope you enjoy safe travels with your furry friend!