Meet the Devon Rex
Best Fur Friend
Feline Comedian
Low-Maintenance Looks
Looking for an outgoing and friendly cat who is guaranteed to make you laugh? I'm the breed for you! We Devon Rex are born entertainers because we're so playful and inquisitive. I'm a great playmate for the whole family, kids and cat-friendly pets included. I do best in a home with lots of people and other animals because I hate to be alone. I just want to play and give my humans love all day long, and my naturally mischievous nature can come out in destructive ways if I'm bored or lonely.
I'm super easy to groom and my short coat doesn't shed a lot so I'm prrrfect for humans with allergies. Because I don't have a lot of fur, it's best that my humans keep me indoors (I sunburn easily). I also tend to look for the warmest spot in the house, which is often on top of my human! When I'm not snuggling with you, I'll be following you around and watching your every move. Between my loving nature and my funny, fun-loving personality, it's no wonder I'm one of the CFA's most popular cat breeds!
Ready to learn more about me? Let's dig in.
Ready to learn more about me? Let's dig in.
About Me
pumpkin
Get the pet insurance all the Devons are purring about.
Fetch My Free Quote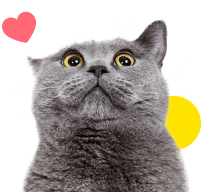 My Many Looks
Calico
Red Tabby

Black

Tortoiseshell

My Breed Characteristics

Furbulous Fact
Because of our unique appearance, we Devon Rex have a lot of nicknames. Our large eyes, big ears, and short muzzle give us an alien look so some humans call us Alien Cats. Because of our short curly hair, we also get called Poodle Cat – a fitting name since we have a dog-like personality! Our most common nickname is Pixie Cat, which has a lot to do with our personality traits and heritage. Pixies are charming and mischievous fairies with large elfin ears, and they come fromBritish folklore, specifically Devon, which is where my breed was born!

As I Grow Up
As you can see, we Devon Rex age pretty gracefully. Here are a few key milestones in my growth & development to be aware of as I grow up from a kitten to an adult and senior!
Kitten
3-6 Months
I'm prone to gum disease so get me used to teeth brushing early on – I'll love the attention, and treats always help!
Adult
1 Year
I'm a curious & active breed and I love to play and climb. Make sure I have puzzle toys and a cat tree to keep me occupied and out of trouble!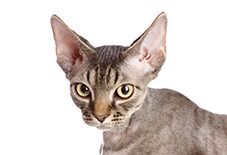 Senior
10-11 Years
I'm slowing down & prone to obesity so make sure to switch to a senior formula cat food so I don't get too chunky!

History of My Breed
We Devon Rex are a very new breed, and the first Devon Rex in the world was a happy accident! In 1960, there was a tom cat with a curly coat who was living in an abandoned tin mine in Buckfastleigh, a town in Devonshire, UK. This tom cat mated with a tortoiseshell & white Domestic Shorthair owned by a human named Beryl Cox who lived nearby. One of the cats in the litter, who Miss Cox named Kirlee, had the same short curly coat as his father.
In nearby Cornwall, there was another new breed called the Cornish Rex, and Miss Cox wondered if Kirlee had the same genetic mutation that caused the Cornish Rex cats to have their wavy coat. When she attempted to breed Kirlee with a Cornish Rex, she discovered that there were two separate mutations. Beryl Cox and other breeders in the area were determined to keep the Devon Rex breed going, so they ended up breeding Kirlee with Domestic Shorthairs, and then with any curly-coated kittens. In this way, Kirlee is the father of our breed and all today's Devon Rex can be traced back to him!
Once the breeding program was well established, we Devon Rex became very popular due to our unique look and charming personality. The first Devon Rex came to the United States in 1968 and soon after American breeders took an interest in the Devon. In 1979, the Cat Fanciers' Association recognized us as our own separate breed (we had previously been lumped in with Cornish Rex cats and just called Rex Cats) and in 1983 they accepted us for championship status.

Pawesome Cats to Parent
In addition to purebred Devon Rex like me, there are tons of prrrfectly sweet mixed-breed Devons that are looking to find their furever homes. You can learn where to find your next pet below!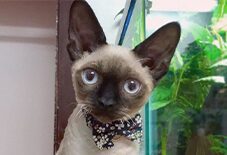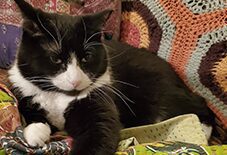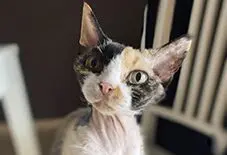 Pay attention to your Devon Rex's skin.
Devon Rex are prone to urticaria pigmentosa, a skin condition that causes crusty sores on the body which can be treated with steroids and omega 3 fatty acids. Check your cat's skin and hair regularly, and if you notice any abnormal skin lesions, a trip to the vet is recommended.
Look out for changes in your cat's gait.
Devon Rex cats can be prone to an inherited form of myopathy that can develop in cats as early as 4 weeks old. Common symptoms include a short stride, tremors, or muscle weakness. Consult your veterinarian if you notice anything unusual about your cat's movements.
These intelligent cats need plenty of mental stimulation.
Devon Rex cats are athletic, intelligent, and eager to learn new tricks. Make sure you've got the time to give these social cats the mental stimulation they need to stay healthy and happy.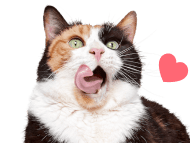 Why Get Cat Insurance?
from Pumpkin®
While Devon Rex are a generally healthy breed, cat-astrophes can happen to any cat at any age. If your kitty gets hurt or sick, pet insurance can help you say 'yes' to the best care, even when it's costly. When it comes to shopping for this breed, you'll want to choose an insurance plan like Pumpkin plan that covers hereditary conditions Devons are prone to developing, and that can be costly to treat. While a reputable breeder will conduct genetic testing on your kitty's parents to help minimize the chances of passing down hereditary conditions, they can't always be avoided. Let's look at some common ones, and how Pumpkin Cat Insurance plans could help cover the cost of care!
*Sample shows 90% reimbursement of covered vet bill assuming $250 annual deductible has been met.