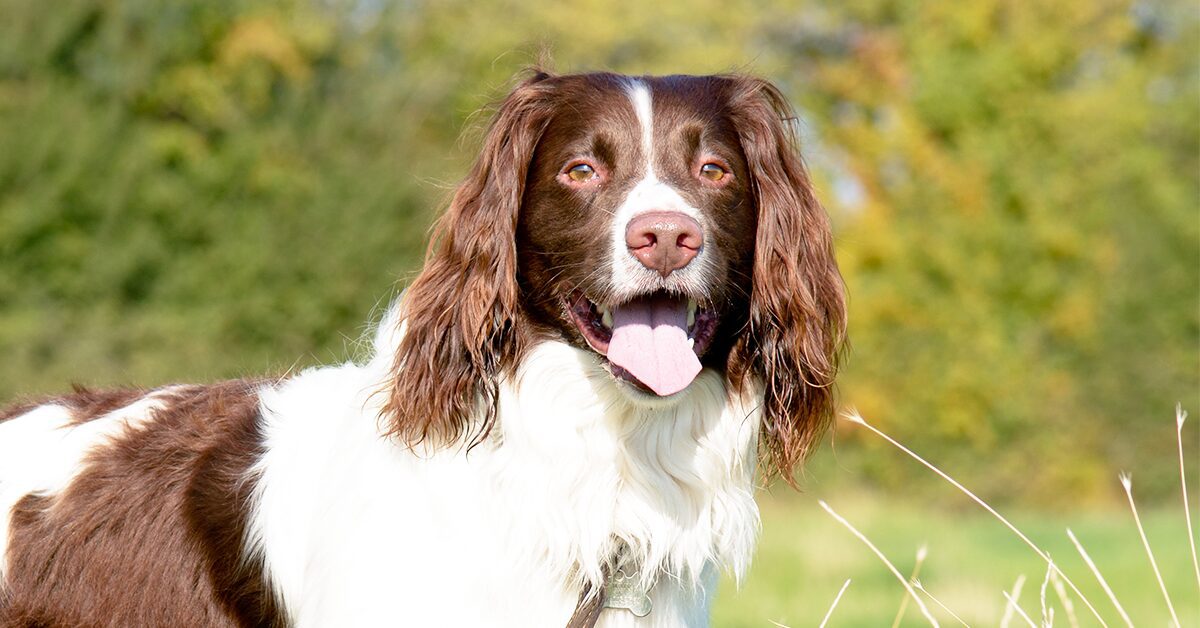 Meet the English Springer Spaniel
Best Fur Friend
High Doggy I.Q.
Best Workout Buddy
​​Looking for a friendly, high-energy family dog with beauty and brains? I'm the breed for you! We English Springer Spaniels are a great choice for an active family with kids and other pets (not birds, though – I was bred to hunt game birds and my instincts are strong). Since I love my humans so much, I get bad separation anxiety when I'm not with you and want to be by your side 24/7. I'm a smarty paws and eager to please you so I'm easy to train. If you've got little kids, we'll grow up to be besties – just introduce us as early as possible so we can learn how to play with each other safely!
My furbulous looks need a little extra TLC, especially the feathering around my ears and legs which tangles easily (you may want to use a groomer). My floppy ears are adorable but I need my humans to keep them clean so I don't get ear infections! I'm an active dog and love all types of play – long walks, swimming, and fetch are my favorites – but as long as you have the energy (and outdoor space) to keep up with me, I'll be happy no matter what we do.
Ready to learn more about me? Let's dig in.
Ready to learn more about me? Let's dig in.
About Me
pumpkin
Get the pet insurance all the Springer Spaniels are wagging about.
Fetch My Free Quote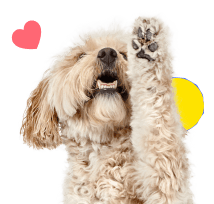 My Many Looks
Black & White
Black, White & Tan
Liver Roan
White & Tan

My Breed Characteristics

Furbulous Fact
​Even though English Springer Spaniels didn't officially become their own breed until the early 20th century, we have been making history for centuries! Famous Scottish knight William Wallace (aka Braveheart) had a spaniel named Merlin. When he rode into battle during the First War of Scottish Independence, Merlin was by his side and helped him defeat the English army in the Battle of Sterling Bridge in 1297! It would be many years before us English Springer Spaniels became our own breed, but the humans believe that Merlin was definitely one of my early ancestors.

As I Grow Up
We English Springer Spaniels age pretty gracefully. Here are a few key milestones in my growth and development to be aware of as I grow up from a pupper, to an adult, to a senior!
Puppy
4-12 Months
I need early socialization & obedience training so I can learn how to channel my energy properly! (Just make sure I've had all my vaccines first, pawlease)!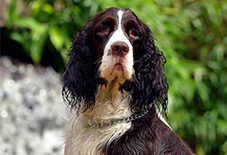 Adult
1-1.5 Years
I have a very high energy level and need at least an hour of daily exercise in order to stay happy & healthy.
Senior
10-11 Years
I'm prone to joint problems so switch to a senior-friendly dog food so I can maintain a healthy weight.

History of My Breed
​​​​​​We spaniels are some of the oldest dog breeds in the world! Like our name suggests, the humans believe that we originally came from Spain and traveled to England with the Romans. It took centuries for us English Springer Spaniels to develop but my earliest ancestors were skilled hunting dogs, too! Before guns were invented, humans needed dogs like us to help them on the hunt and early spaniel breeds had specialized skills to assist them. Some of us were better in the water and some of us thrived on land, and the land-loving spaniels had different specialties, too! Some, like me, were best at springing (hence my name), which is when a dog flushes game out of cover into the open. Before guns, they would use falcons, bows, or nets to catch game birds.
​​​​​​​​The first evidence of dogs that looked similar to our breed come from paintings in the 16th and 17th centuries, which depicted dogs with our signature docked tails. The 17th century also saw the invention of the gun, which is when my ancestors became known as gun dogs! By the 19th century in England, my breed and my cousin, the Cocker Spaniel, would all come from the same litter. The smaller pups in the litter would be used to hunt woodcock (hence the name Cocker Spaniel) and the larger pups (us Springers) would be used to flush game.
​​​​​​By 1902, we English Springer Spaniels had our own classification. We first came to North America in 1913 and within a decade we were one of the American Kennel Club's most popular breeds! In 1924, the English Springer Spaniel Field Trial Association was formed and it was common for my breed to compete in both field trials and conformation dog shows. The last dual championship Springer Spaniels were shown in the 1940s. Modern breeders split my breed up: field-type Springers are bred for their skills and show dogs are bred for looks according to the breed standard.

Pawesome Pups to Parent
In addition to purebred English Springer Spaniels like me, there are tons of perfectly sweet mixed-breed Springer Spaniels that are looking for their furever homes. Find your next pet below!
Purchase from a responsible breeder.
While English Springer Spaniels can be very healthy, this breed is susceptible to certain heritable joint disorders, including hip and elbow dysplasia, which can cause pain and loss of mobility. In addition to heritable joint conditions, some English Springers are also predisposed to a variety of genetic eye conditions that can cause blindness. Avoid heartbreak and veterinary expenses by purchasing puppies from responsible breeders who only breed dogs that are free of heritable disorders and provide health guarantee against heritable conditions.
Inspect their ears regularly.
English Springer Spaniels are known to have problems with ear infections due to the pendulous nature of their ears. Some English Springers also have problems with skin allergies that can result in ear infections. Inspect your dog's ears regularly, and if any signs of infection are noted (redness, odor, discharge, excessive scratching or rubbing of ears) call your veterinarian. Place cotton balls in your dog's ears during baths to prevent the ears from getting wet. If your English Springer's ears get wet, instill a couple of drops of 1:1 solution of rubbing alcohol and white vinegar to dry and acidify the ears.
Start training and socialization early.
Some English Springers suffer from temperament issues, including 'Springer rage', an aggression Disorder. Provide daily training and socialization for your puppy, and start early. If your dog or puppy exhibits any problems with behavior, consult with a qualified professional.
Be wary of their potential for aggressive behavior.
English Springer Spaniels can have aggression toward other dogs and people, so it's important to socialize them early and often. Make sure they don't hyperbond to just one family member, give them a robust community of people and animals to interact with. If they exhibit any aggressive behavior, don't fuss over it, just quietly remove them from the situation. Soon, they'll learn they leave the fun social times if they growl or act standoff-ish, but if they stick it out they get attention and treats.
Don't encourage guarding behavior.
English Springer Spaniels are prone to guarding behavior, which increases anxiety. To reduce this, make sure that you take their food away after twenty minutes, even if they haven't finished eating it. If food lingers in the bowl, they'll start "protecting" it. By taking it away, you communicate that the food is yours – and not their responsibility at all.
Manage their destructive behavior.
This breed is known for being a destroyer of socks and shoes. Keep your clothes tidy and control their access to toys to help tone down their destructive impulses. Giving them plenty of exercise and keeping them tuckered out can also assist on this front.

Why Get Dog Insurance?
from Pumpkin®
While English Springer Spaniels are a generally healthy breed, unexpected ruh-rohs can happen to any dog at any age. If your pup gets hurt or sick, pet insurance can help you say 'yes' to the best care, even when it's costly. When it comes to shopping for this breed, you'll want to choose an insurance plan like a Pumpkin plan that covers hereditary conditions English Springer Spaniels are prone to developing, and can be costly to treat. While a reputable breeder will conduct genetic testing on your pup's parents to help minimize the chances of passing down hereditary conditions, they can't always be avoided. Let's look at some common conditions, and how Pumpkin Dog Insurance plans can help cover the cost of care!
*Sample shows 90% reimbursement of covered vet bill assuming the annual deductible has already been met.