Meet the American Bulldog
Protective Pooch
Daring Doggo
Best Fur Friend
Are you looking for a loyal, affectionate, four-legged best friend who's also tough as nails? Then look no fur-ther! Weighing in at 60 to 100 pounds with a stocky, muscular build, I present to you – the American Bulldog! We working dogs may seem intense, but we're really just happy-go-lucky goofballs…most of the time. I don't always get along with other dogs and I tend to push my boundaries with my owners, but other than that I'm sweet as can be, even to the kiddos.
Speaking of boundaries, I have pretty high levels of energy and need space to run around, so I don't do well in tiny apartments. Exercising my mental and physical muscles helps me stay in shape and stay in line! Even though I run around a lot, you don't have to bathe me that often, just when I start to stink. I don't shed either, so the only thing you'll have to clean up is my slobber. I make a good watchdog because I'm one tough cookie, but I'm also a great family dog. Wait, did someone say cookie? Here comes the drool!
Ready to learn more about me? Let's dig in.
Ready to learn more about me? Let's dig in.
About Me
pumpkin
Get the pet insurance all the Bullies are wagging about.
Fetch My Free Quote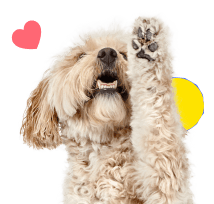 My Many Looks

White

White & Black

White & Brindle
White & Brown

My Breed Characteristics

Furbulous Fact
Guess what? I can jump three feet in the air! Some of my relatives can jump even higher, around six or seven feet. We've been known to clear all types of obstacles, from fences to shrubs. Long story short, if you're thinking of bringing home an American Bulldog soon, make sure your backyard can handle our pawsome athletic skills – or that your neighbors don't mind a furry visitor flying over the fence from time to time!

As I Grow Up
As you can see, we American Bulldogs age pretty gracefully. Here are a few key milestones in my growth and development to be aware of as I grow up from a pupper to an adult and senior!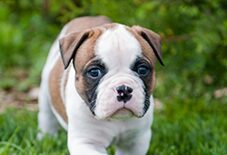 Puppy
1-3 Months
American Bulldog puppies have destructive behavior. Start training me early so I learn to control my excitement and high energy!
Adult
1-3 Years
We reach adult size around 1 to 3 years old. The bigger the Bully, the longer it takes to grow – but I'll never grow out of my goofy pawsonality!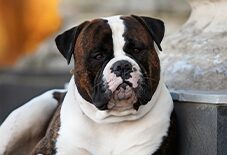 Senior
9-12 Years
I'm a pretty healthy breed, so I can live for a long time! Just watch out for issues that make me less active, like hip and elbow pain.

History of My Breed
My ancestors' journey to the United States follows a familiar American story. Between the 1600s and 1800s, a now extinct breed called the Old English Bulldog came over to the New World with their European, working class immigrant families. Southern farmers realized my ancestors weren't afraid of a little hard work and quickly had them toiling on the farm. Our dog breed was famously good at catching feral pigs, earning us the nickname "catch dogs." Since the pigs had no predators, we were the only ones up to the task!
Sadly, throughout history, many bulldogs died due to bull baiting, a sport where people purposely made us fight bulls to the death (earning us the name "bulldog"). This, along with the tough farm work we were doing, meant bulldogs were having a rough go of it. By the end of World War II, Bully breeds were nearly extinct.
Luckily, a few great humans – John D. Johnson and Alan Scott – helped revive our struggling breed in the 1950s. You could say those men were the bulldog's best friends! This was the genesis of what's now known as the American Bulldog, a name that first stuck in the 1980s.
These days, we've moved away from our ruff past. Now, we're mostly family companions, spending time chilling out and playing with our families. We still make good guard dogs though! We come in a number of different types: the Bully, the Johnson, the Standard, and the Scott.
In 1999, we were recognized by the United Kennel Club, but we haven't been recognized by the American Kennel Club (AKC) yet. We're on our way! In 2019, we were approved for the Foundation Stock Program (FSS), which lets breeds continue to develop before official recognition. Until that day comes, we still have a club of our own: the American Bulldog Association.

Pawesome Pups to Parent
In addition to purebred American Bulldogs like me, there are tons of pawfectly sweet mixed-breed Bullies that are looking to find their furever homes. You can learn where to find your next pet below!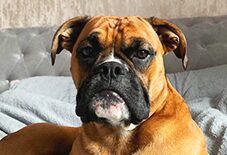 Watch out for your Bulldog's allergies.
American Bulldogs are prone to skin allergies so keep an eye out for irritated areas of the skin. They also have increased incidences of demodex mites, especially as puppies. Talk to your vet about prescription medications that can take care of irritation caused by mites.
Look out for your Bully's eyes.
American Bulldogs have a face shape that makes them more prone to eye issues, like ectrentropion and "cherry eye." Watch out for anything that could potentially damage the eyes and talk to your vet about treating any eye irritations.
Take care of your pup's pearly whites.
Dental disease affects 80% of all dogs and Bulldog breeds are more prone to dental issues than most other breeds. It occurs when tartar buildup on the teeth becomes so overwhelming that it causes infection in the gums and roots of the teeth. Take your pup for regular professional dental cleanings and exams to avoid any complications with their teeth.

Training Tips
from Trainers & Behavioral Specialists
Provide lots of socialization.
Give your Bulldog plenty of opportunities to socialize with people they don't know and other dogs. It's also important to introduce them to different environments that are unfamiliar to them to further help with socialization. - Laurie Williams, Certified Professional Dog Trainer
Train early with positive reinforcement.
Start a positive reinforcement based training program as soon as possible and be consistent with your training. Add daily exercise enrichment activities to further your dogs training, and crate training is also recommended early in your training. Get the dog used to spending some time alone to avoid separation anxiety. - Laurie Williams, Certified Professional Dog Trainer
Exercise your Bulldog's mental muscles.
Keep your Bulldog sharp by giving them treat puzzles and consistently training them. Be wary of letting your dog's training plateau. All dogs thrive from opportunities to keep learning new things. - Richard Lovejoy, Professional Remote Dog Trainer

Why Get Dog Insurance?
from Pumpkin®
While American Bulldogs are a generally healthy breed, unexpected ruh-rohs can happen to any dog at any age. If your pup gets hurt or sick, pet insurance can help you say 'yes' to the best care, even when it's costly. When it comes to shopping for this breed, you'll want to choose an insurance plan like Pumpkin plan that covers hereditary conditions Bullies are prone to developing, and that can be costly to treat. While a reputable breeder will conduct genetic testing on your pup's parents to help minimize the chances of passing down hereditary conditions, they can't always be avoided. Let's look at some common ones, and how Pumpkin Dog Insurance plans could help cover the cost of care!
*Sample shows 90% reimbursement of covered vet bill assuming $250 annual deductible has been met. Pumpkin's standard $10k annual limit would cover all treatment costs listed, except for Intervertebral Disc Disease treatments exceeding $10k, which would require our higher annual limit of $20k to cover a larger portion of the bill.