Meet the Bull Terrier
High Doggy I.Q.
Protective Pooch
Pawfect Personality
Ruff! Ruff! Wait, sorry...I forgot you only speak human. I just get so excited talking to people! Anyways, I'm a Bull Terrier, and I'm often regarded as one of the most recognizable dogs on the planet (and one of the best to bring home, even just to an apartment). If you've ever met a dog like me, you're probably still thinking about my charming personality, high intelligence, and distinctive look. So distinctive, in fact, a lot of people like to call my head "egg-shaped." I, personally, prefer the term "aerodynamic."
But what I lack in appearance, I make up for in style. I come from a breed with a rich history, but now I'm mostly just here to have fun with other pets and kids alike! I might need a bit of training, a stricter diet, and more attention than your average canine, but it's worth it – trust me. With the right parents and enough room to roam, you'll have trouble finding a dog that's a bigger joy to have by your side. That's probably why the AKC calls me the "ultimate personality breed."
Ready to learn more about me? Let's dig in.
Ready to learn more about me? Let's dig in.
About Me
pumpkin
Get the pet insurance all the Bullies are wagging about.
Fetch My Free Quote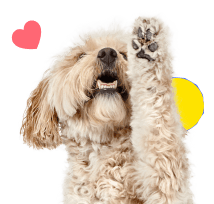 My Many Looks
White
Black Tan & White
Red
Black Brindle

My Breed Characteristics

Furbulous Fact
We Bull Terriers have an iconic look which was made even more iconic by Bullseye, the Target mascot! In 1999, Target ran an ad campaign called "Sign of the Times" featuring Bullseye with a red Target logo over his left eye. It was a hit! Humans demanded to see more of him, so Target put him in more commercials, as well as in print and online ads! In 2003, the "See. Spot. Save." campaign made Bullseye a household name. He was even the first of our kind to walk the red carpet – on all fours, of course. He really put our Bully breed on the map!

As I Grow Up
As you can see, we Bull Terriers age pretty gracefully. Here are a few key milestones in my growth and development to be aware of as I grow up from a pupper to an adult and senior!
Puppy
3-6 Months
I'm in the ranking stage now and my alpha personality is going to have me take charge. Remind me who's boss and I'll get back in line.
Adult
1-3 Years
I can develop aggressive tendencies so early socialization is key. Do it regularly too so that I'm always down to make new friends!
Senior
7-12 Years
I'm not so energetic anymore, so I might start packing on the pounds. Switch my diet to a light-feeding regime to prevent obesity.

History of My Breed
Our story begins in England in the early 1800s. We were bred by crossing a Bulldog with the now extinct White English Terrier. These "bull and terriers" from way back in the 13th century were used in blood sports, like bull-baiting, which was an event where we baited the bulls and spectators would bet on the outcome.
By the 1830s, bull-baiting was outlawed and humans turned to dog fighting, which unfortunately sorta became my dog breed's forte. We were mixed with Spanish Pointers to increase our size, making us much better competitors. We continued to be bred with other dogs too, like Dalmatians, and by 1917, the first modern Bull Terrier was born! His name was Lord Gladiator.
Britain banned dogfighting and we were put to better, less violent use. We became quite fashionable in the eyes of young gentlemen. A man named James Hinks wanted to make us even more good looking. He bred all-white Bull Terriers and people started referring to us as "White Cavaliers." Some people still call the all-white ones this because of our sweet temperaments and courage – which multi-colored Bull Terriers possess, too! Among early Bully lovers was General George S. Patton, whose best pal Willie famously followed him everywhere.
Now, most of us are just family dogs, but some members of our pack show up in advertisements! Spuds Mackenzie was a Bull Terrier used in Bud Light commercials in the 80s. He was so beloved that they even brought him back as a ghost in a 2017 commercial! Our other superstar sibling, Bullseye, was the famous Target mascot throughout the 90s and 2000s!
In 1885, a dog named Nellie II became the first Bull Terrier registered by the AKC. In 1897, the Bull Terrier Club of America was formed. The colored Bull Terrier became a separate variety in 1936 and the miniature Bull Terrier became a separate breed in 1992.

Pawesome Pups to Parent
In addition to purebred Bull Terriers like me, there are tons of pawfectly sweet mixed-breed Bullies that are looking to find their furever homes. You can learn where to find your next pet below!
Watch for signs of heart problems.
Bull Terriers have an increased risk of certain types of heart diseases that can lead to murmurs and cardiac health issues. You may notice your Bully coughing more frequently or experiencing a decrease in energy, but typically heart problems are detected by a vet.
Be aware of possible kidney problems.
Bull Terriers can have genetic issues related to their kidneys, so make sure you purchase your Bully from a reputable breeder.
Adjust to your Bully's hearing loss (if it occurs).
Bull Terriers are prone to hearing loss. Most dogs cope incredibly well to hearing loss and learn visual cue training signals. It's important to be careful not to "sneak up" to them from behind because if they can't see you coming, they may be more reactive when they notice you.

Training Tips
from Trainers & Behavioral Specialists
Provide lots of socialization.
Give your Bull Terrier plenty of opportunities to socialize with people they don't know and other dogs. It's also important to introduce them to different environments that are unfamiliar to them to further help with socialization. - Laurie Williams, Certified Professional Dog Trainer
Train early with positive reinforcement.
Start a positive reinforcement based training program as soon as possible and be consistent with your training. Add daily exercise enrichment activities to further your dogs training, and crate training is also recommended early in your training. Get the dog used to spending some time alone to avoid separation anxiety. - Laurie Williams, Certified Professional Dog Trainer
Exercise your Bulldog's mental muscles.
Keep your Bulldog sharp by giving them treat puzzles and consistently training them. Be wary of letting your dog's training plateau. All dogs thrive from opportunities to keep learning new things. - Richard Lovejoy, Professional Remote Dog Trainer

Why Get Dog Insurance?
from Pumpkin®
While Bull Terriers are a generally healthy breed, unexpected ruh-rohs can happen to any dog at any age. If your pup gets hurt or sick, pet insurance can help you say 'yes' to the best care, even when it's costly. When it comes to shopping for this breed, you'll want to choose an insurance plan like Pumpkin plan that covers hereditary conditions Bullies are prone to developing, and that can be costly to treat. While a reputable breeder will conduct genetic testing on your pup's parents to help minimize the chances of passing down hereditary conditions, they can't always be avoided. Let's look at some common ones, and how Pumpkin Dog Insurance plans could help cover the cost of care!
*Sample shows 90% reimbursement of covered vet bill assuming $250 annual deductible has been met.