Meet the Collie
Best Fur Friend
High Doggy I.Q.
Protective Pooch
​​​​If you're looking for a fun-loving family dog with brains and beauty, I'm the breed for you! We Collies are one of the best dog breeds for families with kids because we are so gentle and protective. I'm great with other dogs, too! I'm also one of the smartest dog breeds so training me is a breeze. I'm sensitive, though, so positive reinforcement (and lots of yummy treats) is the way to go. Even though we are all beautiful, Rough Collies with our furbulous long hair need daily brushing while Smooth Collies only need one brushing a week.
​​I'm not as high energy as my Border Collie cousin, but I do need my humans to give me an hour of exercise daily so I can chill out by the time we get home. I also need to keep my big brain active (I can be destructive and bark a lot if I'm bored). My working dog background, intelligence, and eagerness to please my humans make me pawesome at dog sports like agility and rally obedience, and my gentle nature makes me a great therapy dog! With my skills, smarts, and sweet temper, I make a great addition to any family.
Ready to learn more about me? Let's dig in.
Ready to learn more about me? Let's dig in.
About Me
pumpkin
Get the pet insurance all the Collies are wagging about.
Fetch My Free Quote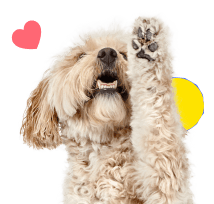 My Many Looks
Tricolor
Blue Merle
Sable
White

My Breed Characteristics

Furbulous Fact
​Over the years, there were a lot of doggie actors who played Lassie, but the first to play the role was Pal. Pal's ancestry can be traced all the way back to a famous champion Collie named Old Cockie, who was born in England in 1867 and is credited for introducing the sable coat color to my breed. Pal wasn't originally the star of the Lassie Come Home movie, but he did so well during one of the stunts that the director decided that Pal should play Lassie instead! Pal starred in 6 Lassie movies and the pilot for the television show, but he was getting too old to keep acting. Pal's son, Lassie Junior, took over for him, and every dog that has played Lassie since is one of Pal's descendants.

As I Grow Up
We Collies age pretty gracefully. Here are a few key milestones in my growth and development to be aware of as I grow up from a pupper, to an adult, to a senior!
Puppy
4-12 Months
I'm super smart and great with kids but train me and socialize me as early as possible! (Just make sure I've had all my vaccines first, pawlease)!
Adult
1.5-2 Years
I get bored easily and need mental stimulation along with 45-60 minutes of physical exercise a day in order to stay happy & healthy.
Senior
9-10 Years
I'm prone to joint problems so transition to a senior-friendly dog food so I can maintain a healthy weight.

History of My Breed
​​​​​​We Collies didn't become well known until the 19th century, but we've been around for thousands of years! Humans believe our earliest ancestors came to Britain with the Romans around 2,000 years ago. These hardy pups bred with native herding dogs and worked as sheepdogs in the Scottish Highlands, and the humans believe we first got our name from the colley (a type of Scottish sheep with a black face). Even though we've always been beautiful, for a long time we were just hard working dogs. But in the 19th century, our furbulous looks caught the eye of England's Queen Victoria when she was visiting her Scottish castle. Queen Victoria fell in love with our beauty and sweet temperament and brought some of my ancestors back with her to England.
​​​​​​​​Thanks to the Collie-loving Queen, my breed started to become very popular outside of Scotland. The humans started to breed us more for our looks than our herding ability, and we were first shown at a dog show in Birmingham, England in 1860 as Scotch Sheepdogs. In 1879, the first Collie came to the U.S. and the Americans fell in love with us, too! The American Kennel Club recognized us in 1885 and Collie Club of America was formed in 1886, making the group one of the oldest breed-specific clubs! We became even more popular in the early 20th century when a human named Albert Payson Terhune fell in love with us and started to breed Rough Collies. He also wrote stories and books based on his own Collie, Lad.
​​​​​​But everyone knows there is no Collie more famous than Lassie! Based on the 1938 short story "Lassie Come-Home" by Eric Knight, the fictional Lassie became a superstar when the book was adapted into the movie Lassie Come Home in 1943. People couldn't get enough of Lassie – there were more movies, a TV series, and even a radio show. The fictional Lassie's beauty, brains, and bravery (which all of us real Collies have, too) made my breed hugely popular in the mid-20th century. Lassie even has a star on the Hollywood Walk of Fame!

Pawesome Pups to Parent
In addition to purebred Collies like me, there are tons of perfectly sweet mixed-breed Collies that are looking for their furever homes. Find your next pet below!
Purchase from a responsible breeder.
While Collies can be very healthy, this breed is susceptible to hip dysplasia, which can cause pain and loss of mobility. In addition to heritable joint conditions, some Collies are also predisposed to a variety of genetic eye conditions that can cause blindness, including progressive retinal atrophy (PRA) and Collie eye anomaly. Avoid heartbreak and veterinary expenses by purchasing puppies from responsible breeders who provide health guarantees.
Watch out for skin problems.
Dermatomyositis is a skin condition seen in Collies that causes hair loss and skin crusting on the face, ear tips, legs, tip of tail, and feet. This condition can be seen in puppies as young as 12 weeks of age. Dermatomyositis is believed to be caused by a combination of genetic and environmental factors, including stress.
Do not give your Collie ivermectin.
Some Collies may have a hypersensitivity to ivermectin due to a MDR1 genetic mutation, leading to the phrase 'white feet, don't treat'. To be safe, do not give Shetland's ivermectin. This includes heartworm prevention that uses ivermectin as an active ingredient.
Control the nipping.
Collies can nip and bite, which needs to be addressed early on before it becomes a problem. Instead of feeding them in a bowl, divide out the amount of food they eat per day. Feed them one quarter in the morning, one quarter at night. The other half you should feed them by hand over the course of the day. This will allow you to test their bite. If their teeth even graze your skin, cry out in pain, and then ignore them for a moment. Teach them that humans are fragile and they need to be soft-mouthed.
Boredom is your biggest enemy.
Collies require near constant attention and stimulation, or they get bored. When they get bored, they get destructive. This makes them an ideal family dog, where multiple people can take turns playing with them.
Make sure they know you control the space.
Collies understand space better than most dogs. Your body language, intention, and your confidence will be easily sniffed out. Move with purpose around them, let them know that you also understand space. Don't let them block thresholds or herd you – make sure you maintain control by owning and dominating the space you are in. Your collie will look to you as a leader instead of someone that needs to be herded and managed.

Why Get Dog Insurance?
from Pumpkin®
While Collies are a generally healthy breed, unexpected ruh-rohs can happen to any dog at any age. If your pup gets hurt or sick, pet insurance can help you say 'yes' to the best care, even when it's costly. When it comes to shopping for this breed, you'll want to choose an insurance plan like a Pumpkin plan that covers hereditary conditions Collies are prone to developing, and can be costly to treat. While a reputable breeder will conduct genetic testing on your pup's parents to help minimize the chances of passing down hereditary conditions, they can't always be avoided. Let's look at some common conditions, and how Pumpkin Insurance Plans can help cover the cost of care!
*Sample shows 90% reimbursement of covered vet bill assuming the annual deductible has already been met.